September 19, 2020

February 2009 | Vol. VIII - No. 2


TDmonthly's Top-10 Most-Wanted Toys: February 2009
Wheeled Toys and Worlds of Play Stay at the Top
This month, the story is much the same with best-selling specialty toys. In short, PlaSmart's PlasmaCar is still on the list (joined by the EzyRoller), Legos are still making their mark in the construction category after decades of success, and Playmobil and Calico Critters, from International Playthings, allow kids to create worlds of play. Mentions of Rainbow Products' Magformers seem to be increasing, though, and Marky Sparky's Doinkit products are coming out for springtime.
PlasmaCar® by PLASMART INC.



The Original PlasmaCar continues to intrigue and fascinate. Powered by kid power; no batteries, gears, or pedals needed. Just sit, put your feet up, and turn the steering wheel to propel yourself forward. The patented safety seat design places riders in a safe, comfortable position and minimizes tipping. Moves up to 6 mph on any smooth, flat surface. Supports up to 220 lbs. Visit www.plasmacar.com to see all the wonderful colors available.
— In a March 2015 survey, two out of 10 retailers told TDmonthly that Plasmacar is a best-selling outdoor toy.
— As of 05/13/2011 this product had 4.5 out of 5 stars from 122 reviews on Amazon.com. Cons: Does not work well on surfaces that aren't completely smooth.
— This top-seller in specialty stores earned a TDmonthly Top Toy 2007 award for its distinctive aerodynamic design and ease-of-use. TDmonthly believes it has the potential to become a classic due to its fresh, contemporary appeal and application in a child's formative years.
Awards: 2012 Parents Choice Awards Recommended, 2009 Green Parents List Check Mark, 2009 DisneyFamily.com Top Action Figures and Toys for Toddlers, 2009+2008+2005 The National Parenting Centre Seal of Approval, 2008 iParenting Media Toy Award, 2008 Fat Brain Toy Award Active Play, 2006 TIA Outdoor Toy of the Year - Specialty Toy of the Year, 2006 Oppenheim Toy Portfolio Platinum Award, 2005 Oppenheim Toy Portfolio Gold Seal Award, 2005 Dr. Toy Best Vacation Products, 2005 Creative Child Seal of Excellence, 2001 International Patent Fair, Hong Kong Gold Medal 6/28/2005 (MSRP: $69.99; Age: 3 and Up)



BANANAGRAMS® by BANANAGRAMS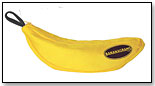 The fast-moving word game consists of 144 ivory-like letter tiles in a zippered banana pouch. Players place the tiles face down on the table and randomly select 21 tiles. They turn their letters right-side up simultaneously and proceed to form as many intersecting and interconnecting words as possible, rearranging their own letters as many times as desired throughout the game. Awards: TDmonthly Top Seller 2007; 2009 TOTY Game of the YEAR, 2006 Oppenheim Toy Portfolio Gold Seal; 2007 iParenting; 2007 Parents' Choice Recommended; 2007 Dr. Toy Best Products. (Read Review)
— This product has been making the TDmonthly Best-sellers lists since 2007.
— As of 05/13/2011 this product had 4.8 out of 5 stars from 456 reviews on Amazon.com.
— Eight of 66 retailers vouched for its best-selling status in May 2008; seven of 63 did in Sept. 2008. Shani Watmough of Planet Toys in Rockland, Maine, said her store sells 60 per month. Fifteen of 38 named it a top-selling game in Feb. 2010.
— As of April 5, 2010, Bananagrams had spent 570 days in the top-100 best-selling toys and games on Amazon.com.
— According to owner Brett Sommer of Figpickels Toy Emporium in Coeur d'Alene, Idaho, "It was the 2009 game of the year. The brilliant packaging definitely helps this product." (

Watch Video) 6/19/2006 (MSRP: $14.99; Age: 7 and Up)



Horse Farm by PLAYMOBIL INC.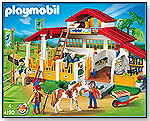 The Horse Farm Stable features three horseboxes, a section for refreshments and an area for grooming. It includes three figures, three ponies, a kitten, a wheel barrel, hay, a ladder, fences and many other accessories. Dimensions are 21" L x 11" D x 10" H.
— "Playmobil is selling really well for us," Erika Evers, owner of Dancing Bear Toys in Hendersonville, N.C., told TDmonthly in early 2009. 12/10/2008 (Age: 4 and Up)



Star Wars Clone Troopers Battle Pack by LEGO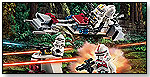 Kids can build an army of Clone Troopers with this set, which includes four figurines plus a blaster turret and speeder bike.
— Dean Smith, Owner of JaZams in Princeton, N.J., told TDmonthly in late Spring 2011 that he sells "at least" 20 of these LEGO sets each month.
— As of 05/13/2011 this product had 4.5 out of 5 stars from 20 reviews on Amazon.com. Pros: Detailed; the speeder vehicle included is fun and seats two clones; good for travel because of their smaller scale. Cons: One reviewer complained there weren't enough figures included in the set.
— "Every time there's a new Star Wars LEGO, it blows right out the door," Joe Berardoni, owner of Pun's Toy Shop in Bryn Mawr, Pa., told TDmonthly in September 2008. He and one other retailer, out of 63 polled, mentioned LEGO when discussing best-selling products.
— "Star Wars Lego has been insane at our store," said Michelle Smith of Piccolo Mondo Toys in Portland, Ore., at the end of 2008. 9/24/2008 (MSRP: $10.99)



Webkinz Black Bear by GANZ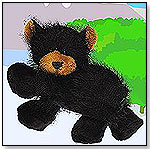 This fuzzy creature comes with a code to access Webkinz World online. The bear's special item in the virtual world is the cave bed, and it's special food is honey bee roast.
— Seven of 68 specialty retailers named Webkinz as a best seller in their stores in October 2008.
— Mary Walsh-Martel, owner of Magical Child in Greenfield, Mass., cited sales of about 80 units per month.
— "Even though it's slowing down, it's still on top, with about 150 a month," Pam Byrd, manager of The Little Cottage Toy Shop in Franklin, Tenn., told TDmonthly about the best-selling Webkinz in her store in early 2009. (

Watch Video) 11/26/2008 (MSRP: $12.99; Age: 3 and Up)



Calico Critters - Flora and Berry Get Ready for Bed by INTERNATIONAL PLAYTHINGS LLC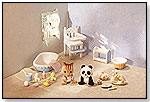 This sleepover kit comes with friends Flora (baby panda) and Berry (baby squirrel), a bathtub and accessories, a high chair and utensils for snack time, and more. 1/12/2009 (MSRP: $17.99; Age: 3 and Up)



Doinkit™ Dart Board by MARKY SPARKY TOYS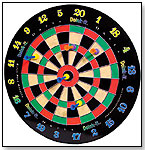 This dartboard set includes six balanced darts that feature N-35 Neodymium rare earth magnets and the lightweight, durable Doinkit material that keeps the darts flying perfectly true. The darts will work on any magnetic dart board.
— Owner Elaine Hackney of Boing! JP's Toy Shop in Jamaica Plain, Mass., told TDmonthly in summer 2007 that she has been selling lots of these dart boards for years. "The quality is great. The holding power of the magnets is great. The price is right," she explained.
— Doinkit Darts have been "unbelievable" for Piccolo Mondo Toys of Portland, Ore., Owner Michelle Smith told TDmonthly at the end of 2008. JoAnn Farrugia, owner of JaZams in Pennington, N.J., reported sales of about three dozen per month of Doinkit Darts in a March 2009 survey of best sellers.
— "The [Doinkit] Darts sell really well for kids and adults," said Lauren Obenour, manager of Portland, Oregon's Green Frog Toys, where the product is among the best-selling sports and outdoor toys, as of spring 2009.
— Doinkit Darts are a "longtime best seller" at Totally Thomas Toy Depot in San Diego, as reported in July 2010 by President Cynthia Wyatt. "The rare earth magnets in the darts are super strong, stay put, and don't bounce off. They're very safe and don't damage your walls. Nothing but fun!" she said.

Past Videos: ASTRA 2008 (

Watch Video) 8/13/2007 (MSRP: $22.95; Age: 3 and Up)



Magformers by MAGFORMERS LLC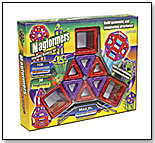 This magnetic construction set features 108 powerful magnets permanently encapsulated inside 18 jewel-toned square Magformers and 12 triangle Magformers. The magnets rotate to their attraction position upon contact, so Magformers always connect regardless of their polarity. Watch in amazement as Magformers "form" into three-dimensional structures. Magformers received an Oppenheim Gold Award as well as the 2007 Oppenheim Toy Portfolio Platinum Award. The product's "magnetic connector concept allows the end user to create quick, magical 3-D models," President Larry Hunt of Rainbow Products told TDmonthly. Launch date: April 2006.
— Lynda Blankenship, owner of Smart Toys & Books in Knoxville, Tenn. told TDmonthly in late Spring 2011 that Magformers were a best-selling construction toy.
— Magformers are a best seller at Piccolo Mondo Toys in Portland, Ore., Owner Michelle Smith told TDmonthly in Dec. 2008. "We have them on a play table," she said. Magformers have been best sellers for at least a year at Pufferbellies in Staunton, Va., Co-owner Susan Blanton said in September 2009.
— Mike DiAndrea, manager of Hardware Centre in Paoli, Pa., told TDmonthly during an April 2009 survey that he sells between 100 and 150 sets of Magformers per month. Magformers are also a best seller at Golden Apple Learning Store in Pleasanton, Calif., Owner John MacDougall told TDmonthly in August 2009.
— Want this? As of 05/10/2011, this product was available for purchase at Smart Toys & Books (

Watch Video) 4/14/2006 (MSRP: $34.98; Age: 5 to 11)



EzyRoller by EZYROLLER LLC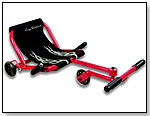 This self-propelling, three-wheeled ride-on toy cruises smoothly and silently along the ground, similar to the movement of a snake. The rider simply sits in the seat, feet-first, and propels with an easy back-and-forth leg movement, demonstrating a special combination of physics properties that fascinates most first-time observers. There are no chains, no motor and no batteries. The product comes packaged with extendable axis rods (S, M, L), so it can grow with the child. "Awe-inspiring physics" and "the strong, long-lasting steel tube frame and overall quality construction" really set this product apart, according to EzyRoller President Denis Allais. Launch date: May 2007.
— Anyone can sit back and get a workout with this sleek and sporty, three-wheeled ride-on toy that moves fluidly with back-and-forth leg motion. Its long, low-set and adjustable design differentiates it from other ride-ons, as do the properties of physics that bring it to life. Such stats have garnered the Ezyroller a TDmonthly Innovations 2007 award.
— Jeanette Lauture of Aunt Jean's Toys & Treats in Montclair, N.J., told TDmonthly in summer 2008 that the Ezyroller is a hot seller in her store. "This New Zealand outdoor ride-on toy is very innovative and has longevity for kids 3 to 14 years of age," she said. "I've been selling it since October of '07."

Where to buy:
SOUTH (

Watch Video) 3/16/2007 (MSRP: $99.95; Age: 3 and Up)



---
---


Copyright © 2020 TDmonthly®, a division of TOYDIRECTORY.com®, Inc.