September 30, 2023

July 2009 | Vol. VIII - No. 7

---
TDmonthly's Book Expert
One Educated Bookworm's Opinion
Sibling mice Benny and Penny made a favorable — and humorous — impression on TDmonthly Magazine's Book Expert and the kids she read to. The reviewers also enjoyed an environmentally centered, educational board book for preschoolers and a couple of other fascinating titles. See them all below.



Title: Benny and Penny in The Big No-No!
Author/Illustrator: Geoffrey Hayes
Publisher: Toon Books, a division of RAW Junior
Gender: Boys and Girls
Age: 6 to10
MSRP: $12.95

TDmonthly rating:




What It Is: This graphic novel aimed at beginning readers is part of a series designed to bring the pleasure of comics to a new generation of readers. In this charming story, the second about adorable mice brother and sister Benny and Penny, the siblings think Benny's favorite pail is missing, and look for it in the backyard of their new neighbor. They know that sneaking into someone else's yard is a big no-no, but can't help themselves, driven by curiosity about their new neighbor. Is their neighbor a big monster? Kids will eagerly read to the end to find out.

Why You Should Carry It: Graphic novels are very hot right now among older kids and teens, and this sweet and funny story is perfect for younger kids just learning to read. The vocabulary is relatively simple, and the clear layout and terrific illustrations will draw children into the story. This is a book kids will want to read again and again, and the story is crafted to appeal equally to boys and girls.

What Kids Think: Arlo, a 5-year old kindergartener, was captivated by this funny story and especially liked the slapstick moments, such as when Benny falls into the mud. He enjoyed being able to decipher many of the words, and the story should be within the reach of most first- and second-grade beginning readers.

---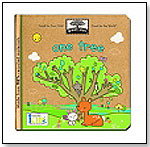 Title: green start™: one tree
Author/Illustrator: Leslie Bockol/Jillian Phillips
Publisher: innovativeKids
Gender: Boys and Girls
Age: 3 to 6
MSRP: $6.99

TDmonthly rating:




What It Is: One Tree, part of a series of board books made from 98-percent recycled materials, is a non-fiction title designed to teach preschoolers about the ecosystem by using the example of one tree growing in a meadow. The simple, cartoon-like illustrations of smiling bumblebees, caterpillars, birds, squirrels, rabbits and other animals demonstrate the variety of creatures that depend on this one tree for their existence. Readers see the tree changing during the four seasons, and a new sapling growing beside it in the meadow at the end of the story. The book also includes "parent pages" with information on how trees affect us, and small steps everyone can take to save the trees.

Why You Should Carry It: This board book is sure to appeal to "green" parents and grandparents, with its recycled paper, soy-based inks (perfect for toddlers who might still put books in their mouth), and ecologically friendly message.

What Kids Think: Ben, age 4, thought this book was great for helping kids learn about trees and also for learning about berries, butterflies and caterpillars. The simplicity of the text is best suited for preschoolers, although the board book format makes it appropriate for babies, who will enjoy the smiling animals and uncluttered illustrations.

---

Title: Painting the Town
Author/Illustrator: Denise Minnerly
Publisher: Crystal Productions
Gender: Boys and Girls
Age: 3 to 7
MSRP: $15.95

TDmonthly rating:




What It Is: In this whimsical story, children experience the wonder of mixing primary colors. When two children meet in New York's Central Park, they throw blue, red and yellow apples into the air and are amazed and delighted when their apples create a miraculous effect on the famous landmarks of the New York skyline. The Empire State Building, absorbing the red and blue from the apples that fell beneath it, has turned a variety of shades of purple, while the Chrysler Building has turned orange from the red and yellow apples. The boy and girl witness these wonders while floating around New York City on colored balloons.

Why You Should Carry It: This is an enchanting story for preschoolers who are learning about colors. The creative use of color to illuminate the familiar grey of the New York landmarks is especially striking. In addition, this is a fun title for children who live in or may be traveling to New York City, since they will become familiar with some of the city's great buildings.

What Kids Think: This attractive book was greatly enjoyed by a group of preschoolers. Arianna, age 5, thought kids would like to learn how different colors make other colors, but cautioned that children should not try floating in the air on a balloon in real life!

---
Title: You Are Weird: Your Body's Peculiar Parts and Funny Functions
Author/Illustrator: Diane Swanson/Kathy Boake
Publisher: Kids Can Press
Gender: Boys and Girls
Age: 9 to 14
MSRP: $16.95

TDmonthly rating:




What It Is: With its wacky, humorous illustrations and abundance of freaky facts, this science book focuses on the weird, quirky aspects of human physiology. Colorful sidebars and odd factoids break up the substantial text — for example, did you know you have more bacteria in your large intestine than the number of humans that ever lived on Earth? The book covers subjects such as skin, bacteria in the body, sweat, hair, teeth, eyeballs, ears, goose bumps and other parts of the human body, and includes a glossary and index.

Why You Should Carry It: This is a book that tweens of both sexes will enjoy and read on their own. The author and illustrator do a great job of making weird facts about our bodies accessible to kids, and kids will love the many puns in the text.

What Kids Think: "Gross!" exclaimed 10-year old Eli while reading through this book. He was eager to share the weird body facts with the rest of his family and with his friends on the playground. Kids will also like the hands-on activities scattered throughout the book, such as how to "probe your Palmaris."
---
---


Copyright © 2023 TDmonthly®, a division of TOYDIRECTORY.com®, Inc.