December 4, 2021

June 2009 | Vol. VIII - No. 6

---
Just Jump It Offers Perfect Twist of Fun and Safety
Company Reinvents Jump Ropes and Other Classics
"We were approached by a big-box store that made a big offer, but we decided that the mom-and-pops got us where we are." — Chris Kalberer, Just Jump It

This article is a paid advertorial.

In 1992, 17 years after the founding of Cressline Rope Works, a sales rep for the bulk-rope purveyor suggested to Owner Darrel Cresswell that the company create a jump rope. Darrel and his partner at the time, Don Meeker, jumped at the opportunity to give it a try.

NO HANDLE, NO WORRIES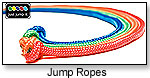 Once their first 8' jump rope was ready, they took it to toy trade shows under the company name Just Jump It, explaining to potential customers that the washable, polypropylene double-braided rope "would rotate around itself, which is why it needed no handle," Chris Kalberer, director of operations and sales for Just Jump It, and Darrel's son-in-law, told TDmonthly Magazine.

The "rope in a rope" is cut with a hot knife to melt the ends, and the ends are then knotted, forming a sort of handle. There is no fraying, and the ropes now come in both 8' and 16' options, said Chris, who joined the family business after a career as a commercial pilot.

"People love the fact that the ropes can be washed and that they last, and there's no handle for a child to be hit with," he added.

The company originally produced the jump ropes themselves, but as business grew, there was a need to outsource.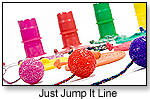 Just Jump It chose a facility in China because of cost, ensuring that the manufacturing partner understood their established standards for quality. Some product, however, is produced in-house for customers who require items made in the USA, Chris said.

MORE THAN JUMP ROPES

Although bringing the first jump rope to market was fairly simple, since it was an extension of the company's current business, material research and a solid plan were crucial for other products Just Jump It would offer, he added.

Over time, the company has added other toys, putting a modern spin on classics with consistent themes — all of the toys involve rope, are simple, and are designed to get kids moving. In addition to jump ropes, Just Jump It creates Steppers, similar to the old cans with ropes, which are molded with a flared base and anti-slip textures, and use braided polypropylene line for the handles. Another option, the Skipper,has a molded end-ball and the same braided polypropylene line.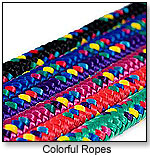 In addition to attending shows and marketing to specialty toy stores, the company also pursued teacher supply stores and marketed its jump ropes directly to schools. As Chris said, "Teachers love them."

Independent stores continue to be the company's only retail outlets. "The best advice we received was [to] stay with specialty retailers," he told TDmonthly. "The company was approached by a big-box store that made a big offer, but we decided that the mom-and-pops got us where we are."

See products by Just Jump It below:
Jump Ropes by JUST JUMP IT

Both the single (8') and double (16') are made from a double-braid, soft polypropylene rope that swivels right in the hand, making handles unnecessary. These colorful and durable jump ropes (available in six solid colors and six confetti colors) can be adjusted to fit most size kids, and they can be put into the family wash if soiled. They can be used by adults, too.
— "Jump ropes … are really big right now," Linda Hamm, owner of Early Work Toy Station in Petaluma, Calif., told TDmonthly in spring 2009.
— Four of 60 retailers surveyed in March 2009 said jump ropes account for their top sales in outdoor and sports toys. (

Watch Video) 2/2/2009



Skipper by JUST JUMP IT

This unique skipping toy is swung around the ankle and hopped over by the opposite foot, creating an ongoing motion. It provides active play, improves agility and coordination, features colorful balls that jingle and is heavy enough to give a good spin. It comes in red, green, raspberry, purple, yellow and blue. "Our skipper is found to be the most durable of all similar products at its very competitive price," CFO Michelle Kalberer of Just Jump It told TDmonthly. (

Watch Video) 2/21/2007 (MSRP: $4.50; Age: 5 and Up)



Stepper by JUST JUMP IT

Do you remember the old romper stompers or upside-down coffee cans? These kid-friendly, low-rise stilts are colorful and designed to be ultra durable. They come in six colors, and the hand-held ropes are adjustable to fit any size child.
— E-Z Steppers were listed as top sellers in spring 2009 by Owner Candace Gooch of At Once All Agog in Limerick, Maine. (

Watch Video) 10/17/2007 (Age: 5 and Up)



Lariat by JUST JUMP IT

Have lariat fun like the a real cowpoke! Our high-quality lariats are perfect for children and big kids who want to become lasso pros. 13 colors provide the perfect choice for cowboys and cowgirls. Each lariat is made from 20 feet of 5/16" polypropylene blend rope. 5/13/2009



---
---


Copyright © 2021 TDmonthly®, a division of TOYDIRECTORY.com®, Inc.