September 19, 2020

June 2009 | Vol. VIII - No. 6


Holiday Preview - Dolls
Collectible Characters and Soft Dolls for Play
Little girls (and boys) should have plenty of playmates this holiday season, from soft-bodied kid dolls with a heartbeat, or a heart for green initiatives, to a smiling diapered baby and a doll that gives a heavenly hug.
PaddyKakeKids by PaddyKakeKids® Inc.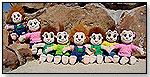 Each one of these collectible plush dolls has a heartbeat that can be heard when the doll's right hand is placed on its chest. The line is designed to teach kids life lessons through an interactive website. Launch date: September 2009. (

Watch Video) 4/27/2009 (MSRP: $14.99; Age: 3 and Up)



God's Girlz by KERUSSO



God's Girlz are modest, yet fashionable, and packed with meaningful content designed to encourage thoughtful play. These 12" dolls are fully posable and are wearing the latest styles. Each is outfitted with her very own Kerusso Tee and accessories that provide hours of enjoyment. Available in Hannah, Abigail, and Sarah. 1/20/2009



Mademoiselle Rose by COROLLE DOLLS



Mademoiselle Rose makes a perfectly snuggly first companion for Baby. (

Watch Video) 5/6/2009 (Age: 0 and Up)



Global Green Pals™ - Recycle Kyle™ by RESTORATION GALLERY LLC



Recycle Kyle™ likes to get people motivated about recycling because it is fun, easy, and something everyone can do. From Seattle, he loves to ride his skateboard, a pollution-free form of transportation. Kyle's dedication to recycling began one day while cruising through a park. He hit a soda can and fell down and hurt himself. Since then he has been spreading the word about recycling. He even started a recycling program at school. Kids can join Kyle and the other Global Green Pals on their mission. "The Global Green Pals are a unique group of dolls that highlight important environmental issues and encourage children to learn through play. They have the capability of inspiring children of all origins to take action by changing small things in their daily activities," Malini Goel, founder and president of Restoration Gallery LLC, told TDmonthly. Launch date: February 15, 2009. (

Watch Video) 3/12/2009 (MSRP: $29.99; Age: 3 and Up)



Ty Girlz - Totally Trish by TY INC.



Trish's purple hair can be styled with her own little comb. She's posable and flexible — she can even wander onto the web, thanks to a secret code that lets little girls access an online Ty Girlz world. (

Watch Video) 5/6/2009



Angel Heaven Guardian Angel Doll by SHARON HAYES LLC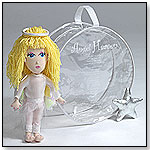 Angel Heaven™ Plush Dolls & Creatures have been custom designed by Artist/Author Sharon M Hayes. They are embroidered and are made from high quality materials that conform to toy safety regulations. Each 14" Angel doll order will arrive in its very own carryall zippered vinyl bubble with the "Earning Wings" poem printed on the front. Orders also include a shiny silver plush star, removable plush iridescent white wings and halo so children can reenact the "good deeds" steps they learn online at Angel Heaven™ World.com and from the "Earning Wings" poem. The angels also have their own members-only website filled with games, cartoons and music. Launch date: 2009. 1/12/2009 (MSRP: $19.95)



Snowman Pal by SWEETERS LLC.

Snowman Pal is cuddly and will melt only in your heart. He and his friend Santa Pal will warm up your winter. 3/24/2009 (MSRP: $36)



Horse Show Set by HABA USA/HABERMAASS CORP.

Saddle up it's time to ride! Paulina has new fences to jump and a pretty coat to keep her from getting cold when sheis done. Includes water bucket, 2 jumping fences, and a pink ribbon for placing at the show! (

Watch Video) 3/20/2009 (MSRP: $49.99; Age: 2 and Up)



Boogaloos - Watson by BLABLA



This soft and cuddly Boogaloo is knit by Peruvian artists and dressed in a classy cap and tie. 4/15/2009 (MSRP: $34.00)



Doudou Puppet Grenadine by COROLLE DOLLS


Featuring a bright color palette, this 11" puppet is soft and snuggly. 4/23/2009 (MSRP: $24.95; Age: 0 and Up)



Multicultural Dolls by SOOPSORI CO. LTD.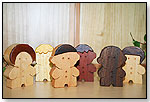 These multicultural, wooden dolls feature a child-safe design using organic materials and are finished with linseed oil. 4/3/2009 (Age: 2 and Up)



TUM by DANO2 Designer Toys


This little baby doll with a big smile is made in the USA of 100-percent phthalate-free material. (

Watch Video) 3/30/2009



CiaoCiao by TOKIDOKI



Ciao Ciao is condemned to live forever on earth, in her modern grave-loft with her boyfriend Adios. But she's cute, so that makes everything okeydokey. From TokiDoki. (

Watch Video) 5/20/2009 (MSRP: $20.00; Age: 8 and Up)



Tammy by Doris Stannat by MASTERPIECE DOLLS

Doris has created an adorable new baby. She can be posed on her back looking at her hands and she can kneel. The full body offers alot of options for posing and for redressing this beautiful baby. 21" in silicone/vinyl. Tammy with her full body sculpt can be redressed in any outfit of your choice. She has pretty blonde hair and blue eyes. Doris has dressed her in a cute summery outfit with a soft green shirt and white onsie with pink ruffled edges. Accessory is not included. Limited Edition 350 pieces. 5/1/2009 (MSRP: $159.00)



Medieval Maidens: Gisela Doll by MEDIEVAL MAIDENS LLC



The Gisela Doll from Medieval Maidens is 18" tall with a soft body and is the first doll in the Medieval Maidens doll line. The clothing is historically accurate, featuring a blue dress with gold trim, chemise undergarment, socks with ribbon garters, brown faux leather shoes, and a flowered headpiece. The doll also comes with a doll stand. (

Watch Video) 12/24/2008 (MSRP: $59.95)



Twilight - Bella and Edward by TONNER DOLL COMPANY



TONNER has given new life to the action-packed, modern-day love story between a teenage girl and a "good" vampire, with these authorized likenesses of "Twilight" stars Robert Pattinson and Kristen Stewart. Bella Swan is 15" tall; Edward Cullen is 17". Each is designed by renowned artist Robert Tonner and fully authorized by Summit Entertainment. They're available only from TonnerDirect. Launch date: Spring 2009. 12/5/2008 (Age: 8 and Up)



Monkey Pal by SWEETERS LLC.

Monkey Pal is hand-knitted from 100% cotton. It is suprisingly soft. Also available: Boy Monkey Pal with blue outfit and Girl Monkey Pal with pink outfit. 3/24/2009 (MSRP: $36)



The Cozy Cookie by THE WARM & COZY COMPANY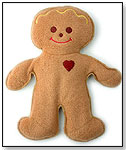 The cuddly Cozy Cookie is made of plush polar fleece and filled with gingerbread-scented rice. Pop it in the microwave for up to 30 seconds and it'll come out warm and ready to soothe. Kids who need a hug late at night, adults with aches and pains, and even Grandma will benefit from the aromatherapy and cozy heat this fellow radiates. It comes with a storybook. "The gingerbread house box, together with the added value of the storybook together with the adorable Cozy Cookie makes for a potent retail combination," Sales Manager Isaac Wolman of Warm and Cozy Co. told TDmonthly. Launch date: August 5, 2008. (

Watch Video) 11/24/2008 (MSRP: $16.99; Age: All Ages)



Organic Cotton Yoyo Doll by KINDERWARE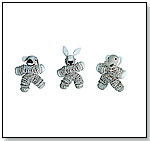 This certified, 100-percent organic cotton yoyo doll is handmade by fair trade artisans in India. This is the classic yoyo doll made for decades by grandmas, updated for the green community. "It's so difficult and time consuming to make this doll that it can only be made by hand. Yoyo dolls have been childhood favorites for generations," Jenny Krauss, president of Kinderware, told TDmonthly. Launch date: 2009. 3/12/2009 (MSRP: $28.00; Age: All Ages)



Petit Ami "Little Friends" Doll - Rose Vine Floral by ZU TOYS/PETIT AMI

This 16" doll is one in a collection of nostalgic Little Friends with varying dress designs that correlate with the company's seasonal dress releases for 3-month to 4-year-olds. Launch date: 2009. 3/12/2009 (MSRP: $27.00)



Maru by MARU & FRIENDS LLC



Maru and Friends is a celebration of childhood fun sculpted by world renowned doll artist, Dianna Effner.
Maru is a young girl who lives with her aunt and uncle. She is making new friends and adapting to a new way of life. Along with the 21" all-vinyl doll, the Maru & Friends set includes a long-sleeved shirt, vest, skirt, tights, underpants, hat and matching purse with boots. It also comes with a hardcover storybook and Certificate of Authenticity. There are two other dolls in the line; each doll's facial features are unique. Launch date: 2008. (

Watch Video) 10/27/2008 (MSRP: $110.00; Age: 3 and Up)



Ellowyne Wilde - Invisible Ink by WILDE IMAGINATION



This brunette Ellowyne doll has brown eyes and an outfit that includes lace-up boots, fishnet stockings, a racing sweater and tulle skirts, and plenty of shiny jewelry. It's a limited edition of 1,000 pieces. 2/26/2009 (MSRP: $129.00)



---
---


Copyright © 2020 TDmonthly®, a division of TOYDIRECTORY.com®, Inc.