August 3, 2021

June 2009 | Vol. VIII - No. 6

---
Holiday Preview - Plush and Puppets
Microwaveable Pets and Eco-Friendly Materials
If Regal Elite's Rollo doesn't get kids laughing this Christmas, maybe the smiles of sock monkeys will. See everything from microwaveable plush for bedtime to mini versions of whimsical stuffed friends in TDmonthly's Holiday Preview of Plush and Puppets.
Cozy Plush Penguin - Microwavable by PRITTY IMPORTS LLC



This 12" penguin is filled with 100-percent natural wheat and dried lavender, and after two minutes in the microwave, becomes a warm buddy to take to bed. He is designed to stay warm for at least an hour, and may remain warm all night if snuggled under the covers. "The penguin can be microwaved thousands of times," CEO Ruth Hamilton of Pritty Imports told TDmonthly, "and his aroma is designed to help kids fall asleep naturally." Launch date: June 2009. (

Watch Video) 5/28/2009 (MSRP: $19.95; Age: 3 and Up)



The Roffle Mates - Rollo the Laughing Dog by REGAL ELITE



This plush, battery operated character is motion activated to laugh and roll around when a hand is moved in front of the light sensor on its forehead. Launch date: March 2009. (

Watch Video) 4/24/2009 (MSRP: $24.95)



earthmates Bamboo Mouse by MARY MEYER CORP.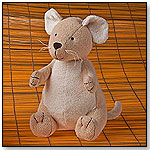 This soft, tan- and cream-colored mouse is made from the sustainable resource bamboo. It is 8" tall. Launch date: 2009. 5/22/2009



Bowzers and Meowzers Children's Book and Puppets by FAUX PAW PRODUCTIONS INC.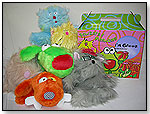 This series includes six individual preschool books with lessons written in rhyme. It features distinctive new cat and dog characters presented in a hand-carry book box with a plush hand puppet, plus an audio reward activated sound chip allowing the puppet to bark or meow. The packaging has a "capture system that enables the hand puppet or finger puppets and book to stay together in [the] attractive book carry box," Debby Carman, president of Faux Paw Productions, told TDmonthly. Launch date: October 2008. 4/27/2009 (MSRP: $24.99; Age: 1 to 7)



Funster Puppets by THE CHILDREN'S FACTORY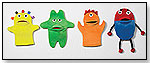 These funny looking glove puppets measure 9.5" H x 5.5" W. There are four varieties available colors: yellow, green, orange, and blue and red combo. The machine-washable puppets are made of cotton plush material and meet all CPSIA requirements. "Child can make-believe puppets are anything they want them to be," Mariann Wedel, sales manager for Children's Factory, told TDmonthly. Launch date: 2009. (

Watch Video) 4/9/2009 (MSRP: $44.95; Age: 2 and Up)



Lamb Chop - 50th Anniversary Edition by AURORA WORLD INC.



Aurora is commemorating Lamb Chop's 50th Anniversary with its special edition puppet (15" MSRP $13.99), closely fashioned after the original Lamb Chop that caught the eyes of millions of viewers. The larger brown eyelashes, more prominent nose, and ribbed white sweater with three red buttons are a reminder of the Lamb Chop who have kept us laughing for more than 50 years. (

Watch Video) 3/30/2009



The Elf on the Shelf: Plushee Pals™ 19" by CCA and B LLC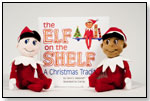 The 19" Plushee Pals are toy versions of their "real" North Pole Scout Elf counterparts. Made of the softest material Santa's toymakers could find, this elf is available with a choice of either light or dark skin tones. "Plushee Pals™ are allowed to remain with their family year round and they thrive on hugs and kisses," Grace Purtell, logistics coordinator for CCA and B, told TDmonthly. Launch date: October 15, 2009.
32" PALS ARE NO LONGER AVAILABLE. 5/28/2009 (MSRP: $12.95; Age: 2 to 12)



Tail Wags Owl Helmet Cover by TAIL WAGS HELMET COVERS INC.



Tail Wags helmet covers are designed to make it fun for kids to wear their safety helmets. They are made to fit over all makes and models of bike, ski, snowboard, toboggan, skate and equestrian helmets, and come in more than 35 animal character designs. Tail Wags was a 2008 JPMA Finalist. Launch date: June 2009. 6/3/2009 (MSRP: $40.00; Age: 1 to 11)



Deglingos Minis - Nonos the Dog by GEARED FOR IMAGINATION



Made with a whimsical variety of textured fabrics and colors, Nonos is one in a collection of six Deglingos Mini Clips (also BigBos the Wolf, Pikos the Hedgehog, Ratos the Rat, Milkos the Cow and Chikos the Hen). They are designed to be attached to luggage, key chains or purses, or to adorn a rear-view mirror. Launch date: 2009. (

Watch Video) 5/7/2009 (MSRP: $9.99)



Simply Natural - Monkey by RUSS BERRIE



Going green takes a whole new hands-on approach with new Simply Natural plush. Made using 100% all natural cotton, 100% recycled paper hangtag and vegetable dyes for coloring, what could be more eco-friendly... or fun. The Monkey is 7" tall. 5/5/2009 (MSRP: $8.00)



Cookie Assortment by YELLOW LABEL KIDS



This assortment of knit "cookies" includes: Strawberry cream, Chocolate cream sandwich, Double chocolate chip, Chocolate chip, Chocolate candy and Black and white. It comes packaged in a fabric box with gingham napkin. (

Watch Video) 5/5/2009 (MSRP: $28.99)



Zoobie™ Pets - Bubba the Black Bear by ZOOBIES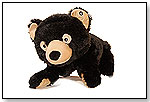 This cuddly Zoobie is designed to be ideal for road excursions or just cuddling in bed. In addition to a teddy bear, it also serves as a comfy pillow and soft blanket — all in one. "We are the only company that turns a plush animal into a pillow and a blanket," CEO JC Smoot of Zoobies told TDmonthly. Bubba received a 2009 Top Fun award from Tillywig and a 2009 Best Vacation Children's Products award from Dr. Toy. Launch date: February 15, 2009. (

Watch Video) 4/27/2009 (MSRP: $31.99; Age: All Ages)



"Babe" Small Green Striped Sock Monkey by MIDWEST OF CANNON FALLS INC

Playful, fun and cute! Babe is from the new Seasons of Cannon Falls Monkeying Around sock monkey collection. Children and children at heart will enjoy the mischievous nature of these delightful characters. Magnets are hidden in their hands and feet for hugging and playing. Perfect for birthdays, holidays or start a fun collection!

Babe is 14" tall and made of acrylic yarn.

Head, hands & feet have magnets, so they stick to all things metal or each other!

Other colors and styles available. 4/27/2009 (MSRP: $15)



Hello Kitty 8" Ballerina Plush by SANRIO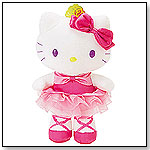 Sanrio's popular character Hello Kitty comes to little girls in an 8" tall plush toy. Dressed in a candy-pink tutu and leotard with matching ballet slippers, this little ballerina is accessorized with Hello Kitty's recognizable bow in matching satin material as well as a tiny gold crown for her performance.
— "I know it is a good product when people never return them," Barbara Vininsky, owner of Jack and Jill, said of the Hello Kitty merchandise in her Montreal, Quebec, store.
— Hello Kitty products were popular at the Toy Shop of Concord in Concord, Mass., at the end of 2009, according to Owner David Hesel. 5/26/2009 (MSRP: $16.50; Age: 5 and Up)



Twilight Keylight - Turtle by CLOUD B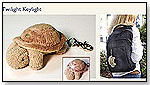 This 2" x 4" turtle keychain is equipped with a blue light that's activated when one presses down on its soft shell. Launch date: 2009. 5/21/2009 (MSRP: $6.00)



Julius Knitted Monkey by FIESTA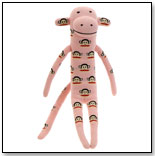 The modern design aesthetic of Paul Frank Industries coupled with the whimsical nature and personality of Julius is captured in these classic knitted monkeys. Knitted Monkeys are created in soft knit fabrics featuring classic crochet, knit, and chenille stitch patterns. Featuring a loveable embroidered sock face and body, Knit Monkeys are available in white, brown, beige, pink, and Julius signature print knit fabric in pink and blue. Launch date: July 2009. (

Watch Video) 5/15/2009 (Age: 3 and Up)



10" Super Soft Plush Chick by D & F CORP.

Made from high quality super soft plush and stuffed with polyester fiber. All new materials. Also available in 18". 5/8/2009



---
---


Copyright © 2021 TDmonthly®, a division of TOYDIRECTORY.com®, Inc.