October 1, 2020

June 2009 | Vol. VIII - No. 6


Holiday Preview - Collectibles
Pins, Cards, Jewelry and Ornaments for the Keeping
Decorative change banks, handmade ornaments and pins with personality give children (and adults!) lots to keep around for the long-term. See card collections, jewelry sets and more in TDmonthly's Holiday Preview of Collectibles.
Billiken Money Bank by BILLIKEN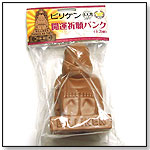 This happy "god of things as they are" is also known as a Billiken and has been floating around the U.S. for decades. He's even the mascot for the St. Louis University Billikens baseball team. Here, though, he's happy to sit on (or off) the bench and guard your loose change. (

Watch Video) 5/27/2009



Hanging Domokun by EIKOH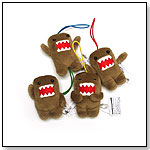 Domo is a breakthrough character whose popularity began in Japan. This little guy can happily dangle from a key chain or even a Christmas tree. His soft plushy body is offset by hard, beady plastic eyes. (

Watch Video) 5/20/2009 (MSRP: $7.00; Age: 6 and Up)



"The Nutcracker Masquerade" Set of 4 Ornaments by G.DEBREKHT ARTISTIC STUDIO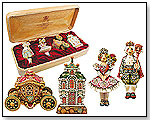 This collection of hand-crafted Nutcracker ornaments is limited to 1,000 pieces worldwide. It includes a G.DeBrekht-branded, satin-lined wooden keepsake box. Launch date: 2006. 5/19/2009 (MSRP: $318.00; Age: All Ages)



Badge Bands: Original Badge Wear by FASHION ANGELS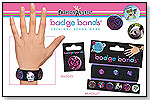 With this collectible bracelet line, girls pick a one-size-fits-all elastic cuff bracelet and choose from a variety of badges to customize their look. A selection of animals, pop art, rockin' badges and more is available. Limited editions, gems and licensed images will add to the collectible badge mix. Each bracelet holds six badges that easily click on and off the bracelets. Additional badge accessories will include handbags, a headband and a belt. Retail prices are as follows: badges: $1.50; bracelets: $3.00; additional accessories range: $4.00 - $16.00. "Badges are very popular and have an Asian and European trend factor. Add in the fact the badges are collectible and the kid-friendly price point — it makes the Badge Bands and Badge Wear a great addition to our jewelry line," Sarah Koth, PR manager for Fashion Angels Enterprises, told TDmonthly. (

Watch Video) 5/19/2009 (MSRP: $3.00; Age: 8 and Up)



Lamb Chop - 50th Anniversary Edition by AURORA WORLD INC.



Aurora is commemorating Lamb Chop's 50th Anniversary with its special edition puppet (15" MSRP $13.99), closely fashioned after the original Lamb Chop that caught the eyes of millions of viewers. The larger brown eyelashes, more prominent nose, and ribbed white sweater with three red buttons are a reminder of the Lamb Chop who have kept us laughing for more than 50 years. (

Watch Video) 3/30/2009



Creation By Design My Bible Cards Series A by CREATION BY DESIGN


Creation By Design brings together the "greatest story ever told" with original, 3D computer-generated artwork and a fresh narrative voice. The cards are designed to relay the concepts and stories of the Bible without without preaching the ideas of any particular denomination, and may appeal to parents who want to minimize their kids' exposure to violent video games and TV programs. The back of each card features three sections: Narrative, which relates a snippet of the story associated with that card in everyday language; Fun Facts, which relates trivia facts about the card topic, encompassing such subjects as art, literature, history, science and animals; and Timeline, which places the events of that card in relation to the other trading cards and world history, taking Bible stories out of the realm of myth and into fact and history. "Not only is the Bible the best-selling book of all time; it is [also] the best-selling book of the year, every year. Now, we have presented the stories in a manner that kids want to see and read," Steven Kaye, managing director of Creation By Design, told TDmonthly. Launch date: October 7, 2008. (

Watch Video) 4/9/2009 (MSRP: $3.99; Age: 5 to 14)



Jane Jenni Personality BUTTONS by JANE JENNI INC.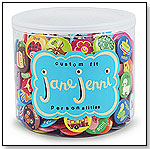 Jane Jenni's custom-fit personality buttons come assorted in a container of 300 buttons. There are more than 112 designs that describe various personalities. Are you a "queen bee" or a "big cheese"? There's a button to fit nearly everyone, and the colorful and fun buttons can appeal to all ages. The combination of the word and picture to illustrate the phrase is designed to stimulate conversation between generations. "The word and picture illustrations engage the customer, and capture their imagination. The collection of various personalities offers the customer a fun item to give to their assortment of friends and relatives," Designer Jane Jenni told TDmonthly. Launch date: 2004.
— Buttons and pins, including ones from Jane Jenni, were best sellers at Twirl Toystore & Playspace in Taos, N.M., in early 2009, according to Owner Molly McMullin. "We've had great success finding both companies and individuals making cute, funny or artsy buttons," she told TDmonthly. "They've been our most consistent seller, and are also great for preteens through young adult." 3/23/2009 (MSRP: $1.25; Age: 5 and Up)



IDOLZ by IDOLZ TOYS LLC



Idolz are wearable, stackable, poseable, colorful action figures with interchangeable parts. Kids can customize Idolz by collecting and swapping accessories. "This product has all the qualities of a stylish collectible, while remaining durable enough to play with or display in many different ways. It's designed to be fun and fashionable for both boys and girls of nearly all ages," Damien Noble, president of Idolz Toys LLC, told TDmonthly. Launch date: September 2009. 5/22/2009 (MSRP: $9.99; Age: 4 and Up)



Captain America Bust Bank by MONOGRAM INTERNATIONAL INC.



Too weak for the army, scrawny Steve Rogers served his country by signing up to be part of the experimental Super Soldier program during World War II. With increased abilities and his fabled shield, Captain America helped defeat Red Skull and the Nazis before disappearing. Returning at the advent of the super hero boom, the American icon has gone on to protect the innocent from threats street-level to intergalactic. Made of RotoPlastic and decked out in red, white and blue, this bank stands approximately 7.5" tall. Launch date: September 2009. 4/27/2009 (MSRP: $14.99; Age: 4 and Up)



"Nostalgic Nativity" Set of 8 by G.DEBREKHT ARTISTIC STUDIO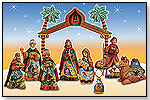 Each delicately hand-crafted figurine tells the story of the Nativity through sophisticated illustrations. The set is meticulously hand-painted in refined hues of violet, indigo, crimson, amber and jade. It is limited to 900 pieces worldwide. and includes a G.DeBrekht-branded, satin-lined presentation box. Launch date: 2009. 5/19/2009 (MSRP: $390.00; Age: All Ages)



Bella Sara™ Miniatures Series 1 Collection by HIDDEN CITY ENTERTAINMENT



This premier collection of Bella Sara minis features small, velvety horse figurines that come with a stand for display. Each miniature comes with a checklist and a bonus code that gives the user an virtual statue for her cottage online at the Bella Sara website. The figurines may also be used as pieces for a board game. Launch date: March 2009; Series 2: October 2009. 3/13/2009



Snap Caps® Let's Chat by m3 girl designs LLC

Snap Caps® are the original, interchangeable, magnetic bottle cap necklace. This collection of Snap Caps are based off of common chat phrases, both in normal speech conversation as well as text speech. 3/4/2009



Kooky Fun Klub by COURAGE BRANDS INC.



Fans of Kooky Klickers now have the opportunity to join an exclusive club created just for them. The Kooky Fun Klub offers exclusive membership benefits and tools for collectors. Benefits of Klub membership include a special website activation code for members only, an exclusive Kooky Klicker pen named "Desmond", a Klub Lanyard, Fun Klub Bling stickers, a 2009 Kooky Klicker checklist, a Fun Klub Member certificate, a Fun Klub window sticker, a 2009 Kooky pocket checklist, Fun Klub peel and stick stickers, and a Klub button. Launch date: 2009. 2/2/2009 (MSRP: $4.95)



Delicious Petit Fours™ by HERRINGTON TEDDY BEAR COMPANY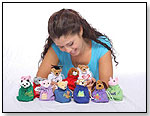 Manufacturer's Description: Displayed like a box of fine chocolates, these delicious plush darlings are all of 4" tall and come wrapped in a velvety smooth drawstring bag. There is a palm sized soft character for every occasiob: teddy bears in caramel, chocolate, honey or pink, a monkey, a pink pig with wings, a panda bear, a pink kitten, a lion, a prayer bear, an elephant and a puppy. There are 14 specific words or phrases of inspiration to choose from, "Get Well Soon", "It's a Boy", "It's a Girl", "Happy Birthday" for boy or girl, "Happy Graduation", "Thank You", "Thinking of You", "Courage", "Faith", "Hope", "Best Friends", "Love" and "Prayer". Each colorful drawstring bag is intricately embroidered with the word or phrase as well as a coordinating logo or icon. For example the white bag scripted with "Hope", also has an embroidered pink daisy. Launch date: Spring 2009. 1/23/2009 (MSRP: $8.00)



2009 Press Pass Football by PRESS PASS, INC.

Press Pass Football kicks off the 2009 collecting season with a 100-card premium base set highlighting the top rookies from the NFL draft. Every hobby box will deliver at least five autographs. Collectors can also find Gridiron Gamers, which features rare, game-used collegiate jerseys. Other subsets and inserts are included. Press Pass Football is the first football card set available for 2009. 3/23/2009 (MSRP: $3.99; Age: 6 and Up)



---
---


Copyright © 2020 TDmonthly®, a division of TOYDIRECTORY.com®, Inc.