March 8, 2021

July 2009 | Vol. VIII - No. 7


Hannah Montana and Princesses Reign
Collectible Dolls and Accessories Keep Mass-Market Runways Busy
When 3-year-old Hailey Farrant of Beachwood, N.J., isn't dressing up herself, she's dressing up one of her dolls.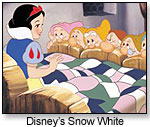 "The ones that make noise are usually her favorite," her mother, Jennifer, told TDmonthly Magazine, also noting that "accessories are a must." If there's a pacifier, crib or stroller as part of the package, it makes a top-notch gift.

Although Hailey is probably more concerned with how pretty a doll is, her mother likes them to be sturdy, since they sometimes have to endure tough love.

DOLLS FOR LITTLE PRINCESSES

Lately, Hailey is taken with the Disney Princess line of dolls, Farrant said.

One character in the collection, Snow White, gets the royal treatment with a large doll that sings "Someday My Prince Will Come" while surrounded by her forest friends.

BARBIE ON THE REBOUND

Another line known for princess-like dolls — Mattel's Barbie — is worth watching this year, according to Tom Tumbusch, publisher of Tomart's Action Figure Digest, who told TDmonthly the brand has rebounded since it was awarded rights to MGA Entertainment's Bratz dolls late last year after a lengthy legal battle.

Celebrating Barbie's 50th birthday, Mattel is introducing a modernized version of the original 1959 doll, called Bathing Suit Barbie.

Crafted to resemble the classic "Teenage Fashion Model" that debuted decades ago, the doll is also modernized with a stylish two-piece suit and a cell phone.

A spokeswoman for Target* noted three main trends in the doll category in their stores.

TREND NO. 1: TWEEN DOLLS

Characters from kids' favorite TV shows and movies, such as "Hannah Montana" and "High School Musical," continue to be popular.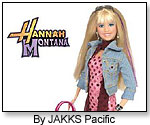 Hannah Montana is staying center stage this year, on the heels of a new movie and new music. One new Quick-Switch doll from Jakks Pacific changes between two outfits, and another portrays the simpler side of life, with Hannah's horse from the movie.

High school might be over for the summer, but the "High School Musical" phenomenon isn't. A new set of dolls from Mattel capturing the performers' likenesses has reached stores, following last year's "High School Musical 3: Senior Year" movie.

TREND NO. 2: COLLECTIBILITY

Children respond well to sets of dolls and pets that are part of a larger line and greater story. Littlest Pet Shop from Hasbro is a prime example of this trend.

Even after more than 180 different items in the Littlest Pet Shop line, it continues to grow. The Cozy Care Adoption Center is the newest addition, with dozens of accessories, games, and spots to feed, groom and dress pets.

TREND NO. 3: DOLLS WITH ACCESSORIES

"We've continued to enhance our accessory offering for both Circo Baby Dolls (a Target-owned brand) and Our Generation toddler dolls (a signature brand)," the spokeswoman told TDmonthly.

Hasbro is marking the 25th anniversary of My Little Pony with a new line of Newborn Cuties that older ponies must love and nurture.

Included in the revamping of the My Little Pony line is a group of playsets, including Sweetie Belle's Gumball House, which offers two floors, music and candy-shaped accessories. The line is supported by DVDs, books, video games, home decor and apparel.

Strawberry Shortcake, recently re-imagined with a new look, is available as a Sweet Surprise Doll with multiple fashion options, allowing girls to comb and style her hair, apply make-up with a color-change applicator, and play with stickers.

Coming off the success of Puppy in my Pocket, Baby in my Pocket from MEG adds a new collectible to the market. The babies fit in the palm of a little hand.

Sometimes, it's the accessories that don't go together that work. The Juku Couture dolls from Jakks Pacific capture a Japanese trend of layering on mismatched clothing to display individuality. Girls can mix and mismatch clothing on one of four dolls, inspiring distinctive creations.

See some of the latest fashion dolls to hit the market:
Bathing Suit Barbie by MATTEL INC.


Barbie Millicent Roberts, after half a century of different careers and pursuits, is returning to her roots. This new version of the original teenage fashion doll wears a two-piece bathing suit and a cell phone. Her face and the tone of her skin, lips, eyes and hair have been painstakingly updated while keeping the iconic look. Mattel estimates that a Barbie doll is sold somewhere in the world every 3 seconds. 6/10/2009



Littlest Pet Shop Cozy Care Adoption Center by HASBRO INC.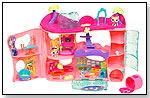 Kids can feed, groom and dress their pets in a new playset that promises hours of activities. There's a spinning playpen, salon and more than 30 accessories. The center has storage space for pets and can be carried so girls can take their collections anywhere. Launch date: Fall 2009. 6/10/2009 (MSRP: $47.99; Age: 4 and Up)



My Little Pony Ponyville Sweetie Belle's Gumball House by HASBRO INC.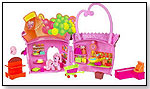 Shaped like a giant gumball machine, this house has two levels of fun. Sweetie Belle, from the Newborn Cuties line, can have her friends over for a snack in the first floor kitchen, take the musical elevator up, and check out the view over the giant lollipop balcony. It comes with Sweetie Belle, and a house full of accessories like a kitchen set shaped like candies. Launch date: Fall 2009. 6/10/2009 (MSRP: $34.99; Age: 4 and Up)



Strawberry Shortcake Sweet Surprise Strawberry Doll by HASBRO INC.



This fashionable friend has tons of beauty options. Girls can comb her hair, or style it with included clips, barrettes and hair extensions. An applicator, after it's been chilled in the freezer, can be used to trigger the color-change feature of the doll, giving it eye shadow, lipstick and a little berry on her cheek. Stickers complete the scene. The 11" doll has the classic strawberry scent and requires no batteries. Launch date: Fall 2009. 6/10/2009 (MSRP: $22.99; Age: 3 and Up)



Strawberry Shortcake Berry Cafe Playset by HASBRO INC.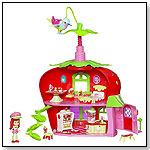 A 3" scented Strawberry Shortcake can hang out in this two-story cafe that comes with furniture, play food, a spinning smoothie machine and even a bird friend to ride. No batteries are needed. Launch date: Fall 2009. 6/10/2009 (MSRP: $34.99; Age: 3 and Up)



"High School Musical 3: Senior Year" Graduation Day Dolls by MATTEL INC.



The charismatic teens from the movie series — Gabriella, Troy, Sharpay, Ryan, Taylor, Chad and Kelsi — are captured as fashion dolls from a key scene in "High School Musical 3." The poseable dolls are dressed in their formal graduation attire, complete with cap and gown, and even class rings for the girls. 6/10/2009 (MSRP: $14.99; Age: 6 and Up)



"High School Musical 3: Senior Year" Sing Together Dolls. by MATTEL INC.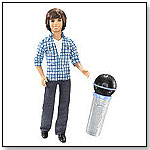 Music is one element that made the movie. The dolls come with a microphone that plays a signature song from the movie. Gabriella, Troy and Sharpay lend their voices to the songs, or kids can take turns with the characters, back and forth, like a karaoke night. If the microphone is close to the doll's mouth, the characters' voices start singing in perfect timing with the song. 6/10/2009 (MSRP: $24.99; Age: 6 and Up)



Baby In My Pocket Baby Triple Packs by JAKKS PACIFIC INC.



Three different babies come in each set of this collectible toy line. The triple packs also come with photo stickers so girls can keep track of all the babies they've cared for. 6/10/2009 (MSRP: $4.49; Age: 4 and Up)



Baby In My Pocket Baby Fun & Play Accessory Packs by JAKKS PACIFIC INC.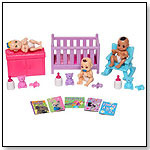 Expanding the world of Baby In My Pocket is a series of playsets, including Playtime Preschool and Naptime Nursery (pictured). Gentle pastels and miniature toys and rattles complete the scene. Each set comes with more than 20 accessories, three poseable Babies and photo stickers. 6/10/2009 (MSRP: $11.99; Age: 4 and Up)



Disney Princess "Snow White and the Seven Dwarfs" Sing Together Friends Doll by MATTEL INC.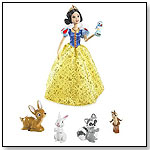 Coinciding with the release of the "Snow White Platinum Edition" DVD, Snow White comes with her woodland friends. Placing the bluebird in her hand will make it whistle. Placed in her hand again, the two of them sing together. A third time, Snow White sings "Someday My Prince Will Come" while her sleeves light up. Launch date: July 2009. 6/10/2009 (MSRP: $24.99; Age: 3 and Up)



Juku Couture Dolls by JAKKS PACIFIC INC.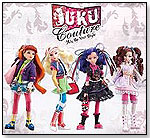 "The Juku Couture line gives young girls a creative outlet for self-expression through fashion based on the mismatched trend," said Jennifer Caveza, VP of marketing for JAKKS Pacific. Each girl has her own story and personality: Audrina is preppy; Jun is a girly girl; Hayley is athletic and a naturalist; and Kana is a romantic punk girl. Each features multiple points of articulation and tradable clothes. 6/10/2009 (MSRP: $14.99; Age: 6 and Up)



Hannah Montana™ Quick Switch Doll by JAKKS PACIFIC INC.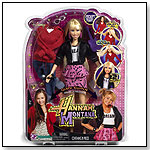 With two outfits, Hannah Montana can easily switch back and forth between herself and Miley Cyrus. 2/25/2009 (MSRP: $24.99; Age: 6 and Up)



"Hannah Montana: The Movie" Doll With Horse by JAKKS PACIFIC INC.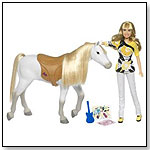 Taking a break from celebrity, Miley goes back to the farm, and is reunited with this beautiful horse in the Hannah Montana movie. The doll comes with fashions directly from the movie. Girls may be inspired to recreate movie scenes or script their own fun. 6/10/2009 (MSRP: $29.99; Age: 6 and Up)



Cabbage Patch Kids Surprise Newborns by JAKKS PACIFIC INC.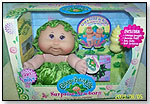 The first thing anybody wants to know about a new baby is if it's a girl or a boy. These dolls, wrapped in a leaf, recreate this suspense when a little girl brings the doll home and unwraps the leaf to discover if the diaper is pink or blue. Launch date: Fall 2009. 6/10/2009 (MSRP: $19.99; Age: 3 and Up)



Pop 'n Style Cabbage Patch Kids by JAKKS PACIFIC INC.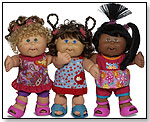 Hair extensions that snap into place give girls a chance to be creative with their babies. Like all Cabbage Patch Kids, each baby comes with a birth certificate and adoption papers. Additional Hair Play Accessory Packs are sold separately. Launch date: Fall 2009. 6/10/2009 (MSRP: $9.99; Age: 3 and Up)



"The Princess and the Frog" Tiana Doll by MATTEL INC.



Girls can relive the magic of the Disney animated feature "The Princess and the Frog." Just as in the story, Tiana wears a beautiful ball gown. When girls bring the frog, Prince Naveen, to Tiana for a kiss, Tiana will turn her head away and say one of the phrases from the movie. The fourth time, Tiana finally agrees and her dress comes alive with firefly lights and magical sounds. Launch date: October 2009. 5/11/2009 (MSRP: $24.99; Age: 3 and Up)



*The Target spokeswoman who was interviewed requested anonymity for this article.
---
---


Copyright © 2021 TDmonthly®, a division of TOYDIRECTORY.com®, Inc.