February 4, 2023

July 2009 | Vol. VIII - No. 7

---
Top-10 Most-Wanted Dolls
Corolle Charms and Groovy Girls Keep Their "Cool"
With additional reporting by Terri Hughes-Lazzell, Chris Lundy, Claudia Newcorn and Brenda Ruggerio

"All of a sudden, we've had a surge on dolls," Bill Rayment, owner of Toy Crossing in Harbor Beach, Mich., told TDmonthly Magazine during a recent survey of 43 specialty toy stores.

French-designed Corolle dolls resounded as a favorite best seller, followed closely by modern chic Groovy Girls by Manhattan Toy. Retailers also favor content-based doll lines, such as the sweet Only Hearts Club or adventuresome and globally-conscious Karito Kids from KidsGive, both of which have books and online content associated with their characters. Here are the top-10 best-selling dolls.
Calin Charming Sweet by COROLLE DOLLS



This 12" doll with sleeping eyes is suitable for 18 months and up. She has a cuddly beanbag-body, allowing her to be in a little girl's embrace, or to be posed to sit up for more engaging pretend play. Calin dolls are machine washable, making care of this favorite plaything easy and confident.
— "Corolle is our top selling doll," said Theresa Oppenheim, owner of Toy World in Wayanta, Minn., in response to a May 2009 survey of best selling dolls.
— "Corolle is outstanding and that's what we stay with," Jane Beck, owner of B J Beck's Toys in Cedarburg, Wis., told TDmonthly in spring 2009.
— "Those are the best dolls on the market," Lori Hershman said of Corolle in her Hamden, Conn., toy store, Evan's Toy Shoppe. Hershman was among 26 of 43 storeowners who named Corolle as their best-selling doll line in May 2009. 6/10/2009 (Age: 2 and Up)



Groovy Girl Fleur by MANHATTAN TOY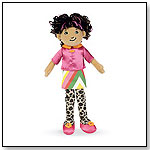 Boldly striking the balance between sweet and funky, Fleur strikes out in Groovy style. This 13" soft fabric fashion and play doll arrives dressed in a short pink jacket, chunky striped skirt and leopard print leggings tied together with satin shoes to match her jacket. She has soft plush skin, a tumble of bouncy yarn hair, and a bright-eyed stitched expression.
— "Groovy Girls are our best sellers in the doll category," said Kim Emigh, VP of e-commerce at Growing Tree Toys in State College, Pa., in spring 2009.
— "Groovy Girls do well for us," said Jason Curtis, owner of Funtopia in Middleton, Calif., in response to a May 2009 survey on best-selling dolls.
— Twenty-eight percent of 43 retailers surveyed told TDmonthly in May 2009 that Groovy Girls are a top seller in their stores. 6/10/2009 (MSRP: $12.00; Age: 3 and Up)



Gotz Doll: Precious Day Girl Jessica by INTERNATIONAL PLAYTHINGS LLC


Gotz's Jessica is a young lady ready for an adventure. She's 18" tall, with detailed vinyl arms, legs and head, and a flexible soft body for cuddling and posing. The Precious Day Collection is machine-washable, featuring rooted hair that will stand up to brushing, styling, washing and all other TLC that girls give their favorite dolls. Gotz Precious Day Girls are sized to the same scale as the American Girl dolls, making the clothing, shoes and other accessories in a child's collection interchangeable. Jessica has long blonde hair, blue eyes that close, and a layered skirt that coordinates with her printed pink and white top.
— "In the Gotz, it's the toddler and older-looking girls that do better," John Naisbitt, owner of Thinker Things in Del Mar, Calif., said in spring 2009 of what makes Gotz one of his top-selling doll lines.
— Five of 43 retailers told TDmonthly in May 2009 that Gotz is a top-selling line in their stores. 6/10/2009 (MSRP: $74.95; Age: 3 and Up)



Hannah Faith by ONLY HEARTS CLUB GROUP LLC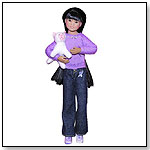 The Only Hearts Club line of fashion and role-play dolls is filled with detail and realism aimed at encouraging young girls to follow their hearts and make good choices. Hannah Faith is 9" tall with a soft body, detailed vinyl face and long black hair. On the Only Hearts Club website, Hannah is described as a little shy, but talented at her hobbies of figure skating and gymnastics.
— Three out of 43 retailers told TDmonthly in May 2009 that Only Hearts Club dolls are a top-selling doll line in their stores. 6/10/2009 (Age: 3 and Up)



Slumber Party Baby by SMALL WORLD TOYS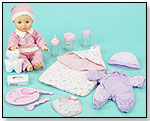 This sweet-faced baby doll comes packaged with 15 play accessories themed around a young girl's pajama party. An extra sleeper set, stuffed animal, sleeping bag, bib and coordinated feeding set make this take-along set a good complement for nights away from home. The set is packaged, with baby, in a reusable tote bag.
— "Small World, All About Baby," Angel Stahl, owner of Angel's Toy Barn told TDmonthly when asked in May 2009 about the best-selling doll line in her Greensburg, Pa., store. 6/10/2009 (MSRP: $26.99; Age: All Ages)



---
---


Copyright © 2023 TDmonthly®, a division of TOYDIRECTORY.com®, Inc.