March 3, 2021

August 2009 | Vol. VIII - No. 8


Transformers and Classic Superheroes Rule Action Figure Lineups
Recession Won't Keep Fan Favorites From Coming Out to Play
"I hear a lot of trepidation from old-school Joe collectors. It's going to be mom dollars that change that." — Daniel Pickett, ActionFigureInsider.com

This year's action figure offerings are full of classic favorites and fresh faces. Many of the anticipated best sellers are coming to stores by way of the big or small screen, promising to captivate children and adult collectors even in a tight economy.

Tom Tumbusch, publisher of "Tomart's Action Figure Digest," has a formula for what he has seen drive sales in this category over the years. Nos. 3 and 4, he noted, are sometimes interchangeable.

1. Space-related toys
2. Superheroes
3. Wrestling
4. G.I. Joe

TRANSFORMING THE MARKET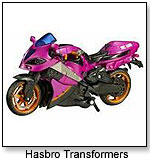 There was "$80 million in Transformers toys last time around," Tumbusch told TDmonthly Magazine, referencing the 2007 blockbuster movie. "That's going to be No. 1."

For the sequel, Dreamworks' "Transformers: Revenge of the Fallen," which hit theaters June 24, Hasbro is releasing an armada of character figures in varying scales and price points.

A popular feature of the original 1980s toy line was connectivity, where figures joined together into one giant robot. The movie features Devastator, a titanic bad guy made of six construction vehicles.

More than just robots, the toy line this year will feature human counterparts sold with the robots, part of a "human alliance" the Transformers have developed.

"History proves that Transformers will be gigantic once again," Daniel Pickett, co-owner of ActionFigureInsider.com, told TDmonthly. Retailers underestimated the toy license's power last time around, he said. The toys were everywhere before the movie came out, but once kids got into stores after the movie, supplies were scarce, and continued to be scarce through Christmas.

PROPERTIES THAT LAST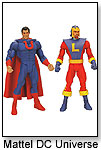 "Star Wars is evergreen with the Clone Wars," Pickett said, referencing the cartoon currently on the air and supporting Tumbusch's theory that space is No. 1.

Hasbro is taking on the expanding Star Wars universe, from well-known characters such as Padme Amidala to newcomers such as General Gree. There will also be vehicles with action figures manning the controls.

"When I'm in a store, I go straight to the Marvel toys. They get better every year," said toy buyer Jeff Crass, 29, of Galloway Township, N.J.

"Always evolving" action figures have developed with more points of articulation and an increased level of detail, he said.

Thirty-four fan favorites, including Spider-Man and Wolverine, will appear in 3.75" size, brought forth by Hasbro.

Less than two weeks before the movie's May 1 release, Pickett said toy stores were expecting a healthy run on items linked to the "X-Men Origins: Wolverine" film.

However, he questioned whether long-time collectors would jump on to the Marvel Universe 3.75" line.

"I get the sense the 6" ones are being phased out," he said. Many people bought the 6" ones, and Pickett told TDmonthly he's not sure they will spend more money for the same characters in a smaller line.

Older collectors love the DC Universe classics, however, according to Pickett. These 6" figures are sculpted by famed toy creators the Four Horsemen, and Mattel is drawing on the revered Superpowers line from the 1980s in style and character choice.

"The more that they do, the harder it is for fans to resist. They sell out as soon as they hit the stores," he added.

Another attractive feature is the "collect and connect" ability, where a piece of a larger figure is boxed with each toy. Collecting the entire line gives a consumer all the pieces to the super figure.

IN THE RING AND ON THE SCREEN

On the wrestling end, Jakks Pacific will lose the WWE license to Mattel after this year, but is still in the ring for '09, with a Deluxe Aggression line featuring realistic sculpts and poses of today's top wrestlers. Each figure boasts 25 points of articulation.

"G.I. Joe, for the movie, is a bit of an unknown quantity still," Pickett said concerning "G.I. Joe: The Rise of Cobra," due out Aug. 7 from Paramount Pictures and Spyglass Entertainment.

Hardcore fans are put off by the characters' black costumes, favoring instead the individuality each one had in the cartoon they watched as kids.

"I think it's very possible kids will see it and embrace it," Pickett elaborated. "I hear a lot of trepidation from old-school Joe collectors. It's going to be mom dollars that change that."

Also for kids is Toy Story merchandise from Mattel, in anticipation of another movie sequel in 2010. The first 3.75" Toy Story action figures ever made debuted in February at Toy Fair.

"Mattel, wisely, I think, is keeping that in the public eye," Pickett said.

SLOWING THE ACTION?

Even though action figures traditionally sell well, they now have to battle a slumping economy, experts told TDmonthly.

"Everyone is just ordering minimums of unknown quantities," Pickett said. When something sells out, there's lag time before it's onto the shelves again because the manufacturer must make more to stock the warehouse.

Despite higher prices and overall slowdown in innovation, Mattel is pressing forward with a futuristic action figure line of Hot Wheels.

"I think that has some real potential to cross-sell," Tumbusch said. "Instead of putting a lot of money into a license, they put out their own action figure line."

See some of the newest action figures:
Transformers Movie Constructicon Devastator by HASBRO INC.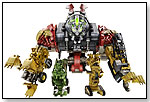 Launch date: August 2009
This gift set contains the largest and most powerful enemy the heroic Autobots will face in the June 24 movie "Transformers: Revenge of the Fallen." Six separate construction vehicles turn into robots, then join together into Devastator in order to, well, devastate. It hopes to capture the interest of children who love construction vehicles, robots and interactivity between toys, as well as the older collector who remembers Devastator and the Constructicons of his youth. 6/11/2009 (MSRP: $99.99; Age: 5 and Up)



Transformers Movie Human Alliance by HASBRO INC.



Launch date: August 2009
The appearance of giant robots on Earth has changed the world, but some have apparently adapted to it. Take Sam Witwicky, who befriended the heroic Autobots in the feature films. He will appear as a 2-1/4-inch figure made to ride within his friend Bumblebee the Camaro. The Human Alliance collection allows kids to play with the human and non-human characters together, reenacting scenes from the movies. The human figures can ride inside the vehicle modes, or be positioned in different battle stations on the robot mode. 6/11/2009 (MSRP: $29.99; Age: 5 and Up)



STAR WARS 3-3/4-inch The Clone Wars Basic Figures by HASBRO INC.



Launch date: Fall 2009
The Clone Wars were waged in the fall of 2009, and continue to be played out on Cartoon Network. Dozens of new figures, each with action features and accessories, will be brought home this year. Entries include Kit Fisto, Mace Windu (pictured) and Commander Gree. 6/11/2009 (MSRP: $7.99; Age: 4 and Up)



Star Wars: The Clone Wars Deluxe Vehicle and Figure by HASBRO INC.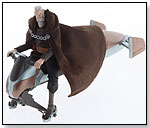 Launch date: Fall 2009
The vehicles are one of the best parts of the Star Wars universe. Eight deluxe vehicle and figure packs based on scenes from The Clone Wars cartoon features one Star Wars vehicle and an accompanying action figure, both designed in the classic 3-3/4-inch scale. Pictured is the evil Count Dooku on a speeder bike. 6/11/2009 (MSRP: $15.99; Age: 4 and Up)



Marvel Universe 3-3/4-inch Action Figures by HASBRO INC.



Launch date: Fall 2009
Marvel has some of the best-known and best-loved characters in comics, and 34 of them are coming to stores this year, including Spider-Man, Daredevil, X-Force Wolverine and Ultimate Captain America. Each single-packed figure has exceptional articulation and poseability, unique accessories and their own "top secret" file card. 6/11/2009 (MSRP: $7.99; Age: 4 and Up)



X-Men Origins: Wolverine Movie Action Figures by HASBRO INC.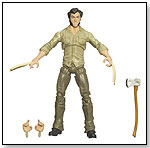 Launch date: Spring 2009
These 3-3/4-inch figures star Wolverine and the best heroes and anti-heroes comicdom has to offer. Kids can recreate scenes from the movie with the figures, which boast great detail and incredible articulation. Pictured is the Logan figure with bone claws. 6/11/2009 (MSRP: $7.99; Age: 4 and Up)



Deluxe Aggression WWE figures by JAKKS PACIFIC INC.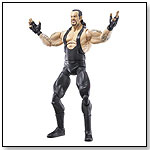 Launch date: Summer 2009
JAKKS is flexing its muscles with today's best wrestlers. There are 6 in each assortment, and new waves will be released every other month. Each figure boasts patented technology to craft realistic face sculpts, plus 25 points of articulation for life-like action and poses. Accessories help kids act out the moves and get into the action. 6/11/2009 (MSRP: $11.99; Age: 8 and Up)



G.I. Joe Movie Night Raven Vehicle by HASBRO INC.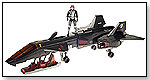 This vehicle features the iconic design of the Cobra Night Raven. Playing a large role in the G.I. Joe movie, this is the largest of the G.I. Joe vehicles Hasbro made for 2009. It's equipped with an array of weapons, lights and sounds. It features a pump action "Lock and Load" system that reloads missiles for attack and is piloted by a 3.75" Air Viper figure. Launch date: Summer 2009. 5/11/2009 (MSRP: $39.99; Age: 4 and Up)



G.I. Joe Movie Snake Eyes Role Play Set by HASBRO INC.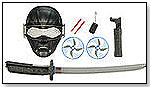 Kids can pretend to be fan-favorite Snake Eyes, a ninja who plays a prominent role in 2009's "G.I. Joe: The Rise of Cobra." The kit includes a mask. It also has a katana-style sword that lights up, makes sounds and has a secret dart launcher in the handle. Launch date: Summer 2009. 5/11/2009 (MSRP: $24.99; Age: 5 and Up)



Bumblebee Movie Voice Mixer Helmet by HASBRO INC.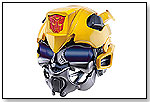 Bumblebee was first Transformer kids got to know in the 2007 movie, and now they can act his part with this helmet. The toy mixes a child's voice to make it sound like it's coming through a car stereo, just as Bumblebee communicated. It features realistic robotic battle sounds and "radio tune-in" phrases to add more fun. Launch date: May 30, 2009. 5/11/2009 (MSRP: $39.99; Age: 5 and Up)



Transformers Movie Figures by HASBRO INC.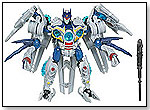 The two-toys-in-one Transformers change from robot to vehicle or beast. The characters from "Transformers: Revenge of the Fallen" are available in three scales. The Deluxe scale includes 24 figures. The next largest size is Voyager, with 11. There are three Leader class figures, which also have lights and sounds. Pictured is the Deluxe Soundwave. Launch date: Summer 2009. 5/11/2009 (MSRP: $12.99; Age: 5 and Up)



Star Wars 3-3/4" Basic Figures: Droid Factory by HASBRO INC.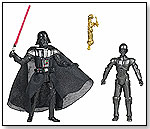 There are hundreds of different Star Wars action figures, but the Droid Factory line lets kids make their own. Kids can use 12 action figures per wave to make their own distinctive droids to add to their stories. Launch date: Fall 2009. 5/11/2009 (MSRP: $7.99; Age: 4 and Up)



Star Wars R2-D2 Radio Control by HASBRO INC.



This 6" scale remote control R2-D2 replicates the spunky droid from "The Clone Wars" series. Using a remote with a "Star Wars" theme, kids can move R2-D2 forward or reverse, turn him around, spin his head and make his trademark beeps and whistles. Launch date: Fall 2009. 5/11/2009 (MSRP: $24.99; Age: 4 and Up)



---
---


Copyright © 2021 TDmonthly®, a division of TOYDIRECTORY.com®, Inc.