September 19, 2020

July 2009 | Vol. VIII - No. 7


Holiday Preview - American-Made Toys
Trains and Crafts Stay in the States
Do you have customers asking for toys and children's products made in the USA? Look no further. TDmonthly's Holiday Preview of American-made Toys features a lineup of eco-friendly craft kits, a Santa Claus train, and even a plant that's sweeter than sugar.
Plants that Work Sweet Leaf by DUNECRAFT INC.



Stevia is known to produce a sweetener twenty to thirty times sweeter than sugar. The Sweet Leaf Plant is a sub-tropical plant that will grow 2' to 3' tall. "This product contains a plant that actually works! It is made in the United States and is guaranteed to grow," Alicia Borley, PR manager for DuneCraft, told TDmonthly. Launch date: February 2009. 6/29/2009 (MSRP: $14.99; Age: 4 and Up)



Creativity Kit by ARTTERRO



There's no limit to what you can make with this beautiful collection of materials! With simple tips and lots of examples for inspiration, cut, glue and sew ornaments, bookmarks, jewelry, cards, mobiles, gift tags, collages & more! Two bonus projects in every kit! Turn the box into a mailbox, birdhouse or special treasure box. The inner tray is perfect for framing your art. Ages 8 and up
— "I love these craft kits because the materials used are so incredible. Kids get to play with 100-percent wool felt, glass and wood beads, and beautiful handmade paper. It's an added bonus that the company has skipped excessive packaging and uses 100-percent post-consumer waste recycled paper, reusable bags and vegetable-based inks," said Autumn Orndorff, gift buyer for Changing Hands Bookstore in Tempe, Ariz., after discovering Artterro kits at ASTRA Marketplace 2009. 6/29/2009 (MSRP: $22.00; Age: 8 and Up)



Adirondack Chair by PEPPERELL BRAIDING / HOLGATE TOYS



A child-sized spin on a classic design, Holgate's Adirondack Chair is made in the USA out of Pennsylvania black cherry hardwood. Most of the chair is finished in the wood's rich, natural color, while the back slats are painted in bright primary colors. The chair can be personalized with a name on the front slat as shown (silk screened; upper-case letters only), and arrives fully assembled.
— "Holgate is our best seller," said Angel Stahl, owner of Angel's Toy Barn, during a May 2009 survey of best-selling kids' furniture and play house items. 6/25/2009 (MSRP: $75.00; Age: 0 and Up)



Lunchbox Stories® by LUNCHBOX STORIES INC.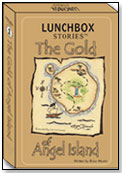 Inspired by the author's childhood memories of receiving notes in his lunchbox, Lunchbox Stories were created as an innovative way for kids to enjoy reading. With more than 40 chapters in each book, readers experience the twists and turns of each adventure through a series of suspenseful Chapter-Cards™. Four titles are available, and each story includes full-color illustrations and packaging. "The Chapter-Cards have approximately 200 words, and are written with just enough suspense to encourage the child to read the next card. The unique design makes Lunchbox Stories effective for quick and consistent reading before bed or during the day, and teachers find they can use the short chapters to playfully regain the attention of the class after recess and lunch," Brian Martin, president of Lunchbox Stories, Inc., told TDmonthly. Launch date: February 5, 2009. 5/22/2009 (MSRP: $14.99; Age: 7 to 12)



MAGNETIC PALS Magnetic Paper Dolls & Critters - Christmas Outfits by GARDNER'S GATHERINGS



These Christmas clothes will fit all but three of the MAGNETIC PAL critters and dolls. They do not fit Rita, the frog or the monkey. The designs are made to be cut out easily with regular scissors. "MAGNETIC PALS teach dexterity while expanding the imagination in all age groups from tots to older adults needing physical therapy," Jan Gardner, partner at Gardner's Gatherings, told TDmonthly. Launch date: April 2009. 4/28/2009 (MSRP: $13.95; Age: 1 and Up)



Tee Juice Medium Point Fabric Marking Pens by JACQUARD PRODUCTS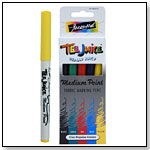 Jacquard Products' popular Medium Point Tee Juice Fabric Marking Pens are now offered in a boxed set which includes: Yellow, Blue, Red, Green and Black pens. Tee Juice Fabric Art Marking Pens are also available in Fineliner and Broad Tip Pens; all are available in eight vivid colors: Golden Yellow, Red, Blue, Black, Chocolate Brown, Orange, Purple and Emerald Green. The pens can be used on a wide variety of natural and synthetic fibers. Any piece of fabric, from t-shirts to lampshades can be transformed into a unique piece of art. Launch date: June 2009. 6/29/2009 (MSRP: $14.99; Age: 5 and Up)



Santa Train Car Set by MAPLE LANDMARK WOODCRAFT CO.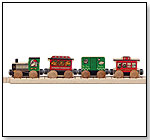 An addition to the NameTrain Wooden Railway System created by Maple Landmark, the four-car Santa Train Car Set is crafted from locally harvested maple with whimsical images of Santa, Mrs. Claus, reindeer and elves. The finishes and inks are all non-toxic. The car pieces are not sold separately. Launch date: June 15, 2009. 6/29/2009 (MSRP: $22.00; Age: 3 to 6)



Blackbeard's Revenge Tavern Puzzle by TUCKER-JONES HOUSE INC.



Captain Teach gave no quarter when he plundered and pillaged. Likewise, this hook will leave you hanging. The object of this puzzle is to remove the shuttle. 6/15/2009 (MSRP: $22.00)



Happy Fun Dough by FOR MY KIDS LLC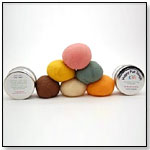 This soft, pliable, moldable dough is made from water, flour, salt, cream of tartar, canola oil and citric acid. The company uses colors that are made using only all-natural plant and vegetable extracts; no artificial colors or chemicals are used. The Super Mega Fun Pack contains one 4-oz. container of each of the colors (natural, brown, green, orange, pink and yellow) and a little rolling pin in a reusuable cotton bag. "When Happy Fun Dough has come to the end of its long and fruitful life, just put it on your compost pile and reuse or recycle the cute tin container," Christine Stewart, owner of For My Kids, told TDmonthly. This product received Dr. Toy's Best Classic Toys of 2009 award. Launch date: November 2008. 4/27/2009 (MSRP: $29.99; Age: 3 and Up)



Jump Rope by GREEN TOYS INC.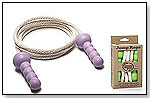 Made in the United States and available in pink, purple and green, this eco-friendly jump rope features 7' rope that's adjustable and made of 100-percent cotton, and handles made from recycled plastic. Launch date: 2009. (

Watch Video) 3/13/2009 (Age: 5 and Up)



24" My First Train by MAPLE LANDMARK WOODCRAFT CO.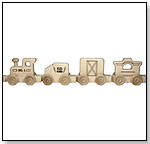 Crafted from sustainably harvested, local hardwood maple, this train includes 6"-long cars, fat wheels and an easy to connect "knuckle hitch." Each car is sanded super smooth to the touch and has engraved detailing. No finishes or chemical coatings are used. As an added bonus, the train comes with a "pull stick" to make the whole train a pull toy. "The train is designed for the 3 years and under. There are very few products on the market that for that age group," Barbara Rainville, marketing manager for Maple Landmark Woodcraft, told TDmonthly. This product received a 2009 Preferred Choice Award, Classic Wooden Toys Category, from Creative Child Magazine. Launch date: January 23, 2009.
— Maple Landmark wooden trains are a big hit at Moon Rabbit Toys in Santa Fe, N.M., Owner Shana Hack told TDmonthly in June 2009. (

Watch Video) 6/29/2009 (MSRP: $50.00; Age: 2 to 5)



Kissa's One-Size Fitted Diapers by KISSALUVS



Designed to be cute, functional and economical, these diapers feature the following: a wide range of fit, for babies from 10 to 35+ lbs.; three body layers and a snap-on soaker that provides absorbency even for heavy wetters; the company's trademark ruffled legs and proprietary elastic; which almost guarantee no blowouts; a designer print cotton outer and a bamboo velour inner fabric; a simple, snap-on design; two lovely, chic prints, one of which was especially printed for Kissaluvs. "The diapers are one size, and fit kids from birth through potty training," Noelle, business manager for Kissaluvs, told TDmonthly. Launch date: January 15, 2009. 5/22/2009 (MSRP: $22.95; Age: 0 to 3)



Red Bolt Cape by CRAFTSBURY KIDS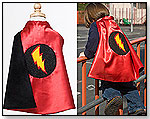 The Red Bolt Cape is elegant and durable. Each satin cape is lined with supersoft velvet chamois (made from recycled plastic bottles) and adorned with a retro-cool handsewn wool felt applique. The high neckline has a one-size-fits-all snap closure. It includes a drawstring bag, perfect for tucking away secret identities. Available in various styles, and two sizes, the cape starts at $18. It is handcrafted in San Francisco. Launch date: March 2009. 3/12/2009 (MSRP: $38.00; Age: 2 to 10)



Jingle Blocks by CRAFTSBURY KIDS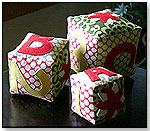 Jingle Blocks were created with baby's love for discovery and touch in mind. Soft and visually interesting prints are appliqued with felt stars, and a gently chiming bell is securely placed in the center of each block. Other applique options include letters and numbers. Other fabrics are also available. The product is made in Vermont. "The Jingle Blocks combine old-world quality with design that appeals to modern parents. There is a special magic about toys such as these blocks, that are handmade in small batches by artisans who love thier work. They are intended to be lasting heirlooms, cherished by many generations," Cecilia Leibovitz, president and creative director of Craftsbury Kids, told TDmonthly. Launch date: April 15, 2009. 3/12/2009 (MSRP: $19; Age: 0 to 3)



VAMOS KIDS by VAMOS KIDS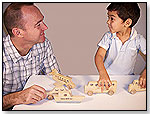 The Vamos Kids product line is designed to introduce the Spanish language to toddlers and preschoolers through the use of toys and audio CDs while interacting with a parent. Launch date: November 2008. 2/27/2009 (MSRP: $29.99; Age: 2 to 6)



Morph-O-Scopes Party Fun Pack - Princess Pony by OOZ & OZ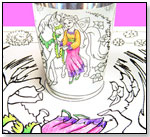 This no-stress optical illusion coloring activity captivates all ages, has global appeal, and is ideal for mixed boy and girl groups. The activity is easy to assemble, totally child safe, and made in the USA. Each Party Fun Pack for 8 Children contains eight morphed placemat coloring pages with colorable borders, eight Morph-O-Scope mirror decoders, and eight bonus morph activities. Activity time is about 30 to 45 minutes. Retail cost per child is about $2. The Princess Pony Party Fun Pack meets or exceeds all U.S. safety standards. Pirate and Halloween themes are also available. 2/24/2009 (MSRP: $15.99; Age: 5 to 14)



Fun Sand Colored Play Sand by FUN SAND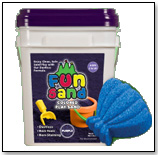 Available in blue and purple, this play sand has a unique texture and almost lifelike quality. It is dustless, non-stain, eco-friendly, and safe for kids, and may even be used in reptile habitats. The product is made in the USA. Launch date: February 2009. 2/18/2009



Softdough Play Set by TERRAPIN TOYS LLC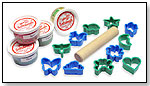 Each Softdough Play Set includes the following: four, 4-oz. tubs of Softdough (in colors red, blue, green and yellow), a hardwood rolling pin and 11 cookie cutters (turtle, frog, squirrel, dragonfly, moon, star, sun, leaf, butterfly, heart and cloud). 1/8/2009 (MSRP: $18.50)



Alice's Tea Party Gilded Scrapbook by TERRA TRADITIONS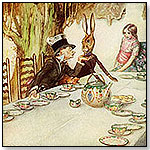 This hand-gilded scrapbook is made with eco- and photo-friendly Kraft pages and insert sleeves that are free of acid. Decoupage is used to apply the picture to the front of the album, where it is framed in acrylic and then sealed. Each scrapbook accommodates from 100 to 300 4" x 6" or 5" x 7" photos. "Our products are handmade in the USA by fine expert artisans with the utmost care," CEO Helena Honovich of Terra Traditions told TDmonthly. Launch date: December 15, 2008. 1/23/2009 (Age: All Ages)



Triviathon by JEEZLE PETE'S! LLC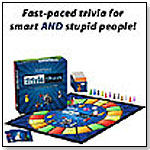 TRIVIATHON... fast-paced trivia for smart AND stupid people! Triviathon will have players singing, dancing, arm wrestling, cheering, cheating, and more as they compete in a game that puts each player's cognitive, physical, and social skills to the test, while they try to win a race moving at speeds of 0, 1, 2, or 3 spaces based on trivia questions they don't even have to know the answers to. Made in the USA, this game is designed for 2 to 12 players. Triviathon has received the following awards: Creative Child Magazine's 2009 Game of the Year; PTPA Media 2009; iParenting Media Award 2009; The National Parenting Center Seal of Approval 2009, NAPPA Honors 2009; and Dr. Toy's 100 Best Children's Products 2009.
— "A trivia game that you can win without having to know the answers. Now some of us might agree that that is our kind of trivia game. Super fun and fast paced. A great choice for family game night. My own children are going to love this game!!" Jennifer Shuman, of 1SmartNoodle, told TDmonthly at Toy Fair 2010.

Past videos: Toy Fair 2009 (

Watch Video) 12/19/2008 (MSRP: $29.99; Age: 8 and Up)



Magnaplay™ Wooden Magnetic Alphabet Picture Puzzle by MAGNAPLAY



The MagnaPlay™ Wooden Magnetic Alphabet Picture Puzzle contains self-checking tiles that give little fingers the ability to put puzzles together and keep them together. Launch date: November 15, 2008. 12/12/2008 (MSRP: $24.99; Age: 3 and Up)



Dado Squares - Blues by FAT BRAIN TOY CO.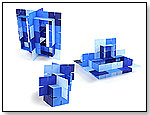 This modern construction set features 35 durable, plastics squares that measure 3" on each side and have notches on the sides that allow them to be connected. Children can build structures more than 3' high. 11/13/2008 (MSRP: $22.00)



All American Boy & Girl Games and Toys by CHANNEL CRAFT & DISTRIBUTION INC.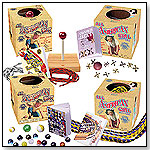 These retro classics will take you back to your childhood! There are four All American Boy Classics to choose from: Marbles, Knot Tying, Yo & Hardwood Throwing Top. And there are four All American Girl Pastimes to choose from: Jumbo Jacks, Skip Rope, Hopscotch and the Wonderball. Each comes with a 20-page handbook full of history, instructions and game techniques packaged in a recycled gift box. "All of our products are made in the USA," Jon Hogue, vice president of Channel Craft, told TDmonthly. Launch date: October 2008. 10/27/2008 (MSRP: $10.00; Age: 5 and Up)



---
---


Copyright © 2020 TDmonthly®, a division of TOYDIRECTORY.com®, Inc.