September 22, 2020

July 2009 | Vol. VIII - No. 7


Holiday Preview - Candy & Food
More Treats to Share With Santa
Santa's not the only one getting goodies this holiday season. Kids can eat bubblegum teeth, make a special modeling dough treat, and get some "Sneaky Chef" tips for cooking in a series of kits.
Bubbagum Christmas Teeth by BUBBAGUM



This product features two front teeth and "is the only 100-percent edible Christmas Candy Teeth," Colin Leier, manager of Triple Alliance LLC dba Bubbagum, told TDmonthly. Launch date: October 2008. 6/29/2009 (MSRP: $1.69; Age: 5 and Up)



Kellogg's Rice Krispies No Bake Deluxe Cooking Set by POOF-SLINKY INC.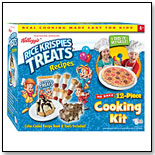 Complete cooking sets for kids made with delicious Kellogg's® Rice Krispies! No beaters, blenders or knives are required, making these products safe, simple, educational and above all, fun! The color-coded measuring cups, spoons and recipes take the difficulty of measuring and mixing out of cooking. For ages 5 and up. 6/25/2009 (Age: 5 and Up)



Cupcake Mints by ACCOUTREMENTS



These frosting-flavored Cupcake Mints come in a 130-ct., 3"-tall tin. There are 36 shrink-wrapped tins in each illustrated display box. Launch date: July 25, 2008. 5/22/2009 (MSRP: $2.50; Age: 5 and Up)



Sweet Treat Eats by PLAYWORLD CORP.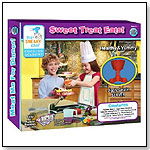 Based on the best-selling book, "The Sneaky Chef," by Jessica Seinfeld (wife of comedian Jerry Seinfeld) these kits help kids have fun with food. With this set, kids can bake themselves a teddy bear and eat its heart out. Launch date: 2009. 5/4/2009



Potluck Survival Guide: Care & Feeding of the Athletic Supporter by FIVE STAR PUBLICATIONS INC.



The book is an anthology of recipes that have been extensively field-tested at school, church and sporting potlucks. In addition to recipes, the book has a wealth of information about planning group events, decorating inexpensively for large gatherings, and specific information for feeding young athletes along with menu suggestions for games and practices. "It should appeal to anyone who has to feed kids, or crowds, or crowds of kids at church, school, athletic, scouting, tailgating or other social events. Perfect for novice cooks, but interesting enough for experienced cooks, 'Potluck Survival Guide' is a user-friendly cookbook that takes the fear out of taking a dish to your next potluck," Sue Defabis, project manager at Five Star Publications, told TDmonthly. Launch date: 2008. 4/27/2009 (MSRP: $24.95)



Airheads® Slinky® Sport Pop by CANDYRIFIC



A toy and a treat that kids can wear on their fingers, this Airheads® Slinky® Sport Pop combines a .42 ounce Airheads® lollipop and CandyRific's popular Slinky® ring. Even after the pop is gone, there is still plenty of play-value left. Launch date: 2009. 1/2/2009 (MSRP: $1.39)



More Cheese Please by PLAYWORLD CORP.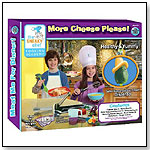 Based on the best-selling book, "The Sneaky Chef," by Jessica Seinfeld (wife of comedian Jerry Seinfeld) these kits help kids have fun with food. Use Senor Guacamole to enliven a Covert Quesadilla. Launch date: 2009. 5/4/2009



Team Tins: Los Angeles Dodgers by NEW WORLD MANAGEMENT INC.



The collectible metal tin features the Los Angeles Dodgers logo and is packed with 2.1 ounces of hard-boiled mint-flavored candies. Each tin is individually hologrammed, and are available in single or multiple team assortments. 11/25/2008 (MSRP: $3.99; Age: 6 and Up)



The Stamper by GOURMET IMPRESSIONS INC.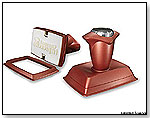 The Stamper, designed to create word or symbol impressions in everything from bananas to pancakes to pizza dough, comes with four word message pads (HAPPY, B-DAY, YUMMY and TASTY) and two image message pads (SMILEY and HEART). 11/11/2008 (MSRP: $1.99)



Penguin Snow Globe, Chocolate-Covered Rice Krispy Treat by FORBIDDEN SWEETS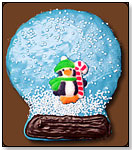 Perfect as a stocking stuffer or gift topper, this snowglobe-shaped treat features a cute little penguin in a blizzard. 10/30/2008 (MSRP: $4.50)



Sour Candy Factory by SCIENTIFIC EXPLORER



This kit comes with all the supplies children need to make hard candy, liquid candy, powder candy, lollipops and much more.
— "A variety of kits for a variety of ages make this brand a top seller," said Joe Berardoni, Sr., owner of Pun's Toy Store in Bryn Mawr, Pa., in the fall of 2008. "They have exciting projects for 4-year-olds to do with Mom and Dad and kits for older children to explore on their own." 10/27/2008 (Age: 8 and Up)



Root Beer Kit by COPERNICUS TOYS

This Rootbeer Kit revives the traditional American activity of brewing old-fashioned root beer at home. Easy, fun, and educational, one can explore the science of CO2 produced as a by-product of yeast metabolism. This kit makes naturally-carbonated creamy root beer. 7/9/2008



---
---


Copyright © 2020 TDmonthly®, a division of TOYDIRECTORY.com®, Inc.