September 23, 2020

August 2009 | Vol. VIII - No. 8


Top-10 Most-Wanted Puzzles
Ravensburger and Melissa & Doug Challenge and Entertain
With additional reporting by Terri Hughes-Lazzell, Chris Lundy, Claudia Newcorn, and Brenda Ruggerio
In June 2009, TDmonthly Magazine asked 47 specialty retailers about their best-selling puzzles. It's a well-stocked category for most specialty retailers, and several storeowners voiced that they've seen a marked increase in their puzzle sales.
"[Over the] last few years, the puzzle [sales] have increased measurably," said John Naisbitt, owner of Thinker Things in Del Mar, Calif.
Ravensburger continues to be a standby for storeowners, with Melissa & Doug close behind and cited as a brand that offers popular products in numerous categories. Here are the top-10 best-selling puzzles.
World Map 1665 3,000-Piece Puzzle by RAVENSBURGER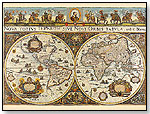 Completing to the intriguing image of a mid-1600s map of the world, this 3,000-piece puzzle measures 32" by 48". Ravensburger puzzles are made out of fully interlocking pieces of durable board cut with precision tools.
― "We get lots of compliments from customers for their quality and prices," Mary Horne, owner of J. Christopher in Jonesboro, Ark., told TDmonthly about what makes Ravensburger her main puzzle brand.
― "I've always been happy with the quality of the products and the diversity of the line," said Janet Gregory, owner of Over the Rainbow Toy Store in Anchorage, Alaska. Gregory was among 24 of 47 retailers who said in June 2009 that Ravensburger is their best-selling puzzle brand.
― "They're great puzzles. We do a lot of them," said Cathy Albro, owner of Creative Learning Toys in Grand Rapids, Mich., of Ravensburger in early summer 2009. (

Watch Video) 7/21/2009 (Age: 10 and Up)



African Plains Jigsaw Puzzle by MELISSA & DOUG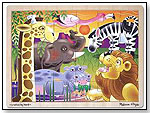 The 24 large, interlocking pieces of this wooden jigsaw puzzle fit together to reveal a brightly colored African landscape populated with friendly cartoon animals. Underneath the setting sun, children will recognize the faces of a giraffe, lion, elephant, hippo, zebra and pink flamingo. The puzzle builds and stores in the tray, allowing children to recreate the image over and over again.
― "Melissa & Doug overall does really well," said Fred Meyer, owner of Meyer's Toy World in Battle Creek, Mich., when asked about his top-selling puzzle in June 2009.
― Seventeen of 47 retailers told TDmonthly in early summer 2009 that Melissa & Doug is their top-selling puzzle line, reporting sales between 15 and 30 pieces per month. 7/21/2009 (MSRP: $9.99; Age: 3 and Up)



Arctic Adventure Puzzibilities by SMALL WORLD TOYS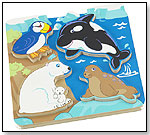 Populating the arctic landscape of this sturdy wooden puzzle's base, four smiling creatures fit neatly into shaped openings. A puffin, orca, mother polar bear and seal are painted on 5/8" thick pieces of wood with smooth edges that are easy for small fingers to grip. Early puzzles like these are designed to help build motor skills, hand-eye coordination, spatial reasoning and basic shape recognition skills that contribute to later ability in mathematics and reading.
― Three of 47 retailers told TDmonthly in June 2009 that puzzles geared for toddlers are their best-selling puzzles. One named Puzzibilities as their store's top-selling puzzle brand. 7/21/2009 (MSRP: $9.99; Age: All Ages)



Noah's Ark Chunky Puzzle by MELISSA & DOUG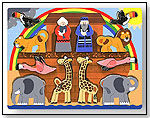 Starting with a sturdy wood tray painted with the arc, the sun and rain, and a bright colored rainbow, children have not only a puzzle to help them sharpen fine motor skills, shape recognition skills and hand-eye coordination, but also a set of 12 chunky figurines for pretend play. The large, easy-to-grasp pieces stand upright to bring this familiar story, or stories from a youngster's imagination, to life.
― "They have a lot of the stuff we need in one source," Dennis Ronberg, owner of Linden Tree Children's Recordings and Books in Los Altos, Calif., said in early summer 2009 of what makes Melissa & Doug his best-selling puzzle line.
― "Melissa & Doug does best for 3- to 5-year olds," Joe Berardoni, owner of Pun's Toy Shop in Bryn Mawr, Pa., told TDmonthly of his best-selling puzzle brands in June 2009. 7/21/2009 (MSRP: $19.99; Age: 2 and Up)



Dragon World Puzzle Ball by RAVENSBURGER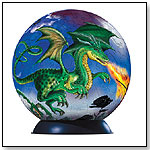 Individuals can build a smooth, solid, 6"-diameter sphere out of 240 curved pieces. The ball stays together with no glue required, displaying a detailed and colorful image of fire-breathing dragons all over its surface. The puzzle comes with a display base to impress friends and family by showing off the completed ball.
― "Puzzle Balls from Ravensburger ... are really popular right now," said Emily Bieritz, manager of My Favorite Toy Store in Downers Grove, Ill., in June 2009.
― Three of 47 retailers told TDmonthly in early summer 2009 that Puzzle Balls from Ravensburger are top sellers in their stores. (

Watch Video) 7/21/2009 (Age: 10 and Up)



My First Puzzles - Dinosaurs by CROCODILE CREEK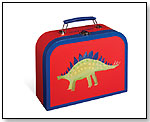 Packed in a bright red latching box emblazoned with a painted stegosaurus, four individually bagged jigsaw puzzles offer different skill levels for young children. At four, six, nine and 12 pieces, each puzzle assembles into a picture of a different dinosaur (a pterodactyl, tyrannosaurus, triceratops and the pictured stegosaurus).
— In an August 2011 survey, 2 out of 12 retailers said that Crocodile Creek's puzzles were best-sellers in the puzzle category. Jeanette Lauture of Aunt Jean's Toys & Treats in Montclair, N.J., said that she sells 3-6 Crocodile Creek puzzles each week.
― "We have Crocodile Creek and do well with those," Jeri Dorsey, buyer for Kits and Kaboodle in Carmel, Ind., told TDmonthly in June 2009 when asked about top-selling puzzles.
— "All of the Crocodile Creek products" for school do well, said Rick Henry, owner of Stellabella Toys in Cambridge, Mass., in autumn 2010. He sells approximately 50 pieces of lunch boxes, thermoses and the like per month. 7/21/2009 (MSRP: $19.99; Age: 3 and Up)



Kid's World ABC Floor Puzzle by CROCODILE CREEK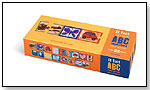 With two interlocking puzzle pieces for each letter of the alphabet, this 52-piece puzzle completes to 11' long. Each letter can be put together separately for a variety of learning activities that will help stimulate children's motor and critical thinking skills.
― Darlene Lockhart, owner of Toy Town in Casper, Wyo., told TDmonthly her top seller in the puzzle category is "any floor puzzle." Lockhart was among seven of 47 retailers who said in June 2009 that floor puzzles are top-selling puzzles in their stores.
― Two of 47 storeowners named Crocodile Creek as their best-selling puzzle brand in early summer 2009. 7/21/2009 (MSRP: $19.99; Age: 3 and Up)



Frank Lloyd Wright's 'Pencils' Puzzle by POMEGRANATE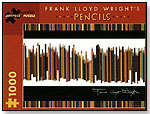 The row of pencils represented on the photo that emerges when this 1,000-piece puzzle is fully assembled were taken from architect Frank Lloyd Wright's desk after his death in 1959. The image is an homage to Wright's renowned talent for drawing, as well as an intricate picture for puzzling. Completed, the puzzle measures 20" x 29".
― "Presently, our best-selling puzzle is a Frank Lloyd Wright piece titled 'Pencils.' It also happens to be from one of our best-selling puzzle manufacturers, Pomegranate, which is dominating our puzzle sales this year," Kevin Pohle, owner of The Wizard's Chest in Denver, Colo., told TDmonthly in June 2009. (

Watch Video) 7/21/2009 (MSRP: $17.99; Age: 3 and Up)



Visual Echo Puzzle - You Are Here by HOBBICO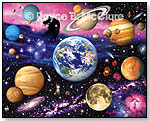 Manufactured with the specialized lenticular printing process, Visual Echo puzzles display the illusion of depth and movement when viewed from changing angles. Parallel rows of optical lenses display different facets of a complex, interlaced image underneath the top layer. The "You Are Here" puzzle, once the 500 interlocking pieces are assembled, features the planets of the solar system drifting on the star-filled background of space.
― "Visual Echoes is a line of 3D puzzles that does pretty well. I'm looking at the line right now, and it's very good," Robin Ellerman, owner of Trains-N-Toys in North Canton, Ohio, told TDmonthly in June 2009. 7/21/2009 (Age: 3 and Up)



---
---


Copyright © 2020 TDmonthly®, a division of TOYDIRECTORY.com®, Inc.