January 25, 2022

January 2010 | Vol. IX - No. 1

---
Toy Fair Preview 2010: Active Play & Outdoor Toys
Preview Toy Fair 2010 exhibitors in the active play and outdoor toys category:

Back to main article.
Jeep® Junior Pedal Go-Kart by BERG USA, LLC

The BERG Jeep® Junior Pedal Go-Kart drives action and adventure right into the backyard. This light and compact go-kart, designed in Holland for children as young as three, gives the feeling of real Jeep® off-roading. The pedals are designed using a unique patented BFR-hub technology, thus making going forward, in reverse, freewheel and breaking simple, easy and controlled with just the use of the pedals. This technology allows for optimum safety and maximum driving pleasure. Suitable for ages three to eight with an adjustable steering wheel and seat. (

Watch Video) 12/23/2009 (MSRP: $359.00)



Thumb Ball by SATURNIAN 1 INC.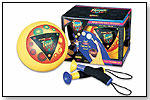 Put a unique spin on traditional games of catch. Two players flip a ball back and forth using thumb-activated suction cup handles-thumb on to catch, thumb off to toss. Comes with a 9" vinyl ball and two gripper handles.

(

Watch Video) 11/25/2009 (Age: 5 and Up)



Faux Bow by MARKY SPARKY TOYS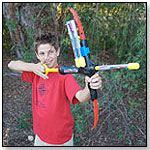 Everything about this toy is fake. We admit it. From the faux Black Ebony handle to the fake bow string. It's all fake. All fake except the performance. The Faux Bow was designed with only one goal: To be the best performing toy bow on the market. We beat all the competition by miles. Every Nerf® enthusiast's jaw will drop at the distance and accuracy of this beast. It out shoots and out distances everything in the class. My mom always told me not to judge a book by its cover. No truer words could be said about the Faux Bow™. Under its fake exterior lies the heart of a dragon (here comes the segue). So, if dragons are on the menu... Faux Bow™ is ready to do some slaying. Comes with 3 perfectly balanced Faux titanium arrows and one 3 arrow quiver.
— "This Bow an Arrow is new from Marky Sparky - creators of the popular 'Doink It Darts.' The bow shoots 'arrows,' which are more-or-less the same missles sold in Marky Sparky's popular 'Blast Pad' rockets. The rockets worked well and seem to be a good addition to a strong line," Joe Mitchell, owner of YoYo Joe's Toys & Fun, told TDmonthly at Toy Fair 2010.
— "Those things fly out of here," unintentionally punned Christine Osborne, co-owner of Wonder Works in Charleston, S.C., in Fall 2010. (

Watch Video) 8/31/2009 (MSRP: $24.95; Age: 8 and Up)



All New 5x5 SandLock Sandbox by SANDLOCK SANDBOXES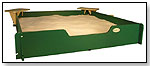 The SandLock 5x5 Sandbox has a patented interlocking design, a CoverLock system and a variety of other one-of-a-kind features. "The SandLock brand is known for it's quality and now we bring all that and more at an affordable price," Chris Freres, Owner, SandLock Sandbox, told TDmonthly. Launch date: March 2010. 12/28/2009 (MSRP: $399.99; Age: 2 and Up)



Precycle by FOOT CYCLES INC.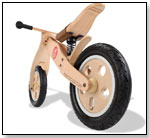 The Precycle is a "green" and artfully crafted wood balance bikes for ages 2 to 5. It features a curved saddle, raise handlebars and wheels inspired by the Lamborghini. A tree is planted by Global Releaf for every bike manufactured by Foot Cycles. Launch date: November 27, 2009. 11/17/2009 (MSRP: $155; Age: 2 to 5)



Fun Gripper™ Fireball Sport Series Soccer & Volleyball by SATURNIAN 1 INC.



Made of durable composite suede material with Fun Gripper™ patented Foam Matrix covering, these vibrantly colorful soccer and volley balls come in 2 sizes (8" and 8.5") and in 3 assorted neon colors. $15.99-$16.99 each. 12/7/2009



EzyRoller - Pink by EZYROLLER LLC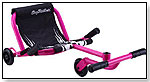 This sleek ride-on is fueled by cambering motion — the rider pushing his or her legs against the front bar, to the left and right. It has a hand brake and features an extendable design to host riders up to 6' tall. Maximum recommended weight is 150 lbs.
— Learning Tree Toys, Games & Books in Oklahoma City, Okla., sells about a dozen EzyRollers per month, Owner Patti Tepper-Rasmussen told TDmonthly in fall 2009.
— Jackie Roy, owner of Learning Resources Toy Magic in Fort Walton Beach, Fla., told TDmonthly in late 2009 that she brought in five EzyRollers on trial on sold out in a week and a half.
— Two of 37 specialty retailers cited the EzyRoller as a top-selling ride-on in spring 2010. "The EzyRoller, by far, continues to be the best," Christine Osborne of Wonder Works in Charleston, S.C., told TDmonthly in March 2010, reporting sales of a couple dozen per month.

Past Videos: WTHRA 2008 (

Watch Video) 11/3/2009 (MSRP: $99.95; Age: 3 and Up)



---
---


Copyright © 2022 TDmonthly®, a division of TOYDIRECTORY.com®, Inc.