September 26, 2020

March 2010 | Vol. IX - No. 3


March Staff Picks
Games to Play and Pieces to Ponder
Games and non-traditional construction pieces will keep children's imaginations alive and offer hours of fun as spring approaches. See below some items TDmonthly Magazine staff think are worthy of a look:
Y-Ball by CREATIVE WHACK COMPANY



Thirty magnetic double Y-pieces click together to form a fun soccer-ball shape, appealing to sports fan as well as creative individuals. The distinctively angled pieces can be put together to create inventive shapes, and the creativity guidebook offers ideas and inspiration for the imagination. "This creativity tool appeals to all ages and can be used at home, at work, and in school to spark the imagination," Lynn Araujo, Communications Director, Creative Whack Company, told TDmonthly. Launch date: February 15, 2010. (

Watch Video) 2/4/2010 (MSRP: $30.00; Age: 12 and Up)



Geemo by BROOKLYN JUNIOR



Designed by
Cas Holman
(born 1974), Geemo is a grabby, stretchy, quirky companion designed to occupy a child's mind as much as his hands. This playful building block for the imagination was sold in Geemanisms (sets) of five. Geemo's flexible, magnetic limbs grab and repel each other in unpredictable ways. As Geemo comes to life in one's hands, she can build, discover, create and imagine with freedom. Awards: Conduit Brave New Design 2005. Launch date: October 2006. Geemo was invented while Holman was pursuing her MFA at Cranbrook, and launched at the NY MoMA Design Store in 2007. It has since won numerous awards and shown in design and toy fairs in Moscow, Tokyo,Seoul, New York, Hamburg and Riyadh, Saudi Arabia. She is a professor of industrial design at Rhode Island School of Design. Previously she was a professor at Syracuse University. Holman also invented Rigamajig, a 263-piece building kit for classrooms. (
Amazon
) Holman was the subject of an episode of the Netflix series Abstract: The Art of Design titled "Cas Holman: Design for Play," focusing on her design philosophies.

2/4/2010 (MSRP: $39.99; Age: 3 and Up)



PigZup by BLUE ORANGE GAMES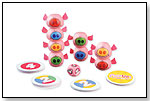 In turn, players flip their top card. As soon as two cards match, both players with matching cards race to stack up the requested number of piggies with the right color on top. The goal is to be the first player to get rid of all his cards to win the game. "How quick and precise are your fingers? Find out as you build piggy piles in this lively stacking game. Stay on your hooves! There is more than one silly way to stack up your piggies," Bert Devort, Sales Department, Blue Orange Games, told TDmonthly. Launch date: February 14, 2010.
— "Loved this game," Kate Tanner of Kidstop Toys told TDmonthly at Toy Fair 2010. (

Watch Video) 2/4/2010 (MSRP: $19.99; Age: 4 and Up)



S'mores Card Game by EDUCATION OUTDOORS



The S'mores card game is designed for up to six multi-level players and incorporates both strategy and good old-fashioned fun. The object of the game is to build an edible s'more before your opponents. Players get a higher point value based on the quality of s'more ingredients. The first player to collect all four ingredient cards and call out "S'more!" wins. The S'more card game includes 70, 3" x 5" sturdy playing cards. It is printed with soy-based ink on recycled paper. Launch date: March 2010. (

Watch Video) 2/4/2010 (MSRP: $5.99; Age: 6 and Up)



Konexi by ZIMZALA GAMES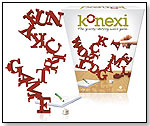 In this gravity-defying, 3-D word-building game, two to four players are challenged to add stacking letters to a tower to form words up, down or sideways to earn points. They must be careful, though, as any new letter could send the Konexi into a full collapse. The game comes with 26 red letters, a die, a mover, a pad and pencil, and a rules manual. Launch date: Fall 2010 (specialty and mass retailers). 2/23/2010 (MSRP: $24.99; Age: 10 and Up)



Gourmet Grill (with food) by HAPE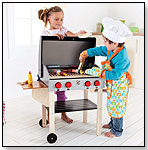 This realistic-looking barbecue set features a hood that opens and a collapsible side table. It includes red knobs to pretend adjusting the heat during play, and wheels to roll it around to different locations. Primary materials are plywood, MDF and non-toxic paint. It measures 47 cm x 37.5 cm x 60 cm.
— This BBQ set was one of the top-two products mentioned by specialty retailers during ASTRA's Share the Fair event at Toy Fair 2010. (

Watch Video) 2/25/2010 (MSRP: $149.99)



Grasshopper Preschool Prep - Snip, Glue and Grow by GRASSHOPPER INC.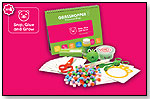 Complete with an illustrated guidebook, this developmental kit comes with 10 multi-sensory games and craft activities to let preschoolers practice early cutting and fine motor skills. 2/19/2010 (Age: 3 to 5)



Science on a Tracking Expedition by THE YOUNG SCIENTISTS CLUB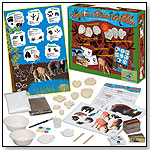 This kit teaches Young Scientists about animal tracking through exciting hands-on science experiments and activities. Identify animal tracks, learn about the animals that make the tracks, cast animal tracks, play the tracking game, create animal track prints, design an animal track poster, and explore real animal tracks in nature. Includes eight realistic animal footprint molds, large colorful poster, and eighty animal game cards. Launch date: Spring 2010 2/15/2010 (MSRP: $29.99; Age: 4 and Up)



STAR WARS Science: Mini Lightsaber™ Tech Lab by UNCLE MILTON INDUSTRIES INC.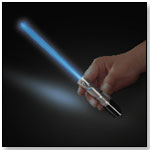 Children discover the science of light and optics as they build their own miniature, 8.25"-long version of the lightsaber used by Anakin Skywalker. A choice of four different colored crystals customizes the lightsaber. There are two lenses (focusing and wide-angle) to demonstrate the principles of optics. (

Watch Video) 2/14/2010 (MSRP: $12.99; Age: 6 and Up)



Papo – Andalusian Princess by HOTALING IMPORTS

From the Tales & Legends line, this princess is wearing a rose red dress with black trim, with a flower adornment on the head, and a paper fan in her hand. 2/23/2010



Fish in a Jiff by TOYOPS INC.


Kids can marvel at the fastest-growing fish in the world, growing from egg to adult in just six weeks. The adult can reach up to 2" (7 cm) in length. The Killifish eggs used in the kit are from the same family of Killifish eggs that were flown and studied by NASA on the space station. These eggs are homegrown in the USA and raised in Toyops labs to preserve their native habitats. Owners just add bottled water and a light source to watch them spring to life. Launch date: March 2010. 2/4/2010 (MSRP: $25.00; Age: 8 and Up)



---
---


Copyright © 2020 TDmonthly®, a division of TOYDIRECTORY.com®, Inc.