January 25, 2022

March 2010 | Vol. IX - No. 3

---
Summary of Online Toy Reviews
TD Scout Shares Positive Consumer Reviews from Thousands of Websites
TDmonthly Magazine's Review Scout scours the Web weekly for reviews of new and hot products so you don't have to spend your time searching. Out of thousands of blog, retail and other sites, his research uncovers toys, games and other gifts that are worthy of your attention now. Check this space for briefs on reviews and ratings from across the nation and even the globe.
Get-Set Placemats – Hello Robot by HELLO HANNA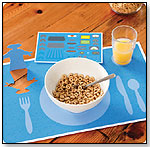 Designed to keep children busy and amused during meal time, Get-Set Placemats come in three variety packs: Hello Robot, Hello Me, and Hello Jungle. They include eight full-color heavyweight paper placemats and matching sticker sheets. Every Get-Set Placemat features a pop-up person, animal or robot to be decorated like a paper doll with the stickers. The placemats also have marked locations for a plate, cup and utensils so kids can learn about setting the table.
— Reviewers across the Web universally praised the Get-Set Placemats for living up to the goals of entertaining kids at the table. Kids who tried the product were instantly enthralled, decorating to their hearts' content while their parents enjoyed a meal in peace. Many reviewers feel that although the non-laminated placemats might not be the best value for everyday use, they would make excellent and functional party decorations. Kimberly of Oh My Baby lamented the fact that the placemats' large size and inability to fold make them difficult to take to a restaurant. See also In the Know Mom and She Scribes. 2/23/2010 (MSRP: $14.95; Age: 5 and Up)



Felt Foods Brown Bag Lunch by LILLY BEAN LLC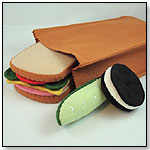 This hand-washable set made in the USA with wool felt includes a lunch bag, sandwich, pickle and cookie. The meat, lettuce, cheese and tomato from the sandwich can be taken apart so kids can pretend to make their own lunch. Most Lilly Bean products are available pre-made or as do-it-yourself craft kits with instructions, patterns, and felt.
— Sara of Sara's Toy Box found the instructions for the sandwich craft kit easy to follow and was very pleased with the end result. The quality of the felt, both in thickness and softness, and the large selection of food choices made the felt food attractive to Leanne of Rave & Review. See also The Full Mommy.
Other LILLY BEAN favorites include Green Eggs and Ham, Chocolate Easter Bunny, and My PB&J. 2/23/2010 (MSRP: $40.00)



Chan Pie Gnon Soft Chew Toy by CALISSON INC.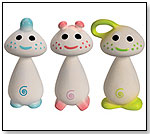 The Chan Pie Gnon line features mushroom-shaped toys that play on "champignon," the French word for "mushroom." Chan, Pie and Gnon styles are available, and are free of BPA and phthalates, created as a safe chew toy for baby. These natural rubber toys squeak when squeezed.
— VULLI, the classic French nursery and toy company, has found great success with Sophie the Giraffe. The rubber toy won a spot on ASTRA's Best Toys for Kids List and is flying off shelves. Customers familiar with Sophie will find that the three varieties of Chan Pie Gnon are made with the same natural rubber. The varied tops of the toys provide soothing relief for teething babies, and parents need not worry since the plastic and paints are non-toxic. Reviewers on Amazon.com rated Chan Pie Gnon an average of more than four stars out of five, though they warn against submerging the toy in water or getting it too close to a dog accustomed to playing with chew toys. See also Rave & Review. (

Watch Video) 2/23/2010 (MSRP: $13.99; Age: 0 to 1)



Norman PhartEphant Volume 1 by FIERCE FUN TOYS LLC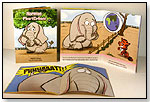 Norman PhartEphant is an elephant with a bit of a gaseous problem. "Volume 1" tells of his move from Africa to a U.S. zoo and his adjustment to the new environment, culture and diet. The 32-page book is printed on recycled paper with soy-based ink and measures 9" x 7".
— Reviewers praise the hilarious illustrations and educational story. CPA Mom of Did You See That? reports that the bodily noises featured in the book drew in and delighted her son, while her daughter was drawn to the story of making friends and understanding. Parents can purchase the Norman PhartEphant plush toy to bring the story to life; Sage and Savvy's Sagemom enjoyed reading the story to her kids while they played with the stuffed Norman. See also 3 Garnets & 2 Sapphires. 2/23/2010 (MSRP: $9.95)



Ultimate Comfort Wagon by RADIO FLYER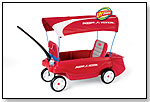 This versatile wagon features patented, five-way flip-and-fold seats for multiple riding options, padded seat cushions for comfort and an extra-large, expandable rear storage compartment to tote a family's worth of necessities. The UV protection canopy allows for all-day adventures, and storage for water bottles, gadgets and other must-haves keeps everything within reach. It can offer a practical alternative to a double stroller for parents of small children. Launch date: July 2009.
— This update on the traditional red wagon retains its slick red, black and white coloring but adds padded seats, a large canopy for shade, and a storage area. Candace Lindemann of Mamanista likens the wagon to a "mobile base," perfect for a long day of outdoor activities with room to spare for tired kids, their possessions, and the day's purchases. Experimental Mommy loved the versatility, adjustability and heat protection offered by the wagon. 8/28/2009 (MSRP: $199.99; Age: 2 and Up)



---
---


Copyright © 2022 TDmonthly®, a division of TOYDIRECTORY.com®, Inc.