April 14, 2021

April 2010 | Vol. IX - No. 4

---
TDmonthly Goes Inside ... Green Genes, Chicago
Online Research Keeps Eco-Friendly Products Flowing
Two-year-old Green Genes in Chicago began with a simple idea: owner Heather Muenstermann wanted to create a one-stop shop for organic and eco-friendly kids' and babies' products.
But Heather doesn't trade in socially responsible products for fun: her toys are unique, engaging and stress open-ended play. The casual, friendly atmosphere she's established in the store and an emphasis on customer service have added to Green Genes' popularity. (Watch Heather's video, below)
Get the Flash Player to see this video.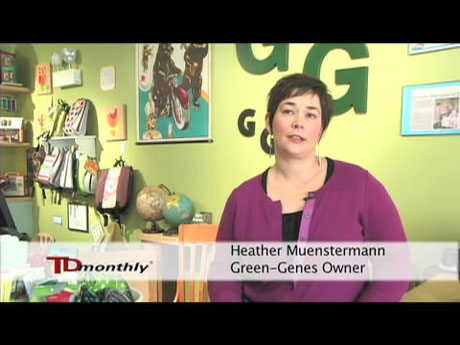 One of Heather's greatest challenges is finding a steady stream of new products that fit in with her mission and the store's theme. She relies heavily on the Internet to scout out smaller companies that offer organic and green products shoppers won't find in any other toy store. This strategy has allowed her to avoid the expense and time of traveling to trade shows throughout the country.

Heather's mission goes beyond finding products that are easy on the earth and fun for kids. By choosing organic clothes and toys processed without fertilizers or chemicals, she's also ensuring that workers in the fields that gather materials for the things she sells aren't harmed by exposure to noxious chemicals. Green Genes is just one store, but Heather hopes her commitment to the future is passed along to her customers and their children to keep the earth and its inhabitants safe for generations.
Beleduc From Egg to Frog 5-Layer Puzzle by HAPE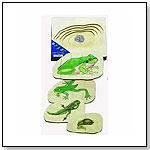 This layered wooden puzzle teaches kids the stages of a frog's life, from egg to tadpole to juvenile and adult. (

Watch Video) 3/23/2010 (MSRP: $24.00; Age: 3 and Up)



Smencils Gourmet Scented Pencils (Set of 10) by INTERNATIONAL ARRIVALS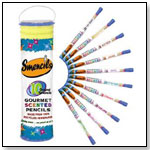 Set of 10 Gourmet Scented Pencils in reusable zippered pouch. Smencils are made from 100% recycled newspaper soaked in natural gourmet liquid fragrance. Scents include: Bubble Gum, Orange, Cinnamon, Grape, Root Beer, Watermelon, Black Cherry, Very Berry, Tropical Blast, and Cotton Candy. Each individual Smencil is packaged in its own freshness tube made from biodegradable, corn-based plastic. Smencils will retain their scent for up to 2 years and each time you sharpen your Smencil the scent is refreshed.
— "We sell about 50 per month. We're expecting this to be a big stocking stuffer,'' Christine Osborne, co-owner of Wonder Works in Charleston, S.C., told TDmonthly.
— William Meredith, owner of Learning Express in Cary, N.C., told TDmonthly in a Fall 2012 survey that they sell 100 Smencils a month, making them one of the store's best selling tween products. (

Watch Video) 1/5/2010 (MSRP: $14.95)



Chef Set by GREEN TOYS INC.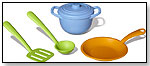 Reducing fossil fuel use and CO2 emissions is part of the recipe for aspiring gourmets who use the Green Toys Chef Set. This classic collection of kitchen essentials is made in the U.S.A. from 100% recycled plastic milk containers. Safe, non-toxic, BPA-free, and even meets FDA food contact standards. Dishwasher safe. The set includes a stock-pot with lid, skillet, ladle and spatula.
(

Watch Video) 3/23/2010 (MSRP: $24.00; Age: 2 and Up)



Pandabo Balancing Panda Game by HAPE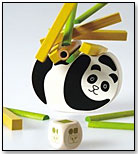 Made of bamboo, this little two-dimensional, inch-thick panda with a rocker bottom acts as the main game piece. Players take turns placing pieces of bamboo on him, trying not to tip him over.

—"It's flying off my shelves! It´s selling like crazy!" according to Jo Ann Barrett, owner of White Rabbit Toys in Ann Arbor, Mich., who has sold out of the product.
— "Yikes! We´ve had a huge run on Pandabo this week!" was posted on the Peapods Natural Toys & Baby Care Web site on July 13. They had sold out of the product.
—What makes it a top seller? "It´s unique, the price is good and the packaging is fantastic," according to Barrett. (

Watch Video) 7/15/2005 (MSRP: $10; Age: 4 and Up)




Deep Into the Forest by KID O PRODUCTS

Part play theater and part brainteaser, this forest exercises imagination and depth perception. Children can make up their own stories or use the cards; the challenge is to determine which animal is standing deeper in the forest. The "unique gift item inspires imaginative play as well as developing depth perception," Brooke Sherman, wholesale manager of Kid O Products, told TDmonthly. (

Watch Video) 10/20/2009 (MSRP: $37.00; Age: 3 and Up)



Cookware and Dining Set by GREEN TOYS INC.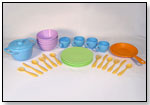 Make-believe culinary treats benefit the earth when young chefs concoct them with this environmentally friendly Cookware and Dining Set made of natural bioplastic. The 27-piece set comes with a stock pot and lid, a skillet, four plates, four bowls, four cups, and four place settings (fork, spoon and knife). It is made from annually renewable, sustainable resources (such as corn), helping to reduce fossil fuel use and CO2 emissions. This company received a 2008 Green Toy Company Award from Dr. Toy. Launch date: September 2007. (

Watch Video) 8/21/2007 (MSRP: $44.99; Age: 3 and Up)



Dolphin Explorer Boat by SPRIG TOYS, INC.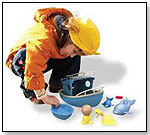 This rugged playset is constructed of Sprigwood, which is a bio-composite material that blends reclaimed wood and recycled plastic, and is dyed with safe pigments. The set includes explorer and rescue boats, Captain Owen the adventure guide, an interchangeable adventure hat, a life preserver, mother and baby dolphins, and a backpack accessory. (

Watch Video) 11/20/2009 (MSRP: $29.99; Age: 3 and Up)



Dump Truck by GREEN TOYS INC.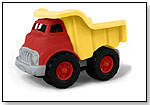 Made from recycled plastic milk containers, this energy-efficient dump truck features a functional dumper and measures 10" L x 7 1/2" W x 7 1/8" H. Launch date: February 15, 2009.
— "The new trucks from Green Toys will be big hits with 2- to 4-year-olds," Patti Tepper-Rasmussen, owner of Learning Tree Toys, Books & Games in Oklahoma City, told TDmonthly following the 2009 ASTRA Marketplace. (

Watch Video) 1/28/2009 (Age: 3 and Up)



Indoor Gardening Kit by GREEN TOYS INC.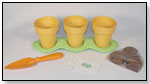 Young green thumbs can watch nature at work by growing an indoor garden in just days with this environmentally friendly Indoor Gardening Kit made of recycled plastic milk jugs. The planting kit comes with a peapod-shaped planter, three planting pots, a trowel, three packages of organic seeds (Teddy Bear Sunflower, Basil and Zinnia) and soil disks. It is made from environmentally friendly materials, helping to reduce fossil fuel use and CO2 emissions in the name of Good Green Fun™. Launch date: September 2007.
— Angel Stahl, owner of Angel's Toy Barn in Greensburg, Pa., thinks these eco-friendly toys will do well for her in 2008. (

Watch Video) 8/21/2007 (MSRP: $34.99; Age: 5 and Up)



Sprig Hollow - Bee & Butterfly's Farm by SPRIG TOYS, INC.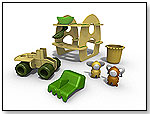 Butterfly's Farm features a water-resistant "farmhouse" with four play/garden shelves. When assembled by an adult, a large funnel and chute fit into slots on the shelves, ready to be filled with sand or water for plenty of flowing fun. The two insect characters—Bee and Butterfly—have chunky bodies with soft, interchangeable wings and a simple slot that allows them to "sit" on the shelves and in the sturdy Farm Truck. The hood of the truck doubles as a sand rake or plow. "We want parents to get outside and spend time with their kids," says Sprig Toys co-founder and toy industry veteran Chris Clemmer. "And,
since Sprig Hollow is made from recycled materials, the toys provide an opportunity to talk about caring for the earth." Launch date: 2008.

Past videos: Toy Fair 2009 (

Watch Video) 10/16/2008 (MSRP: $34.99; Age: 3 and Up)



Sand Play Set by GREEN TOYS INC.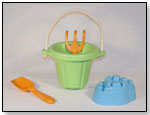 Kids will dig building castles and hunting for buried treasure with this environmentally friendly Sand Play Set made of natural bio-plastic. This classic four-piece collection of tools includes a bucket, a sand castle mold, a shovel and a rake. It is made from recycled plastic milk jugs. Launch date: September 2007.
— Kristin Pollard of Mud Puddle Toys in Marblehead, Mass., has had a "good response so far to the sandcastle set that has come in," and has more sets on order, she said in early 2008. Products by Green Toys were a Toy Fair favorite for five of 24 retailers surveyed by TDmonthly. (

Watch Video) 8/21/2007 (MSRP: $19.99; Age: 3 and Up)



Sevi Transportation Play Puzzle by MAGICFOREST LTD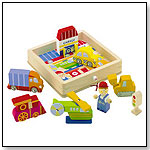 Because there is only one way to fit all of the pieces into the box and close the lid, this item makes a nice travel puzzle. Because the pieces are three dimensional, they can be used as an imaginative play toy too. (

Watch Video) 2/19/2007 (Age: 3 and Up)



Crayon Rocks - 16 Colors by CRAYON ROCKS



These non-toxic, rock-shaped crayons are made in America from natural soy wax derived from American-grown soy beans. Colors include, red, pink, blue, sky, green, grass, dark yellow, light yellow, orange, peach, purple, light purple, brown, tan, black and gray. (

Watch Video) 3/26/2010 (MSRP: $6.95)



Chan Pie Gnon Soft Chew Toy by CALISSON INC.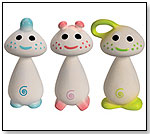 The Chan Pie Gnon line features mushroom-shaped toys that play on "champignon," the French word for "mushroom." Chan, Pie and Gnon styles are available, and are free of BPA and phthalates, created as a safe chew toy for baby. These natural rubber toys squeak when squeezed.
— VULLI, the classic French nursery and toy company, has found great success with Sophie the Giraffe. The rubber toy won a spot on ASTRA's Best Toys for Kids List and is flying off shelves. Customers familiar with Sophie will find that the three varieties of Chan Pie Gnon are made with the same natural rubber. The varied tops of the toys provide soothing relief for teething babies, and parents need not worry since the plastic and paints are non-toxic. Reviewers on Amazon.com rated Chan Pie Gnon an average of more than four stars out of five, though they warn against submerging the toy in water or getting it too close to a dog accustomed to playing with chew toys. See also Rave & Review. (

Watch Video) 2/23/2010 (MSRP: $13.99; Age: 0 to 1)



Woody Click Vehicle Transportation by HAPE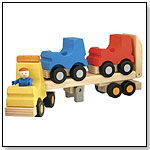 This natural wood car transporter can tote two chunky vehicles and load and unload them for endless imaginary adventures with its driver Woody Click. A water based paint adds bright colors to playtime that begins with building the vehicles first and then play. It won the Oppenheim Toy Portfolio Gold Seal Award in 2006. (

Watch Video) 3/23/2010 (MSRP: $29.99; Age: 3 and Up)



Sprig Adventure Series Discover Rig by SPRIG TOYS, INC.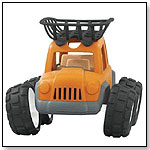 The Sprig Adventure Series is built around the Discover Rig – a sturdy, battery-free vehicle with a removable push bar. The Discover Rig comes with Adventure Guide Cap Faraday, and can seat up to three Adventure Guide characters at one time. When a child rolls the Discover Rig forward, it triggers the generator that fuels the lights and sounds. Three play modes on the Discover Rig control the electronic features: Search (lights only), Rally (lights and motor sounds), and Adventure (lights, motor, dialog, sound effects and songs). The Discover Rig is the sound enabler for all Adventure Guides who hop in the driver's seat, taking a child on self-powered expeditions of the imagination. Recommended for ages 3 and up. 6/10/2008 (Age: 3 and Up)



Interview, videography and editing by Alaric Rocha
---
---


Copyright © 2021 TDmonthly®, a division of TOYDIRECTORY.com®, Inc.