November 30, 2021

March 2010 | Vol. IX - No. 3

---
Summary of Online Toy Reviews
TD Scout Shares Positive Consumer Reviews from Thousands of Websites
TDmonthly Magazine's Review Scout scours the Web weekly for reviews of new and hot products so you don't have to spend your time searching. Out of thousands of blog, retail and other sites, his research uncovers toys, games and other gifts that are worthy of your attention now. Check this space for briefs on reviews and ratings from across the nation and even the globe.
SafetyTats Quick Stick Write-On! Boy/Girl - 18-pack by SAFETYTAT LLC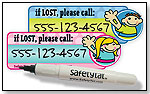 SafetyTats are temporary tattoos designed to keep kids safe when they get lost. The SafetyTats Quick Stick Write-On! pack features 18 temporary tattoos with blank spaces to write in a cell phone number or other safety information. Once customized, the SafetyTats can be quickly and painlessly applied to a child's skin without water. The tattoos' vibrant colors are made to last up to two weeks. SafetyTats are ideal for visits to public places like zoos, malls or amusement parks.
— Maricris of Zen Mama Ventures tested SafetyTats with her daughter at a Chinese New Year festival. During the hustle and bustle of the celebration, Maricris felt assured knowing that if she wondered off, her SafetyTat would help get her back safe and sound.
— Valerie of Val's Views "couldn't recommend Safety Tats more highly." She found the product perfect for her special needs son. Valerie considered SafetyTats a good value as well: "And while they're affordable, they'd help contribute to something you can't put a price on — safety and peace of mind." 3/16/2010 (MSRP: $19.99)



The Dr. Hippo Series by THE HIPPOCRATIC PRESS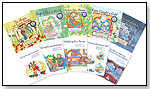 Written by a pediatrician, the Dr. Hippo book series teaches kids about common childhood illnesses like ear infections, colds and sore throats. Each story features a friendly animal family that is affected by one of the illnesses and goes to the reassuring Dr. Hippo for help. The stories are written so that kids learn how they can keep themselves from getting sick and that doctors are friendly people who just want to help them get better. The Dr. Hippo books also include a Parent's Guide with common questions about the illness featured in the story.
— Guessing All the Way's Laurie reports that the books were popular with her kids, even inspiring her nephew to share what he had learned with his friends. Laurie cites the laminated Parent Guide as the book's best feature.
— Alexandra from Design Baby praised the books as "a wonderful way for kids to absorb knowledge about common illnesses." Her kids were captivated by the books, especially "The Moose with Loose Poops." She concluded by vowing that "the next time one of my kids do face one of these five illnesses, I'll be pulling out the appropriate book to soothe their fears, and remind them what is happening, and that this too will pass." 3/16/2010 (MSRP: $17.95; Age: 4 to 8)



Go! Go! Sports Girls by DREAM BIG TOY COMPANY



Go! Go! Sports Girls are plush, sports-themed dolls for girls. They are designed to be a fun and educational way to promote self-appreciation and the benefits of daily exercise, healthy eating, good sleeping habits and overall healthy life-skills. A portion of profits are donated to organizations that encourage girls to develop healthy lifestyles. Launch date: November 11, 2008.
— Dana of Feeling Fit with Dana praised Dream Big for representing many sports and making the Go! Go! Sports Girls "look like dolls, not models, not movie stars, just dolls."
— Reviewers from What the Stuff Toy Review found that girls loved the dolls and were easily able to identify with the variety of sports, looks and personalities. Adult reviewers appreciated the positive values and healthy habits encouraged by the dolls. The review did caution that the dolls' small accessories were likely to be misplaced.
Awards: Dr. Toy 100 Best Children's Products - 2010 12/12/2008 (MSRP: $22.99; Age: 3 to 12)



Kidorable Fairy Umbrella by KIDORABLE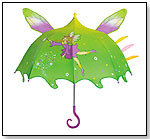 Kidorable describes its Fairy Umbrella as an "imagination tent," an apt description for such a delightful and functional product. This whimsical, kid-sized umbrella features a beautiful fairy print, a spiral handle, ruffled edges and magical fairy wings. Kids can pair the Fairy Umbrella with matching Fairy Rain Coats, Rain Boots, Backpack or any of Kidorable's coordinating rainy day items.
— Cinde, The Freebie Fairy, recounted how her daughter was a big hit at school with her Kidorable fairy umbrella: "The girls all wanted to touch the wings!" Cinde praised the company's attention to detail and was so enamored with the product line that she wished the items came in adult sizes.
— Stefany of To Be Thode reviewed the Kidorable Frog Rain Boots, Umbrella and Rain Coat. She found them all to be top quality products sure to last a long time.
— Cindi Matthews of Moomette's Magnificents called the Kidorable Rain Coats she reviewed "absolutely fun." She was especially fond of the easy-open snaps and the reflective coating the coats have to make kids visible at night. 3/16/2010 (MSRP: $13.95; Age: 1 to 7)



BRIK-A-BLOK-46 by BRIK-A-BLOK TOYS INC.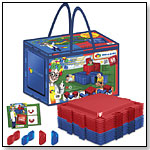 The 16" x 16" polymer panels are designed so that kids can safely build three-dimensional structures kids. Launch date: March 2009.
— Dave Taylor of The Attachment Parenting Blog said Brik-A-Blok was a huge hit with his kids (ages 6 and 9). He noted that his kids' constructions took up a great deal of space, with Brik-A-Blok tunnels stretching throughout their home. Taylor called the building system "fabulously cool," though he lamented the high price tag.
— Brik-A-blok was the "most funnest review ever!" for She Scribes' Kimberley and her son. Her kids enjoyed creating new structures with the versatile panels. However, Kimberley also pointed out the large amount of space needed for the toy as well as the panels' inability to support much weight. 12/12/2008 (MSRP: $179.97; Age: 6 and Up)



---
---


Copyright © 2021 TDmonthly®, a division of TOYDIRECTORY.com®, Inc.