September 19, 2020

April 2010 | Vol. IX - No. 4


Top-10 Most-Wanted Ride-on Toys
PlaSmart's PlasmaCar Beats All to the Finish Line
With additional reporting by Terri Hughes-Lazzell, Chris Lundy, Claudia Newcorn, Marie Raven and Brenda Ruggiero

The PlasmaCar by Plasmart is the clear favorite in TDmonthly Magazine's list of the top-10 best-selling ride-on toys for the third year in a row. No surprise there, nor is it too surprising that out of a survey of 37 specialty retailers across the United States, Toymarketing International's bounce-friendly Rody and Mason Corporation's Flying Turtle also show up as consistent sellers.

Both the EzyRoller and Prince Lionheart's Wheely Bug (and Mouse) join the specialty top 10 for the second consecutive year. See the full lineup of dependable ride-ons below.

No manufacturer paid to be included in this article. All products listed were designated by editorial staff without regard to the company's relationship with TOYDIRECTORY.com/TDmonthly Magazine.
Rody - Mocha by TMI TOYMARKETING INTERNATIONAL INC.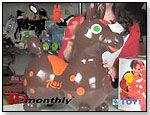 Gymnic Line's Rody Horse, a favorite with children to learn balancing and coordination while hopping on their Rody. (Base is available for transforming to a Rocking Rody Horse). Used in Therapy for special needs children due to its softness and ride-on qualities. Made of super strong, latex-free vinyl, inflates according to size and weight of child with a hand or foot pump. Maximum inflated height to "saddle" is 12 inches. Recommended for 3 years and up, with adult supervision.
— Six of 37 specialty retailers named Rody as a best-selling ride-on in March 2010. Amazing Toys in Great Falls, Mont., sells about four Rodys per month, Owner Dave Campbell told TDmonthly.
— 2 of 15 specialty toy store owners said Rody was their top ride-on in 1Q 2011 (

Watch Video) 1/12/2010 (MSRP: $43.95; Age: 3 and Up)



Flying Turtle - Turquoise by MASON CORPORATION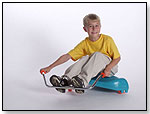 This American-made, child-powered ride-on toy features an injection-molded polyethylene seat. Kids simply put their feet on the handlebars and swing the handlebars side to side with their hands to generate movement. The Flying Turtle, which comes pre-assembled, may be used both indoors and out, and holds up to 150 lbs.
— Deborah Smith, owner of Toys That Teach in Richmond, Va., listed the Flying Turtle as her best-selling ride-on toy in a March 2009 survey. "In spring and summer, [we sell] at least a dozen per month," she said.
— Five percent of 60 retailers told TDmonthly in spring 2009 that Mason Corporation's Flying Turtle is a best seller in their stores.
— Three of 37 retailers named the Flying Turtle when discussing best-selling ride-on toys in spring 2010. Creative Kids Inc. in Columbia, S.C., sells about three dozen annually, Owner Melodie Ingwersen told TDmonthly in March 2010.

3/27/2009 (MSRP: $79.99; Age: 3 to 12)



EzyRoller - Pink by EZYROLLER LLC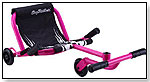 This sleek ride-on is fueled by cambering motion — the rider pushing his or her legs against the front bar, to the left and right. It has a hand brake and features an extendable design to host riders up to 6' tall. Maximum recommended weight is 150 lbs.
— Learning Tree Toys, Games & Books in Oklahoma City, Okla., sells about a dozen EzyRollers per month, Owner Patti Tepper-Rasmussen told TDmonthly in fall 2009.
— Jackie Roy, owner of Learning Resources Toy Magic in Fort Walton Beach, Fla., told TDmonthly in late 2009 that she brought in five EzyRollers on trial on sold out in a week and a half.
— Two of 37 specialty retailers cited the EzyRoller as a top-selling ride-on in spring 2010. "The EzyRoller, by far, continues to be the best," Christine Osborne of Wonder Works in Charleston, S.C., told TDmonthly in March 2010, reporting sales of a couple dozen per month.

Past Videos: WTHRA 2008 (

Watch Video) 11/3/2009 (MSRP: $99.95; Age: 3 and Up)



Okiedog - Fropper by INTERNATIONAL PLAYTHINGS LLC



The ride-on is intended for toddlers over the age of 18 months. The ride-on features a unique spring system that links the two-level seat, a curved seat for security and caster wheels that make changing direction easy. The ride-on can fold into a fraction of its original size, making it convenient for parents to carry and store. Launch date: December 2007.
— "Fropper by International Playthings…we sold every one as soon as they came in and we have them on back order," Kathy Byrd, owner of Fantasy Island Toys in Fairhope, Ala., told TDmonthly.
— "Fropper is new and doing well," Josh Darby, manager of Toy Up in Little Rock, Ark., told TDmonthly in early 2008.
— Two of 45 retailers who spoke with TDmonthly in early 2008 singled out the Fropper as their stores' most popular ride-on. The Fropper continued to be a favorite into spring 2010, cited by two of 37 retailers during a TDmonthly survey on best-selling ride-ons, with sales of two to 10 per month.

Past videos: WTHRA 2009 (

Watch Video) 3/24/2008 (MSRP: $70.00; Age: 1 and Up)



Micro Scooter Bullet by NATIONAL SPORTING GOODS



This scooter has 120mm wheels and ABEC5 bearings for a smooth ride and high speed. It weighs 6.4 lbs. and can hold a rider up to 220 lbs. Measurements are 27" x 38" x 13" (unfolded) and 26" x 10" x 4" (folded).
— "It's perfect for the age group with the bigger wheels and [the] construction is stellar, and it's responsive. It's a medium price point, retails for $80, so it's not something that sells all the time, but does well. This is the time that will start picking up," Eric Masoncup, owner of Gepetto's Toy Box in Oak Park, Ill., told TDmonthly in March 2010.
— In early summer 2010, Brooke Andrews, owner of Millers Toys in Mamoraneck, N.Y., cited sales of 18 Micro Scooters a month. 3/30/2010



The Skuut Wooden Balance Bike by SKUUT LLC


The Skuut wooden balance bike gives preschoolers the big-kid riding experience, as well as a leg up on the competition. Its design helps youngsters forgo the awkward "training wheel" period. The Skuut has no pedals, so children kick off the ground as if running, thus pushing or "skuut-ing" themselves and the bike forward. Developing strength and balance as they go, kids can walk, coast or "skuut" along before transitioning to a two-wheeler. Launch date: November 10, 2006.
— "People like it because it's a little different. It's not a bike or a trike; it's not an infant ride-on. It covers that in-between stage and has a nice age range," said Owner Tye Steinbach of Thinker Things in Portland, Ore., during a March 2009 survey.
— "We're starting to see more interest in coaster bikes," Phil Wrzesinski, owner of Toy House and Baby Too in Jackson, Miss., told TDmonthly in spring 2009. Skuut offers "fun for pre-bike riders," according to Patricia Fieldler, owner of Green Frog Toys in Portland, Ore. This bike was on her top-nine best-seller list in spring 2009.
— Two of 37 retailers named Skuut as a best-selling ride-on in March 2010. Skuut "is a huge seller," noted Elaine Hackney of Boing! JP Toy Shop in Jamaica Plain, Mass. Past Videos: Toy Fair 2008 (

Watch Video) 11/10/2006 (MSRP: $99.99; Age: 2 to 5)



Wheely Mouse by PRINCE LIONHEART INC.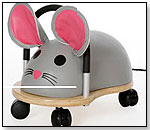 This cute, padded ride-on features multidirectional castors that let kids scoot comfortably. It's intended for use on smooth floors, it's ideal for indoors and runs quietly.
— Two of 37 retailers mentioned the Wheely Bug or Wheely Mouse when discussing best-selling ride-on toys in March 2010. (

Watch Video) 12/10/2009 (MSRP: $69.99; Age: 2 to 5)



Steer & Stroll Trike by RADIO FLYER



This brightly colored trike offers kids and parents a large array of features to adjust to various situations. The durable metal body supports an adjustable seat to accommodate the growing preschooler, and the tricycle easily goes from a kid-powered pedal-along to a push trike that the parent can easily steer. Patented internal gears allow the wide, stroller-style push bar to turn the front wheel of the trike, and free-wheeling pedals allow the rider to comfortably coast while the adult pushes.
— "Radio Flyer Steer & Stroll Trike. [We sell] four per month," Mike DiAndrea, manager of Hardware Centre Inc. in Paoli, Pa., said of his best-selling ride-on toy during TDmonthly's March 2009 survey.
— Seven percent of 60 retailers listed Radio Flyer as the manufacturer of their top-selling ride-on toys in spring 2009.
— Two of 37 retailers named a trike by Radio Flyer as a top-selling ride-on in spring 2010. 3/27/2009 (MSRP: $79.95; Age: 2 to 5)



John Deere Plastic Pedal Tractor by LEARNING CURVE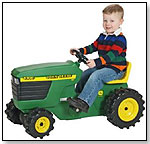 Licensed from John Deere, this authentic-looking kid's tractor features an adjustable seat, easy to reach pedals and a working steering wheel. It carries a 90-day limited warranty and weighs 22 lbs. Measurements are 38" x 19" x 22.5".
— Two retailers mentioned this tractor when asked about top-selling ride-on toys in spring 2010. The Wooden Toy in Wethersfield, Conn., sells two to three per month, Owner David Ekwall told TDmonthly. 3/30/2010 (Age: 3 and Up)



---
---


Copyright © 2020 TDmonthly®, a division of TOYDIRECTORY.com®, Inc.