May 15, 2021

June 2010 | Vol. IX - No. 6

---
Hear Musical Instruments Perform on Video
Composers Orchestrate With Laser Beams and Neckties
Want to create a beautiful, orchestral arrangement? It's all in your hands with The Beamz, a laser-beamed "instrument" for error-free music making. You can also check out videos of more classic toy instruments, along with a not-so-traditional strum-worthy necktie.
Bontempi Saxophone, Trumpet and Clarinet Trio 16" by INTEGRATED GLOBAL SOLUTIONS, INC.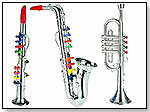 This boxed, musical trio includes trumpet, saxophone and clarinet with color-coded keys and a shiny silver sheen. Bontempi's boxed horns are color coded and with Bontempi's 7 Note 7 Color Musical method, can be played right out of the box.
— This shiny trio of instruments is a best seller at Kazoo & Company in Denver, Owner Diana Nelson told TDmonthly in early 2009.
— Jeanne McCullough, owner of Children's Store Inc. in Boise, Idaho, said in January 2010 that her Bontempi instruments "sell like crazy."
— "[They are] great little instruments that sound nice," said Nerice Kendter, owner of Busy Bee Toys in Doylestown, Pa., when asked by TDmonthly about best sellers in the music department. (

Watch Video) 9/10/2007 (MSRP: $45.00; Age: 3 and Up)



Washboard Tie by TROPHY MUSIC COMPANY



These musical neckties are made of corrugated sheet metal and can be played as a musical instrument when strumming metal-capped fingers along it.

(

Watch Video) 3/24/2010



SchoenhutŪ Thumb Piano by SCHOENHUT PIANO COMPANY



The thumb piano or marimba is easy to play and has a quiet soothing sound. By gently striking the ends of the keys with your thumbs, you can play familiar melodies and rhythms or improvise your own. It is a fun instrument to play since anything you play on it sounds good. "The Schoenhut Thumb Piano has twelve metal tongues or keys," explained Kristy Schaffer, manager of Schoenhut. "It is primarily a percussion rhythm instrument. Simple songs are easily tapped out using only your thumbs. It is tuned to the C key. Each instrument is handcrafted." It won a 2005 Dr. Toy Best Children's Vacation Products. Launch date: 2005 (

Watch Video) 8/25/2008 (MSRP: $44.95; Age: 6 to Adult)



Chroma-Notes Hand Bells by RHYTHM BAND INSTRUMENTS LLC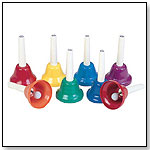 High quality construction and accurate intonation make this 8-Note Handbell Set a great value. Each of the eight metal bells are marked with the proper note in the C-C range and corresponding number to help children learn the musical scale. Standing five inches tall, the long handles enable players to grasp the bells securely. Launch date: 2008. (

Watch Video) 3/30/2010 (MSRP: $39.50; Age: 3 and Up)



Retailers: Did you know you can broadcast TDmonthly Toy Videos from your website? Manufacturers: Find out how a TDmonthly Video attracts buyers.
---
---


Copyright © 2021 TDmonthly®, a division of TOYDIRECTORY.com®, Inc.