March 8, 2021

May 2010 | Vol. IX - No. 5


Top-10 Most-Wanted Travel Toys and Games
Backseat Drivers Stay Busy With Magnets and Classic Games
With additional reporting by Terri Hughes-Lazzell, Chris Lundy, Claudia Newcorn and Brenda Ruggiero

Travel with children can be challenging, and finding the right playthings for the journey can not only ease but enrich the experience for everyone. Classic favorites like Mad Libs and Travel Bingo, and newer preferences such as Buckyballs (not for children) from Maxfield & Oberton, are most in demand for travel, 39 specialty retailers shared with TDmonthly Magazine in March. See the best-selling travel toys and games below.

No manufacturer paid to be included in this article. All products listed were chosen by editorial staff without regard to the company's relationship with TOYDIRECTORY.com/TDmonthly Magazine.
Fun on the Farm Imaginetics by INTERNATIONAL PLAYTHINGS LLC



Lightweight and portable, this small Imaginetics play set combines whimsical animal illustrations and a richly colored background with reusable, interactive magnets. Each image is backed with thin, flexible magnetic material, allowing pieces to be repositioned easily on the themed backdrop. Children can tell stories or invent games, and when finished the play set folds closed to protect and secure the pieces.
― "We sell a lot of Imaginetics," said Jill Brown, buyer at Kidoodles in Norman, Okla., when asked about her best-selling travel items in spring 2010. Seven of 39 retailers surveyed by TDmonthly in March 2010 said magnetic play sets are their top-selling travel toy.
― In late Spring 2011 two out of 12 retailers surveyed mentioned Imaginetics as a best-selling travel toy.
— Want this? As of 05/06/2011, this product was available for purchase at Magic Box Toys. 4/9/2010 (MSRP: $4.99; Age: 3 and Up)



Yes & Know® Mr. Mystery Books by LEE PUBLICATIONS



Be a super detective! Use your Invisible Ink pen to uncover the truth and solve the mysteries. Here are just some of the games you will find inside this book, decode the cryptograms, decipher Krazygrams, and nab the crook in jailbreak.
Each book includes 48 pages of fun and a special pen.
― Out of 39 retailers, four named activity books from Lee Publications as their top-selling travel item in March 2010, reporting sales averaging 24 per month.
― Kristen Dolle, manager of Playthings Toy Shoppe in Louisville, Ky. told TDmonthly in late Spring 2011 that Magic pen books by Lee Publications were a best-selling travel toy.
— In an April 2012 survey about best selling travel toys, Joe Berardoni, owner of Pun's Toys in Bryn Mawr, Pa., told TDmonthly: "As a category, Lee Publication's Yes & Know books continue to sell out during travel time due to their wide age range and low retail price."
— Want this? As of 05/06/2011, this product was available for purchase at Playthings Toy Shoppe. 4/9/2010 (MSRP: $3.99; Age: 3 and Up)



BANANAGRAMS® by BANANAGRAMS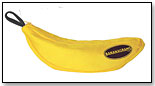 The fast-moving word game consists of 144 ivory-like letter tiles in a zippered banana pouch. Players place the tiles face down on the table and randomly select 21 tiles. They turn their letters right-side up simultaneously and proceed to form as many intersecting and interconnecting words as possible, rearranging their own letters as many times as desired throughout the game. Awards: TDmonthly Top Seller 2007; 2009 TOTY Game of the YEAR, 2006 Oppenheim Toy Portfolio Gold Seal; 2007 iParenting; 2007 Parents' Choice Recommended; 2007 Dr. Toy Best Products. (Read Review)
— This product has been making the TDmonthly Best-sellers lists since 2007.
— As of 05/13/2011 this product had 4.8 out of 5 stars from 456 reviews on Amazon.com.
— Eight of 66 retailers vouched for its best-selling status in May 2008; seven of 63 did in Sept. 2008. Shani Watmough of Planet Toys in Rockland, Maine, said her store sells 60 per month. Fifteen of 38 named it a top-selling game in Feb. 2010.
— As of April 5, 2010, Bananagrams had spent 570 days in the top-100 best-selling toys and games on Amazon.com.
— According to owner Brett Sommer of Figpickels Toy Emporium in Coeur d'Alene, Idaho, "It was the 2009 game of the year. The brilliant packaging definitely helps this product." (

Watch Video) 6/19/2006 (MSRP: $14.99; Age: 7 and Up)



Flip to Win Hangman by MELISSA & DOUG



This classic game features an erasable whiteboard with a marker/eraser that can easily be stored on the side, and has no loose components, making it ideal for travel. It measures 0.9" x 10.2" x 8.75".
— "We sell a lot of … Melissa & Doug flip games, especially Hangman," Susan Blanton, owner of Pufferbellies in Staunton, Va., told TDmonthly in March 2009. "All the pieces are attached," pointed out Holly Anver, manager of Ages & Stages Toy Box in Golden, Colo.
— Four of 64 specialty retailers named this one-piece version of hangman when talking about best-selling travel toys in spring 2009. Four of 39 retailers echoed that sentiment in March 2010. Overall, 11 percent of those surveyed in '09 cited games by Melissa & Doug. David Ekwall of The Wooden Toy in Wethersfield, Conn., said his store sells eight to 10 per month. 4/9/2009 (MSRP: $12.99; Age: 6 and Up)



Find It – The Wonderful Wizard of Oz by FIND IT GAMES



This classic, portable version of Find It celebrates "The Wizard of Oz" by challenging one or more players to find 26 items, including Dorothy, Scarecrow, Tin Woodsman, Cowardly Lion, an emerald, a yellow brick, a broom and, of course, Toto the dog. This game is slightly smaller than the original Find It games.
― "Find It is a great car toy," said Mary Porter Green, owner of Curiosity Zone in Ashburn, Va., when asked about her top-selling travel toys in March 2010. Three of 39 retailers said Find It is a best seller in their travel departments. 4/9/2010 (MSRP: $15.00; Age: 8 and Up)



Pocket Farkel® by LEGENDARY GAMES



At 2" high and available with more than 95 labels for states, hobbies and lifestyles, this game may be used to teach math and strategy skills. The aim is to score 10,000 points by rolling dice and collecting combinations. Risky players will keep rolling for more points, but there's always the danger they will earn no points, or Farkel.
— With scoring rules on the package, Pocket Farkel is self-contained. Even climbers have played the game at the summit of Mount Kilimanjaro. Families laud the game as a perfect time filler for long trips or short breaks. One version of Pocket Farkel received an average of 5 out of 5 stars from 18 reviews on Amazon.com, as of Nov. 2009. Amy Barrett, owner of Lasso the Moon Wonderful Toys in Helena, Mont., told TDmonthly in fall 2009 that her store is "selling quite a bit" of Pocket Farkel since its low cost and small size make it easy to stock near registers as an impulse item. Of 39 retailers surveyed in March 2010, two said it's their top-selling travel game.
9/1/2006 (MSRP: $5.95)



Sleepover Party Mad Libs by PENGUIN GROUP USA



Mad Libs combine language education, creative stimulation, and just plain silly fun. Each page asks for a list of words by part of speech, which are then plugged into strategic blanks in a short story on the page following. When distributed throughout the Mad Libs framework, a list of seemingly ordinary words becomes inventive and hilarious.
― Two of 39 retailers who participated in TDmonthly's March 2010 survey of top-selling travel toys said Mad Libs are their best.
— "We sell three Mad Libs a day," Ava Allen, owner of Be Beep A Toy Store in Columbia, S.C., told TDmonthly in autumn 2010.
— In an April 2013 survey, two out of 12 retailers said that Mad Libs are one of their best-selling travel products. 4/9/2010 (MSRP: $3.99)



Buckyballs™ by Zoomdoggle by MAXFIELD & OBERTON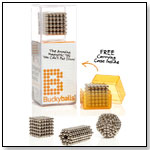 This set includes 216 powerful rare earth magnets that can be molded, shaped and snapped together in an endless variety of configurations. Each Buckyball has two poles — one repels, one attracts. Not intended for children. Watch video
— ''Pun's has sold about four dozen in the last month alone,'' Joe Berardoni, Sr., owner of Pun's Toy Shop in Bryn Mawr, Pa., shared with TDmonthly in the fall of 2010.
—Jeanette Lauture, owner of Aunt Jean's Toys & Treats in Montclair, N.J., sold nine of 24 units in two days after opening a box for display, she told TDmonthly. Two of 39 retailers named Buckyballs as a best-selling travel toy in March 2010.
— Dean Smith, Co-owner of JaZams in Princeton, N.J., told TDmonthly in a Summer 2011 survey that he sells "probably 50" sets of Buckyballs each month.
— May 27, 2010 RECALL of 175,000 sets (prior to March 2010) with 13+ labeling violating a federal standard that powerful magnets not be sold to children under 14. (

Watch Video) 11/25/2009 (MSRP: $29.95; Age: 14 and Up)



SQUIGGLE® Shapes & Colors On-the-Go by RANDOMLINE INC.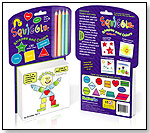 Ideal for travel, this creative activity includes four colored pencils and gives kids the chance to not only identify shapes but to create objects, patterns and characters. As children work through the pad, the shapes and designs become more complex.
― Out of 39 retailers interviewed by TDmonthly in March 2010 about top items in travel, two said Squiggle On-the-Go is a best selling product in their stores. 4/9/2010 (MSRP: $6.95; Age: 4 and Up)



---
---


Copyright © 2021 TDmonthly®, a division of TOYDIRECTORY.com®, Inc.