September 19, 2020

June 2010 | Vol. IX - No. 6


Videos: Dolls Bask in the Spotlight
MGA Goes Specialty and Ty Dolls Shrink
MGA Entertainment has launched a culturally diverse line of 18" dolls for the specialty market, and Ty Inc. has scaled down its doll designs with new Li'l Ones, already proving to be strong sellers in some stores. Watch TDmonthly Magazine's 2010 trade show videos below to see babies with blankets and other fun doll lines.
Girls From Around the World by MGA ENTERTAINMENT



MGA's collectible fashion doll line features 18" multiethnic dolls from around the world in regional attire. Launch date: 2010. (

Watch Video) 3/30/2010



Barbie Newscaster by MATTEL INC.



Barbie® doll's 125th career, as selected by girls around the world is News Anchor! News Anchor Barbie® doll will make her debut this fall in a pink suit with black accents, a news folder, camera and a microphone and the "B News" logo. (

Watch Video) 3/17/2010



Harumika by BANDAI AMERICA INC.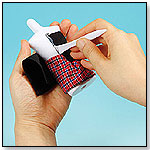 Aspiring fashion designers can achieve "Runway Ready" status, with Harumika – the new dress-form fashion doll from Bandai America Inc. Already a huge phenomenon in Japan, Harumika lets girls "style their imagination" and easily design attire with colorful fabrics and fashion accessories – all with no sewing required. (

Watch Video) 2/17/2009 (Age: 5 and Up)



Blanket Baby Buddy - 18" Girl with Blanket (Stripe Pink) by BLANKET BABY BUDDY



18 inch stuffed baby doll with blanket. Plain and striped soft poly knit fabric. Embroidered face and buttons. Double blanket consists of plain soft polar fleece and striped poly knit fabric. Laboratory tested. Hypoallergenic. (

Watch Video) 4/5/2010 (MSRP: $29.99)



Paul & Emma Drink-and-Wet Bath Babies by COROLLE DOLLS



These 14", all-vinyl baby dolls drink and wet and love to take a bath; they are excellent potty training aids too. Paul is even anatomically correct. Each doll comes complete with color-coordinated potty, pacifier, feeding bottle and diaper. Paul and Emma are recommended by several child experts, including Dr. Phil, whose potty-training method consists of an approach that includes an anatomically-correct doll and a "potty party." (

Watch Video) 9/8/2005 (MSRP: $42.00; Age: 3 and Up)



Hayley by LINDA RICK, THE DOLL MAKER



12" porcelain doll clutching a plush white lamb. Hayley is wearing a long, pink dress trimmed with white lace and a headdress adorned with flowers. (

Watch Video) 3/24/2010



My Favorite Princess Doll and Tiara 4-Piece Assortment by MGA ENTERTAINMENT

Girls can ring their favorite fairy tales to life with MGA's My Favorite Princess doll. She comes with her own tiara, dazzling dress and shoes, plus a display stand. She also comes with a "life-size tiara for princess role play," Susan Hale, PR Director of MGA Entertainment, told TDmonthly. Launch date: Jan. 6, 2010.
— Terri Maccarrone, GM of Specialty Toys at MGA Entertainment, told TDmonthly in June 2010 that this product is not being developed. (

Watch Video) 3/24/2010 (MSRP: $19.99; Age: 3 and Up)



Li'l Ones - Beautiful Brianna by TY INC.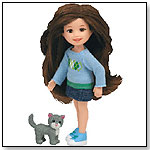 This miniature, poseable play doll is about 4" tall and comes in a box with a cat and a brush accessory. Brianna is one of eight dolls in the Ty Li'l Ones collection. Launch date: Spring 2010.
— "The No. 1 thing we just got in is the Li'l Ones from Ty," Steve Banducci of Games Unlimited in Danville, Calif., told TDmonthly in March 2010. "We got in 96 two weeks ago and we have about 15 left. Kind of a surprise." (

Watch Video) 3/15/2010 (MSRP: $4.99; Age: 3 and Up)



Barbie Software Engineer by MATTEL INC.



Computer Engineer Barbie®, debuting in Winter 2010, inspires a new generation of girls to explore this industry, which continues to grow and need future female leaders. Barbie® designers worked closely with the Society of Women Engineers and the National Academy of Engineering to develop the geek chic wardrobe and accessories for Computer Engineer Barbie®: a binary code patterned tee, smart phone, Bluetooth headset, and laptop travel bag. (

Watch Video) 3/17/2010



Tinker Bell by LINDA RICK, THE DOLL MAKER



This 6" poseable fairy with mesh fairy wings debuts the Precious Pudgy Doll Collection by The Doll Maker & Friends. (

Watch Video) 3/24/2010



BFC, Ink. 18" Dolls by MGA ENTERTAINMENT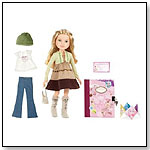 The BFC, Ink. (Best Friends Club, Ink.) 18" doll line consists of three characters: Addison, Kaitlin and Calista, each with her own unique personality and story to tell. Each articulated doll comes with relatable fashions, a version of the classic fortune-teller game and interactive journals meant to inspire girls to discover their individuality. The line is anchored by a series of tween-targeted fiction books, in partnership with Parragon Publishing. Awards: Dr. Toy 100 Best Children's Products 2009, Family Fun Top Ten Toy of the Year 2009; and iParenting Media 2009. "MGA Entertainment introduced the BFC, Ink. doll line with the goal of bringing a larger-than-life experience to girls," Negar Treister, Director of Communications, MGA Entertainment, told TDmonthly. "With this in mind, it packaged each 18" articulated doll with extra fashions, a version of the classic fortune-teller game and an interactive activity journal. This vision resulted in a doll that is not only beautiful, but also unparalleled in the holistic play value it brings to girls." Launch date: October 1, 2009. (

Watch Video) 11/25/2009 (MSRP: $39.99; Age: 6 and Up)



Retailers: Did you know you can broadcast TDmonthly Toy Videos from your website? Manufacturers: Find out how a TDmonthly Video attracts buyers.
---
---


Copyright © 2020 TDmonthly®, a division of TOYDIRECTORY.com®, Inc.