September 20, 2020

May 2010 | Vol. IX - No. 5


Holiday Preview: Dolls
As Pocketbooks Shrink, Dolls Do, Too
Dolls are taking a miniature approach this year, from Manhattan Toy's 6" Beneath the Leaf fairies to Ty's 4" Li'l Ones. They're not short on style, though, nor are MGA Entertainment's Girls from Around the World, created for the specialty market. See TDmonthly's Holiday Preview of Dolls below.

For products that interest you, click "Add to my Inquiry Basket" to request a catalog or ask questions of the manufacturer.
Little Princess Angel by NORTH AMERICAN BEAR



This soft, velour 10" doll has embroidered facial features and attached tricot wings in a fresh white gown. The machine washable Little Princess Angel is available in a choice of blonde, brunette and brunette/tan styles and is safe for all ages. 4/28/2010 (MSRP: $14.00; Age: 0 and Up)



Lily Doll Harper by MANHATTAN TOY



Harper is a soft, classic doll who features a hip teal dress, orange poncho and tall tan boots. Lily Doll outfits are removable for fashion play. Launch date: 2010. 4/6/2010 (MSRP: $50.00; Age: 3 and Up)



Vocation Dolls by WEE BELIEVERS



Vocation Dolls (Fr. Juan Pablo and Sr. Mary Clara, sold separately) are huggable, plush, 13" dolls fashioned for imaginative yet inspirational play. They include a full-color companion booklet detailing five real stories of men and women who became priests and nuns — courageous stories of real modern-day heroes and heroines. These high-quality dolls are designed as exceptional toys for gift-giving, to delight parents, grandparents and godparents with their unique, faith-based appeal. Launch date: December 2009. 3/10/2010 (MSRP: $29.99; Age: 2 to 6)



Li'l Ones - Beautiful Brianna by TY INC.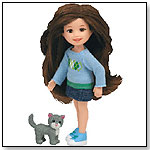 This miniature, poseable play doll is about 4" tall and comes in a box with a cat and a brush accessory. Brianna is one of eight dolls in the Ty Li'l Ones collection. Launch date: Spring 2010.
— "The No. 1 thing we just got in is the Li'l Ones from Ty," Steve Banducci of Games Unlimited in Danville, Calif., told TDmonthly in March 2010. "We got in 96 two weeks ago and we have about 15 left. Kind of a surprise." (

Watch Video) 3/15/2010 (MSRP: $4.99; Age: 3 and Up)



Baby Stella - Baby Brother Sam by MANHATTAN TOY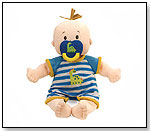 Baby Stella has a new Baby Brother named Sam. Sam comes dressed in a blue and white striped onesy decorated with yellow trim and a dinosaur. His pacifier matches the outfit and attaches magnetically to his mouth. Also includes a removable diaper. Launch date: 2010. 3/24/2010 (MSRP: $29.99; Age: 1 and Up)



Beneath the Leaf Liliana by MANHATTAN TOY



Liliana is one of the three "sweet" fairies eager to delight. Liliana wears a bright orange and yellow dress with mushroom spots, green leggings and pink wings, and her orange hair is highlighted with a flower-shaped headband. Liliana is one of six Beneath the Leaf dolls, which are about 6" in height and highly detailed. All are from the forest, but their facial expressions are different — some appear "sweet" and some appear up to "mischief." Launch date: 2010. 4/2/2010 (MSRP: $12.00; Age: 3 and Up)



Groovy Girls Knight Keanan by MANHATTAN TOY



Knight Keanan is the prince charming of the Groovy Girls collection. He's ready to go out on adventures and explore the world. Keanan comes with a dashing silver, blue and yellow armor, a purple removable cape, and silver sword that can be worn in his belt or held in his hand. Launch date: 2010. 4/2/2010 (MSRP: $20.00; Age: 3 to 17)



Girls From Around the World by MGA ENTERTAINMENT



MGA's collectible fashion doll line features 18" multiethnic dolls from around the world in regional attire. Launch date: 2010. (

Watch Video) 3/30/2010



---
---


Copyright © 2020 TDmonthly®, a division of TOYDIRECTORY.com®, Inc.