September 28, 2020

December 2010 | Vol. IX - No. 12


Holiday Preview: Educational
Piggy Bank Splits to Make Kids Money Savvy
The country's still hurting from recession, so why not teach kids about saving and investing via Money Savvy Generation? Kids can also set up a lab with Be Amazing!'s Big Bag of Science or attend mass with a set from Wee Believers. See TDmonthly's Holiday Preview of Educational Toys below.

For products that interest you, click "Add to my Inquiry Basket" to request a catalog or ask questions of the manufacturer.
The Money Savvy Kids Club Book Series (Volumes 1 - 4) by MONEY SAVVY GENERATION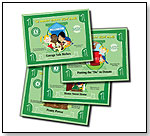 "The Money Savvy Kids Club" children's book series are co-written by financial literacy expert Susan Beacham and bestselling author Lynnette Khalfani-Cox. Through four funny and engaging stories in these smart and creative illustrated picture books, a group of childhood friends learn that there are actually four things you can do with money: Save, Spend, Donate or Invest. Money Savvy Generation Director of Operations and Marketing Melinda Voelcker told TDmonthly, "These books address the challenging topic of money choices, but in a fun and age-appropriate manner that kids can understand and that parents can use to help begin a conversation about money with their kids. Topics include: how to earn money, saving for a goal, what is a donation and how you can donate, what home foreclosure means and compound interest." 4/29/2010 (MSRP: $12.95; Age: 7 to 12)



The Feelings Storybook with Companion CD by ABC FEELINGS INC.



The Feelings Storybook is a sensitive and heartfelt book for children of all ages that can act as an assessment tool for emotional growth. This book is interactive and contains 32 pages with full-color illustrations. It is ideal for the developing reader and features a 22-minute companion CD narrated by the author/psychologist, Dr. Alexandra Delis-Abrams. 4/29/2010 (MSRP: $16.95; Age: All Ages)



Grasshopper Preschool Prep Kit: Getting Our Hands Ready by GRASSHOPPER INC.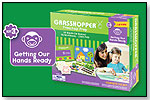 The Grasshopper Preschool Prep Getting Our Hands Ready Kit is packed with playful games and an illustrated guidebook to get children ready for early writing and grasp. Children can feed bugs to Mr.Crunch, play with dozens of reusable stickers, dough stamps, stretchy dough, and more. The Grasshopper guidebook gives parents the tools they need to give their children a head start for school success. Rachel Rudman, President of Grasshopper Inc., told TDmonthly this is "the only product on the market to get kids ready for preschool without electronics and without workbooks ... all fun!"
Awards: Dr. Toy 100 Best Children's Products - 2010 (

Watch Video) 4/28/2010 (MSRP: $29.95; Age: 3 to 5)



Zillio 2D Playground by ZILLIO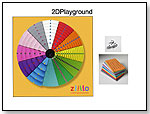 The Zillio 2D Playground is a more cost-conscious and compact version of Mega Zillio. Using the included dice, cards, tokens and instructions, kids can play more than 20 different games to build their multiplication, pattern recognition and problem-solving skills.
Photo:
— Hula Hooping Mom found Zillio to be "a fun way to keep kids interested in math and a fun way for you to 'refresh' your memory so that you can help with that homework."
— Mike from Cool Baby Kid enjoyed playing with his nephews and appreciated the educational focus of Zillio. "Being an engineer, I know the value a solid math background can provide and feel that the Zillio Games can assist in preparing the educational foundation for possibly another future engineer in our family," he said. (

Watch Video) 4/27/2010 (MSRP: $31.95; Age: 4 and Up)



4D Vision Human Head Anatomy Model by TEDCO INC.



The 4D Vision Human Head Model from Tedco Inc. consists of 14 detachable parts in a transparent cutaway design that shows the inner details of the human head. The anatomy model comes with a display platform and illustrated guidebook. Launch date: 2010.
4D Human Head Anatomy Model features:
* Human Head Model Toy with New Puzzle Concept
* Up to Medical Educational Quality
* Fine Detailed Sculpturing with hand painted parts
* Product Size: 11.44 cm Tall 4/21/2010 (MSRP: $25.99; Age: 8 and Up)



The Big Bag of Science by BE AMAZING!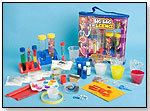 With more than 60 activities, this set can serve as a great introduction to the wonders of science. It allows kids to set up their own science lab and investigate activities in chemistry, physics, biology, geology, weather, magnets and electricity. Activities include Insta-Snow , the Geyser Tube (Mentos and diet soda geyser), Water Gel, Gravity Goo, Windbags, Twister Tube and more. "We have billed it as "the best of Be Amazing!" since it contains many of our signature science activities," Renee Whitney, president of Be Amazing Toys, told TDmonthly. Launch date: June 2010. 4/15/2010 (MSRP: $39.99; Age: 8 and Up)



Chicka Chicka Boom Boom Car Seat ABCs by MANHATTAN TOY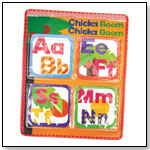 This travel toy includes seven alphabet cards designed with elements of the Chicka Chicka Boom Boom story on both sides. Cards fit into a case that may hang in the car or in other various play areas with hook and loop straps. Launch date: 2010. 4/6/2010 (MSRP: $17.00; Age: 0 and Up)



Messages by FAMILY PASTIMES



Messages consists of three games for those who love playing with words and ideas. Players must express their cleverness, creativity and sense of humor by using symbol tokens to form picture phrases and sentences, known as rebuses. Players pool their ideas to make rebuses to fill the board, red spots add challenges, and each game played is a different experience. The package includes a 7.75" x 7.5" board, 100 symbol tokens, a glossary of suggested meanings, rules and a storage bag. 4/29/2010 (MSRP: $11.50; Age: 10 and Up)



Money Savvy Kids@Home Kit by MONEY SAVVY GENERATION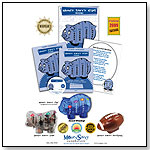 The Money Savvy Kids @Home Kit is a starting point to teach a child how to get smart about money. Included is the award-winning Money Savvy Pig, Cow or Football bank, Parent Handbook, eight-chapter CD-ROM (100+ images) with four sing-along songs, Student Workbook, 22-page Coloring & Activity book, and a Money Poem poster. The lessons explore the history of money, where money comes from, the importance of earning money and the four basic money choices: Save, Spend, Donate and Invest. 4/29/2010 (MSRP: $39.99; Age: 6 to 11)



Shoulder Buddies by SHOULDER FUN USA LLC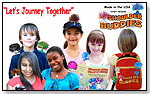 Shoulder Buddies are a collectible, educational accessory that kids can wear on their shoulders, backpacks, hats, etc. Shoulder Buddies are packaged with a collectible "Smarts" card that teaches their "Smarts" through an easy-to-remember acronym. A "Shoulder Buddies Coin" is also included, which is used to attach them to your shoulder. They also have a hole on their back so that kids can attach them to their backpacks with a keychain, which is also included with the product. There's also a book that corresponds to the Shoulder Buddy characters. "Shoulder Buddies are very unique because they are an adorable character that can be worn on the shoulder," Jeaneen & Kevin Muller, Managing Members, Shoulder Fun USA, LLC, told TDmonthly. "They definitely attract attention when wearing them and our variety of characters each have a different learning message that comes with them." Launch date: October 2009. (

Watch Video) 3/10/2010 (MSRP: $5.99; Age: 4 and Up)



Quadrilateral Pieces by LEARNING BY DESIGN



Quadrilateral Pieces is a geometry puzzle. Kids of all ages can improve their spatial sense as they rotate, turn and flip the pieces to construct five different quadrilaterals. "Teachers and students will love it because students can use the puzzle to help them remember what they learn about different types of quadrilaterals," Mary Kay Bacallao, President, Learning by Design, told TDmonthly. Launch date: 2010. 3/10/2010 (MSRP: $7.98; Age: 4 and Up)



Kidknows Outdoor Thermometer by DHS DESIGN LLC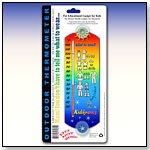 This colorful outdoor thermometer has temperature-appropriate clothing pictures next to the numbers. It is designed to: empower kids to independently choose the right outfit to wear in various temperatures; teach kids to read numbers and to understand the concept of measuring the outdoor temperature as they continue using their thermometer; relieve parents of the struggle with children over appropriate clothing to wear for the day, making morning routines faster and easier; help teachers to teach kids reading and understanding of the outside temperature and seasonal changes; and help schools to get kids appropriately dressed for school recess. Launch date: May 30, 2009. 3/10/2010 (MSRP: $7.99; Age: 1 to 10)



My Mass KIt by WEE BELIEVERS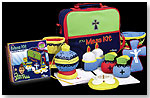 This soft-sculpture, children's mass kit is designed for play at home or church. This colorful, high-quality toy, when used in conjunction with the included companion booklet, is designed to be an ideal manipulative for instruction in the classroom or playroom. It includes 12 pieces and a booklet in a durable nylon carrying case that's created "to educate, entertain and enrich faith," Stephen Abdalla, President, Wee Believers, told TDmonthly. Launch date: January 5, 2010. 3/10/2010 (MSRP: $69.99; Age: 3 to 8)



Inchimals™ by FAT BRAIN TOY CO.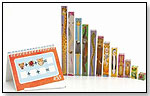 Inchimals is a set of 12 wooden blocks with animal images that measure from 1" in height (ladybug) to 12" high (giraffe). They can be combined with the 100 write on/wipe off math puzzles for kids to practice counting, number values and recognition, fine motor skills, language and more. Launch date: Spring 2010. 2/26/2010 (MSRP: $29.95; Age: 3 and Up)



OH-SPELL! Card Game by BANANAGRAMS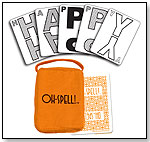 This game for two to six players pairs the concept of four suits with the letters of the alphabet, challenging each player to create one or more words using all of his cards. A hand can require from 1 to 10 minutes. 2/17/2010



Foreign Language and Fun, Disc 6: I Can Count! by LITTLE PIM CO.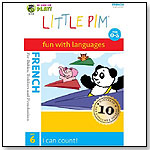 The DVD contains five-minute shorts starring a lovable, animated panda named Little Pim who, along with live-action kids, teaches very young kids themed vocabulary in a foreign language. Little Pim the Panda is now joined by Lola the Elephant and Bob the Bobcat in Disc 6: I Can Count! The DVD is specially designed for babies, toddlers and preschoolers, and is available in Spanish, French and Mandarin Chinese. Launch date: early 2010 2/15/2010 (MSRP: $17.95)



---
---


Copyright © 2020 TDmonthly®, a division of TOYDIRECTORY.com®, Inc.