May 16, 2021

May 2010 | Vol. IX - No. 5

---
Innovation First Sues Urban Trend Over HEXBUG Nano Knock-off
Flyer Shows Similarities Between Robotic Bugs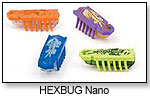 May 11, 2010 — Innovation First filed an intellectual property infringement lawsuit against Urban Trend LLC on Tuesday, May 11, claiming trade dress infringement, violations of the Lanham Act and other wrongful conduct in offering knock-offs of HEXBUG Nano micro robotic toys. View complaint filed with a U.S. District Court.

PROMINENT RETAILER EXPOSES BUGS

A major national retailer and "highly credible source within the industry" tipped off Innovation First to the marketing of the Nano-like creatures at the end of April. The retailer had received a flyer depicting six of Urban Trend's "i-insects," Innovation First executives told TDmonthly Magazine.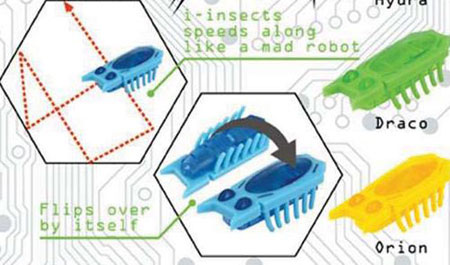 The above image is from an Urban Trend flyer showing i-insects. Click the image to view the full flyer.

IMITATION INSECTS: IN THE WORKS

Michael Stoll, president of Urban Trend LLC, named in the suit, confirmed Tuesday afternoon that the company's main office in Hong Kong, under parent company Pacific China Industries Ltd., is "working on" the i-insects depicted in the flyer. He declined to comment on whether the bugs are in production.

Stoll did say, however, that the U.S. sales office, in Newport Beach, Calif., is not selling the product. He called the entities "completely separate companies."

"We're not really in the toy business," he told TDmonthly. "We do not sell anything like the HEXBUG."

Robert G. Kushner, managing director and founder of Urban Trend, denied that a lawsuit was filed. "To the best of [our] knowledge, Innovation First has not patent or any other intellectual property with regard to this product and have simply used this as a marketing tool for themselves," he said in an email to TDmonthly.

Innovation First has seen only the marketing flyer showing the robotic creatures — no physical samples — leaving the status of the product questionable. To Bob Mimlitch III, vice president and chief technology officer of Innovation First, though, the flyer is telling.

IMAGES SHOW DETAILED LIKENESSES

"It's obvious from the pictures of Urban Trend that they just did an exact copy," he told TDmonthly. "That's what China's great at — duplicating something down to the exact dimensions. From the picture, it looks like it's proportioned identical [to the Nano]."

Kushner countered that "it is obvious that it is not an exact copy," saying Innovation First based "their entire opinion on assumptions" from the flyer images.

Innovation First has patents pending to protect literally hundreds of features on the HEXBUG Nano, a product that required a full nine months in production to become fully functional, Mimlitch said. Two key qualities up for protection, he explained, are the Nano's "drive system on rubber, curved legs" and the product's ability to turn over and flip itself upright.

INNOVATION FIRST GUARDS DESIGN AND MARKETING

Trade dress infringement doesn't necessarily involve patent protection, though. As Innovation First's VP of Marketing Joel Carter explained, it's about a brand's or product's appearance and how it's marketed to the customer. Innovation First finds disconcerting not only the design and color scheme of Urban Trend's i-insects but also the use of the hexagon on the company's marketing material — a shape that is associated with all HEXBUG designs.

Kushner questioned what claims Innovation First can sustain as to intellectual property, pointing to ThinkGeek's BristleBot as an example of a pre-existing piece that he says had "the same functionality four years before the Nano was ever created."

Urban Trend's Stoll said Tuesday he had not received a cease-and-desist letter regarding the alleged infringement. Innovation First did not confirm to whom and to which office the letter was sent, though a representative indicated it went out Monday, May 10, via certified and electronic mail.

A press release about the lawsuit (directly below) presents Innovation First's intentions to continually and aggressively protect the intellectual property of its products. On or before Thursday, according to Carter, the company plans to take action in another case of infringement regarding the Nano.

------------------------------------------------------------------------
------------------------------------------------------------------------

PRESS RELEASE

Greenville, Texas – May 11, 2010 – An intellectual property infringement lawsuit was filed today by Innovation First, Inc. and Innovation First Labs, Inc. against Urban Trend, LLC and two of its principals, Robert G. Kushner and Michael Stoll, in the United States District Court for the Northern District of Texas. The lawsuit contends that the Defendants committed trade dress infringement, violations of the Lanham Act and other wrongful conduct in offering knock-offs of the HEXBUG® Nano™ micro robotic toys designed and sold by Innovation First. Innovation First introduced the HEXBUG Nano in 2009 and has achieved record sales at major retailers in the U.S. and abroad. The Nano has been featured on Late Show with David Letterman and The Today Show.

The lawsuit is in keeping with Innovation First's history of protecting its brands and products through foreign and domestic trademark, copyright and patent filings. The company was one of the first in the robotics industry to aggressively seek and enforce patent, copyrights, trademarks and other forms of intellectual property associated with its technological innovations. The company has filed, and continues to file, for foreign and international intellectual property protection for virtually every aspect of the robotic creatures, as well as their packaging, marketing and associated accessories and materials. It intends to vigorously pursue violators at every step in the supply chain, including manufacturers, distributors, sales representatives and even the retail outlets who profit from infringing products.

"The toy industry is notorious for breeding copycats of hot products," said Tony Norman, president and chief executive officer of Innovation First International, Inc. "A significant part of the problem is that retailers encourage such knock-off artists by placing offending products on their retail shelves. This practice stifles innovation. Unlike a typical toy company, we are broadly diversified and not dependant solely upon toy revenue. Therefore we won't hesitate to file suit against retailers or anyone else in the supply chain who infringes our intellectual property."

The company has also taken the unusual step of inviting retailers, buyers and others in the supply chain for its products to take a closer look at Innovation First's intellectual property protection — to educate them on the substance of the company's patent filings and enforcement and help them protect themselves from future legal action. Since patent rights are not enforceable until validated by the U.S. Patent and Trademark Office, patent law suits are usually delayed while the patent office reviews the filing. The term "patent pending" is widely used to describe this review period. Upon final issuance, many violating companies just disappear, leaving others in the supply chain responsible for infringement. Selling products that infringe on patent rights leave retailers liable.

"We welcome the opportunity to have a dialog with folks making buying decisions for relevant products so that they do not inadvertently contribute to the success of knock-off artists and expose themselves to a growing liability," said Bob Mimlitch III, vice president and chief technology officer of Innovation First. "We want buyers to make an educated decision when they decide to buy, market, and sell a product, and reduce the chance of putting their company, or themselves, in jeopardy of intellectual property litigation."

In addition to the lawsuit against Urban Trend, actions against other offending toy manufacturers are under review. Retailers that are considering offering any products similar to HEXBUG Nano are welcome to contact Innovation First for details on the depth and breadth of its intellectual property protection.

The lawsuit against Urban Trend is an action for trade dress infringement, false designation of origin and false advertising under the Lanham Act (15 U.S.C. § 1125); copyright infringement under the United States Copyright Act (17 U.S.C. § 501 et seq.); injury to business reputation and dilution under § 16.29 of the Texas Business & Commerce Code; and unfair competition and unjust enrichment under the common law of the State of Texas. The lawsuit alleges that the Defendants are offering blatant knock-offs of the HEXBUG® Nano™ Micro Robotic Creatures designed and sold by Innovation First. The knock-offs copy the look and feel of the Innovation First products, mirroring, among other aspects, their design, color scheme and naming conventions. Moreover, the Defendants appear to have lifted both form and content from Innovation First's sales materials for use in their advertising. Innovation First brings this action to stop the Defendants from further infringing on Innovation First's intellectual property and to recover for the damage caused by Defendants actions.

Below, see products from Innovation First:
HEXBUG Micro Robotic Creature by INNOVATION FIRST LABS, INC.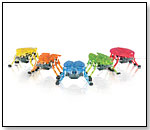 The micro-robotic HEXBUG is a tiny, obedient insect that features bump-sensor feelers that help it avoid objects in its path. It responds to clapping or other loud noise by backing up or changing direction. The HEXBUG is small enough to fit in the hand and comes in five different body types and colors including pink, blue, green, yellow and orange. Awards: TDmonthly Innovations 2008.
— According to more than 60 reviews on Amazon.com and Radioshack.com, this fun, durable toy has been rated 4 out of 5 stars due to its entertaining and educational features. It is portable for any occasion and appropriate for any age. Consumers should be careful though, as they have been known to be flimsy and easily breakable, like real bugs! (09.12.08)
— "Everyone wants one, from adults to kids," Charles Bonner, owner of Heights Toy Center in Little Rock, Ark., told TDmonthly of this best seller in April 2009. "I sell 200 to 250 a month." Three of 44 retailers tagged Hexbugs as an overall best seller in late fall 2009.
— During a September 2010 survey, two of 44 retailers listed Hexbugs as their top-seller for tweens.


(

Watch Video) 2/12/2008 (MSRP: $9.99; Age: 8 and Up)



HEXBUG Nano Micro Robotic Creatures by INNOVATION FIRST LABS, INC.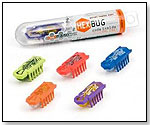 This small, 12-legged microrobotic creature is battery powered and designed to behave just like a real bug. It moves very quickly and can even flip over by itself. Five colors are available in the Newton Gravity Series. Awards: Parent's Choice Award 2010. Launch date: Fall 2009.
— Chris Lowe, owner of Bean Head Toys in Sandy Springs, Ga., told TDmonthly in a Summer 2011 survey that she sells between 20-30 items from the HEXBUGS line each month.
— Christine Osborne, co-owner of Wonder Works in Charleston, S.C., has a Hexbug Nano Habitat set up in the store. They've sold ''thousands,'' she said; she couldn't even guess at an exact number.
― "Hexbugs are doing very well," said Jenny Bramhall, owner of Dandelion Toys in Fort Collins, Colo., in summer 2010. Fifteen percent of 40 retailers polled in June 2010 said Hexbugs are their best-selling electronic item.
— Hexbugs were great sellers at Figpickels Toy Emporium in Coeur d'Alene, Idaho in Aug. 2010. "They fill the affordable techno/RC need - grab and go," said owner Brett Sommer.
AWARDS: 2010 TDmonthly Top Seller (

Watch Video) 11/9/2009 (MSRP: $9.99)



HEXBUG Inchworm by INNOVATION FIRST LABS, INC.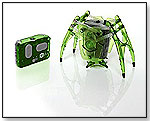 The HEXBUG Inchworm is the first Micro Robotic Creature in the HEXBUG line to feature a full-function IR remote control. Users drive the Inchworm forward, back, left and right. A and B control bands allow users to control two Inchworms at once or multiple Inchworms on the same band. The product features a unique crawling and pirouette motion around its center pod foot. "This unique HEXBUG Micro Robotic impulse item is offered in a five-pack impulse counter display with five-color variety assortment," Joel Carter, VP of marketing for Innovation First, told TDmonthly. Launch date: October 15, 2008.
— The Inchworm has been a top seller at Pufferbellies in Staunton, Va., for at least a year, according to co-owner Susan Blanton in fall 2009.
— The Hexbug Inchworm is a popular item at the Toy Shop of Concord in Concord, Mass., Owner David Hesel told TDmonthly in late 2009. (

Watch Video) 10/2/2008 (MSRP: $19.99; Age: 8 and Up)



HEXBUG Crab by INNOVATION FIRST LABS, INC.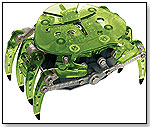 Measuring just six centimeters long, each battery operated HEXBUG Crab is loaded with robotic intelligence. The six-legged creature feels its way around while sensing objects in its path and avoiding them. Users interact with the bug by tripping the sound sensor with a hand clap or loud noise, which sends it crawling off in a new direction. Launch date: September 29, 2008. 12/12/2008 (MSRP: $14.99; Age: 8 to Adult)



VEX RCR Mini by INNOVATION FIRST LABS, INC.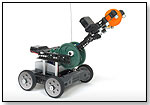 The VEX Mini is an open-ended robotics platform that includes all the parts and accessories inventors and hobbyists need to design and construct a radio-controlled and programmable robot. VEX Mini incorporates the same fun and challenges of the very successful VEX Robotics Design System, but at half the size and half the price. Launch date: August 2008. (

Watch Video) 2/12/2008 (MSRP: $99.99; Age: 5 and Up)



HEXBUG Ant by INNOVATION FIRST LABS, INC.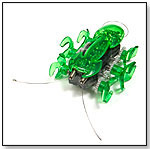 Joining the company's family of micro-robotic creatures, this six-legged ant features thin, mobile antennas and travels very quickly. Launch date: February 15, 2009. 1/28/2009 (MSRP: $9.99; Age: 8 and Up)



VEXplorer Robot Kit by INNOVATION FIRST LABS, INC.



VEXplorer is the ideal robot kit for the novice builder and hobbyists. Complete with detailed step-by-step plans, this almost-ready-to-run kit comes with pre-assembled modules making it quick and easy to build. Best of all, your robot is compatible with Innovation First's VEX Motion and Structure parts allowing you to expand and grow your robot. 7/17/2008 (MSRP: $199.99; Age: 8 and Up)



---
---


Copyright © 2021 TDmonthly®, a division of TOYDIRECTORY.com®, Inc.