April 16, 2021

June 2010 | Vol. IX - No. 6

---
Holiday Preview: Kids' Costumes and Apparel
Dress-up Transforms Children for Imaginative Play
Little girls can match their Groovy Girls this holiday season with Manhattan Toy's line of coordinating dress-up. Creative Education of Canada gives grade-schoolers performance-worthy fashions, while Little Adventures transforms girls into princesses. Unwrap cool gear this Christmas with TDmonthly's Holiday Preview of Costumes and Apparel below.

For products that interest you, click "Add to my Inquiry Basket" to request a catalog or ask questions of the manufacturer.
Groovy Girl Princess Seraphina Girl Size Dress Up by MANHATTAN TOY



Girls can play dress up and match their Princess Seraphina Groovy Girl doll. This princess gown comes with a flexible tiara made of plastic beads and satin. The gown is made of poly spandex, satin and organza. Fits sizes 4-6. Launch date: 2010. 4/2/2010 (MSRP: $40.00; Age: 3 to 6)



Striped Christmas Tree Hat by BZANY LLC



This novelty hat is made of 100-percent cotton velvet and has a foam interior for durability and support. "BZany hats are unique and adjustable. The inner velcro and elastic strap makes it easy to change the size of the hat to fit either children or adults," BZany Operations Manager Sara Henig told TDmonthly. 5/20/2010 (MSRP: $15.99; Age: 3 and Up)



Ribbon streamer headband with velvet pansies by FAIRY FINERY



Designed for comfort and durability, this headband is decorated with long satin ribbons and velvet pansies. It is made in the USA. 5/17/2010 (MSRP: $16.50; Age: All Ages)



Portofino Baby Set by GO NATURAL BABY LLC



Inspired by the blue sea of the Riviera, the Portofino set is made from silky, lightweight jersey cotton. The white short sleeve tee has Riviera blue stitching and snaps at the shoulder. The matching drawstring pants are Riviera blue with a white strip at the leg. 5/20/2010 (MSRP: $24.00; Age: 0 to 2)



Monster Mash Skirt by ACTING OUT



Whether used for a multi-media Halloween costume or good frightening fun any time of year, the musical Monster Mash skirt offers a funky dimension to dress up. The skirt, which is knee length and finished with multiple layers of colored tulle, plays music at the push of a button. This piece in Acting Out's line of musical dress up plays the 1960s hit "Monster Mash," and the music continues with motion but stops automatically if the child is still.
— "We sell Acting Out, their petticoats and things. We sell a lot of those," said Jill Brown, buyer at Kidoodles Toys in Norman, Okla., of the store's top-selling dress-up clothes in March 2010.
— Out of 37 retailers, two listed Acting Out as the supplier of their best-selling dress-up items in spring 2010. 3/29/2010 (MSRP: $40.00; Age: 3 and Up)



Lady Kate Dress by CREATIVE EDUCATION OF CANADA



This dress is made out of a velvety velour with a satin inset and gold brainded trim. The dress comes with an adjustable headpiece to complete the medieval look. Launch date: 2010. (

Watch Video) 4/26/2010 (MSRP: $32.00; Age: 4 to 8)



Little Capers – Lightning Hero Short Sleeve T-Shirt and Cape by LITTLE CAPERS LLC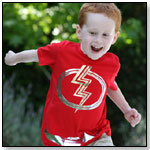 This red T-shirt is 100-percent cotton and features a shiny silver lightning bolt plus a detachable cape in shimmery silver. Since Little Capers are not licensed or specific, children are free to imagine their own super hero identity and powers.
— Shannon Komsky, owner of Tough Cookies in Sherman Oaks, reported strong sales of Little Capers in her store in fall 2009, and recommended them as an ideal gift for kids who already have everything. "Technically its clothes," she told TDmonthly, "but kids get to use their imagination and play with it."
— Online Reviews: Leighann of Multi-Minding Mom appreciated the gender-neutral shades and the potential for imaginative play, and MomGadget Eliza liked that the superhero outfit is small enough to drop into a purse on the go, so her little girl could become a superhero at any time. On Thingamababy, a reviewer described the apparel as awesome and well made, but noted the capes could perhaps be a bit wider, and the shirt sizes seem to run a tad small. 12/31/2009 (MSRP: $26.99)



Dragon Cape by CREATIVE EDUCATION OF CANADA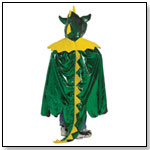 Fashioned from bright green lamé material, the Dragon Cape transforms a little one into a great, fierce creature of legend. The hood picks up to form horns, and bright yellow plates trail down the back into a long, pointed tail.
— Ten of 37 specialty retailers who participated in a March 2010 survey said Creative Education of Canada is their top- selling line of dress-up clothing. 3/29/2010 (MSRP: $34.99; Age: 3 and Up)



Ballerina by LITTLE ADVENTURES LLC



Children can perform leaps and pirouettes in this pink prima ballerina dress. The pink stretchy velvet bodice is detailed with sequin trim and a butterfly accent, and the soft underskirt is draped in two layers of shimmering fabric. Tights and ballet shoes not available. Launch date: 2010.

Features
• clothing quality fabrics; machine washable
• stretchy, soft and very comfortable

Sizing
• Sm 1-3 yrs, child 12mo-2T, 22" total length
• Med 3-5 yrs, child 3T-4T, 25" total length
• Lrg 5-7 yrs, child 6-8, 29" total length
• XL 7-9 yrs, child 8-10, 33" total length 4/19/2010 (MSRP: $29.99; Age: 3 to 8)



Miner's Helmet with Light by OPTIONS INC.



These toy miner's helmets come in a range of bright, fun colors, complete with an adjustable head lamp. They can be customized with a store's logo.
— These miner's helmets were listed as top-10 best sellers at Key West Toy Factory in Key West, Fla., in May 2010 by Katie Harris, manager. "They're the perfect playtime accessory!" she told TDmonthly. 5/27/2010 (MSRP: $14.99; Age: 3 and Up)



Infant's Converter Gown by KISSY KISSY



This soft, simple cotton gown can be converted into a legged onesie by re-arranging the snaps around the leg. Great for changing weather or changing diapers, the gown is machine washable and sports elegant picot trimming around the hems. The garment is available in three colors of embroidery detail: a green frog, pink hearts or a yellow duck.
— "Moms really like the quality and the designs," said Vicky Davis, owner of Children's Prep in Atlanta, Ga., of Kissy Kissy. In March 2010, Davis reported sales of around 30 pieces per day. 3/29/2010 (MSRP: $34.00; Age: 0 and Up)



Mitten Clips by BEARHANDS LTD



These mitten clips are designed to keep mittens attached to jackets so they don't get lost. Julie Dennis of BearHands told TDmonthly the clips are "mitten insurance!" Launch date: August 2009. 3/24/2010 (MSRP: $3.95; Age: All Ages)



Blue Rainbow Fairy Skirt by SARAHS SILKS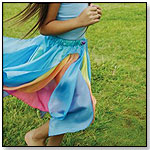 Made of airy, sumptuous 100-percent silk, the Rainbow Fairy Skirt is designed to create magic with every move. Fully reversible, the skirt is finished with a satin rose detail on both sides, and its multiple layers come to a fluttering pointed hem. The waist is elastic for ease and comfort of wear.
— "We do great with Sarah's Silks; they have great skirts," said Eric Masoncup, owner of Geppetto's Toy Box in Oak Park, Ill., of his top-selling dress-up items during a March 2010 survey.
— Two of 37 retailers named Sarah's Silks as their top-selling line of dress-up clothes in spring 2010. 3/29/2010 (Age: 3 and Up)



myWallaby Agile Doll Carrier by MYWALLABY LTD.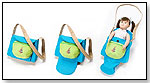 The myWallaby Agile Doll Bag is designed specifically to serve as a purse and doll carrier. It can accommodate dolls and stuffed animals from 12" to 18". The strap is adjustable so it can be sized to its owner. In addition to the enclosed doll compartment, the bag also has its signature "pouch," a handy zipper-enclosed pocket on the front that is in the shape of a Wallaby's stomach. It is machine washable. Dimensions: 9.5" x 7.5" x 3.5". "What really sets the myWallaby Agile Bag apart from others, besides the upscale quality, is that it is designed to carry a doll facing forward in an expandable pocket that resembles a real Wallaby pouch," Eric Hildenbrand, co-founder, MyWallaby Limited, told TDmonthly. Awards: Dr. Toy's Best Picks Children's Products for 2009. Launch date: March 15, 2010. 12/16/2009 (MSRP: $45; Age: 3 to 9)



Keiko Dress by GO NATURAL BABY LLC



The versatile Keiko kimono dress is made from soft organic jersey cotton, with delicate stitching at the sleeve. It can be worn alone or with pants underneath. 5/20/2010 (MSRP: $19.00; Age: 0 to 4)



Angel Baby Costume by MULLINS SQUARE



This marabou-edged satin robe has a gathered neck and waist to fit a variety of shapes and sizes. Soft fabric wings and a tiny feathered halo complete the costume, which is constructed to fit children up to 25 lbs.
— Kim Haynes, owner of Lollipop Toy Store in Dawsonville, Ga., said in March 2010 that Mullins Square is her best-selling line of apparel. "They are durable and great looking." 3/29/2010 (Age: 0 and Up)



Dr. Seuss ABC Bucket Hat by TREND LAB, LLC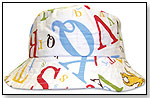 This Dr. Seuss by Trend Lab ABC print bucket hat is great for the beach or any sunny day. It's available in infant and toddler sizes. Trend Lab's Marchelle Lyons told TDmonthly the "Dr. Seuss ABC scatter print design makes it fun and playful for your little one!" Launch date: December 2009. 3/24/2010 (MSRP: $7.95; Age: 0 to 2)



Shark Hat by JACOBSON HAT CO INC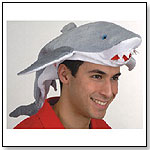 This hat from Jacobson Hats makes a ferocious statement with a bright red, wide-open mouth of shark teeth. The wearable plush shark is modeled after a Great White, and could be used in pretend play games, puppet shows, or any time when a situation needs a little silliness.
— "Jacobson Hats sell well," said Gage Brownell, manager of Belmont Toys in Belmont, Mass., when asked about his top-selling dress-up items during TDmonthly's March 2010 survey of 37 specialty retailers. 3/29/2010 (Age: 3 and Up)



Plush Ear Muffs by CHINA TOYBIZ.CN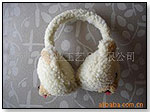 These animal-shaped plush ear muffs are designed for both style and warmth. "Ear muffs are no longer the tedious style. If you are a child or lady, you will look even more lovely with our plush muffs," William Xie of China ToyBiz.cn told TDmonthly. Launch date: February 10, 2010. 3/15/2010 (MSRP: $1.80; Age: 5 and Up)



Muddy Cloud™ JOOP Hat and Mittens Set (Blue) by MUDDY CLOUD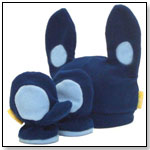 Warm and light-weight, the hat and mittens are both functional and complementary in shape and hue to the Muddy Cloud™ doll DOOT. Doll is sold separately. Sets are available to complement each of the five Muddy Cloud™ characters. 3/2/2010 (MSRP: $32.00; Age: All Ages)



Organic Baby & Children's Clothing by GREEN AS WEE GROW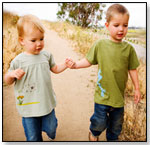 This 100-percent organic clothing is made in the United States using fair-trade cotton and labor. "We are in the process of setting up a 5-percent donation for all online sales to go to selection of charities. All of our artwork is done by amazing artists all over the United States," Samantha Fowler, owner, Green as Wee Grow, told TDmonthly. Launch date: November 2009. 2/11/2010 (MSRP: $28.00; Age: 1 to 5)



Hip Socks by BABEROO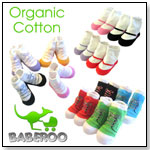 Each pack has four pairs of socks with an elastic band around the ankle to make sure they stay on. Made with certified organic cotton that was harvested without pesticides, herbicides or synthetic fertilizers, these socks are manufactured using environmentally friendly processes and use Oeko-Tex Standard 100 dyes, which meet health and ecological standards in the U.S. and EU, according to Baberoo. 2/9/2010 (MSRP: $15.00; Age: 0 to 1)



Flower Apron Set for Kids by SASSAFRAS ENTERPRISES INC.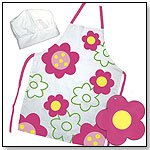 This set includes an apron (size 4-8), an adjustable cotton chef's hat, and a silicone flower trivet. It is machine washable. "The included child-size hat and silicone trivet make this kit one-of-a-kind. Kids can really dress to play the part, and use the trivet to help in the kitchen or use for pretend play," Lisa Grass, Graphic Designer, Sassafras Enterprises Inc., told TDmonthly. Launch date: May 2010. 2/4/2010 (MSRP: $14.95; Age: 5 to 11)



Kuro Tuque - Red by D'ERRICO STUDIOS LTD.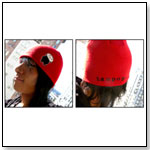 Kuro, the adorable little devil from Camilla d'Errico's book, Tanpopo is embroidered onto the front of this red all-season tuque. Tanpopo logo is emroidered on the back. 1/28/2010 (MSRP: $30.00)



---
---


Copyright © 2021 TDmonthly®, a division of TOYDIRECTORY.com®, Inc.