September 27, 2020

June 2010 | Vol. IX - No. 6


Holiday Preview: Action Figures and Animal Replicas
Fairies, Warriors and "Uglies" Vie for Buyers' Attention
Warriors, fairies and plain ol' folk from popular action-figure lines Safari Ltd., Schleich and Hotaling Import's Papo give kids plenty of opportunity to create their own imaginative scenes. And Pretty Ugly's rolled out a pretty cute new series of wonderfully quirky Uglydoll figurines. See TDmonthly's Holiday Preview of Action Figures and Animal Replicas below.

For products that interest you, click "Add to my Inquiry Basket" to request a catalog or ask questions of the manufacturer.
Playmobil Dragon's Land - Dragon Knight with LED-Lance by PLAYMOBIL INC.



Dragon Knight includes a warhorse and a light-up sword. Batteries are included.
— Two of 40 retailers told TDmonthly that Playmobil was an overall top seller in early summer 2010. 5/14/2010 (MSRP: $15.00; Age: 3 and Up)



Uglydoll Action Figure Series 2 by PRETTY UGLY LLC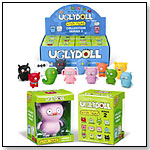 Series 2 Uglydoll Action Figures feature Uglydog, Big Toe, Poe, Trunko, Uglyworm and Peaco. Each action figure is available in two colors. The series is packaged in a clear window box for a clear view of all the action. Launch date: April 2010. 4/16/2010 (MSRP: $10.00; Age: 4 and Up)



World of Bayala: Arelan by SCHLEICH NORTH AMERICA, INC.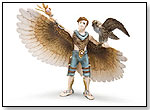 Children can immerse themselves into an imaginary world of fantasy with the Bayala collection from Schleich, complete with elves, dragons, Pegasus and unicorns. Each World of Bayala character is designed with its own animal companion. Thin tapered wings enable this duo from the new Arelan tribe to fly at high speeds and to change direction rapidly. The figure stands tall holding his falcon on his arm, showing off its detailed feathers. (

Watch Video) 3/17/2010



Pirates by BULLYLAND TOYS INC.



The Pirates Collection includes assorted pirate figures such as the Pirate Captain, Pirate Warrior, Pirate with Shovel, and Pirate with Spear. Launch date: May 2010. (

Watch Video) 4/16/2010 (MSRP: $4.99; Age: 3 and Up)



KizPal Jessie by KIZ TOYS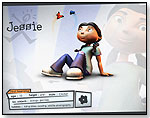 Jessie comes packaged with a USB key that provides access to Hub City and to Nuna, a magical, natural forest off the mainland in KizPlanet. Jessie is the steward of the "green" island of Nuna. She loves nature and animals, doesn't mind getting dirty, and is a mix of a tomboy spirit and a compassionate nature. With Nuna KizPals Jessie or Takoda, kids gain additional interaction points in Nuna and Hub City, unique areas for their avatar to check out, and new quests, games and adventures. Launch date: 2010. (

Watch Video) 4/14/2010 (MSRP: $24.99)



Bundles of Babies TOOB by SAFARI LTD.®



This multicultural collection of miniature babies features different ethnic groups plus a brown teddy bear. Pieces measure approximately 1.5" (4 cm). The collection is conveniently packaged in a reusable acetate take-along container. Meticulously painted by hand, these figures are phthalate and lead free and meet or exceed all safety standards. The set includes educational information in five languages. "We do not sell to Big Box discounters like Target and Costco," Ramona Pariente, President, Safari Ltd., told TDmonthly. Launch date: March 2010. (

Watch Video) 3/15/2010 (MSRP: $9.99; Age: 3 and Up)



Papo – Knight Pegasus by HOTALING IMPORTS

Knight Pegasus is adorned in armor, with a black and red cape, a red shield bearing a pegasus emblem, and plate helm with the bust of pegasus on top of the helm. 2/23/2010



Fairy Fantasies™ Miniature Fairies by SAFARI LTD.®



For 2010, Safari Ltd. has created charming miniature versions of its Fairy Fantasies™ figures. Six beautiful, hand-painted fairies come packaged in a reusable acetate tube with a handy carrying cord. These smaller versions of the fairy collection, inspired by colorful garden flowers and brightly colored butterflies, let you take the fairy magic on the go. Meticulously painted by hand, these figures are phthalate and lead free and meet or exceed all safety standards. Each figure includes information with a short description of each figure. Pieces measure approximately 4" high. Appropriate for ages 3+. 1/14/2010 (Age: 3 and Up)



4" Dinosaurs Figures by ESCO TOYS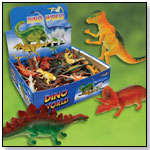 4"-4.5" assorted dinosaurs includes all the most popular species including T-Rex, Brontosaurus, Triceratops, etc. 2/18/2010



Bavarian Bouncies by AMMON USA LLC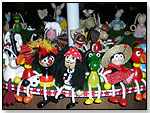 These 4" German Bavarian Bouncies come in many varieties of painted wooden animals and characters. They have a spring attached so that they continually bounce.
— Bavarian Bouncies were listed as a best seller at the Key West Toy Factory in Key West, Fla., in spring 2010 by Manager Katie Harris. "We carry over 20 different varieties," she told TDmonthly. "Our favorites include the Pirate, Surfing Frog and Gator. They're cute and unique items that you can't find anywhere else, flown in from Germany." (

Watch Video) 5/27/2010 (MSRP: $18.99; Age: 3 and Up)



Bitty Bobble Pet Shop by CREATIVITY FOR KIDS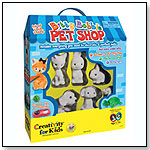 The Bitty Bobble Pet Shop includes bobble-head dogs that kids can paint with fur-colored paint and bright accent colors, as well as accessorize with included trimmings. Launch date: 2010.
— "The kits from Creativity (have) the biggest sell-through for young girls," George Emerson of The Walrus & Carpenter Toys in Middletown, R.I., told TDmonthly in June 2010.
— Thirty-two percent of 40 retailers named craft kits a top seller for girls in early summer 2010. Ten percent of the 40 retailers mentioned the Creativity for Kids brand. 4/26/2010 (MSRP: $24.99; Age: 7 and Up)



Breyer-World Equestrian Games by REEVES INTL. INC.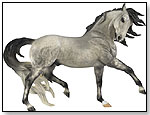 This dappled grey with charcoal points is the Official Model Horse of the 2010 Alltech FEI World Equestrian Games. Designed by Breyer's master sculptor Kathleen Moody, and created by the horse experts at Breyer, making it true to life. Launch date: 2010. 4/21/2010



Papo – Shark Mutant Pirate by HOTALING IMPORTS

This mutant shark pirate is a dual-wielding, half man, half shark buccaneer. 2/23/2010



4D Vision Frog by TEDCO INC.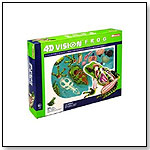 This 4D Vision Frog kit from Tedco Inc. has 31 detachable organs and body parts with finely detailed sculpting and hand-painted parts. A display platform and illustrated guide book are included. Launch date: 2010.
Product Features:
* Anatomically-correct model
* 31 organs and body parts
* Includes display stand and assembly guide
* Museum quality model
* 5.5" long (

Watch Video) 4/21/2010 (MSRP: $25.99; Age: 8 and Up)



Giganotosaurus Museum Line by BULLYLAND TOYS INC.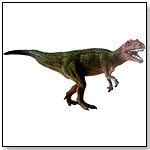 This realistically casted dinosaur figurine has a well-disguised, hinged jaw that allows the bottom of his mouth to move up and down. The figure is 13" tall. (

Watch Video) 2/17/2010



Calico Critters - Convertible Coupe by INTERNATIONAL PLAYTHINGS LLC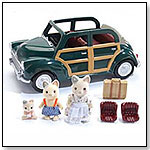 This convertible allows up to six Calico Critters to travel around Cloverleaf Corners in style. The set includes 3 Whisker Cats, detachable luggage and 2 detachable baby seats with safety straps. The convertible's tires and wheel both rotate. Launch date: 2010. 4/6/2010 (MSRP: $49.99; Age: 3 and Up)



Fizz 'n Find Squatz by WILD PLANET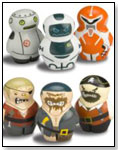 These collectible 1.5" figures have interchangeable heads and are sold in a wrapped tablet double their size. When placed in warm water, the tablet fizzes and eventually dissolves to reveal the character. There are 12 Squatz, in robot, pirate, ninja and alien varieties. Launch date: January 2010. 2/11/2010 (MSRP: $4.99; Age: 4 and Up)



Animal Stackers Dog House by TIER TOYS



This stack-and-play dog house comes complete with fencing, dog cages, feeding dishes, a main dog house, a variety of pups, a cat, a bunny and a bird. There are 44 accessories in eight stackable layers of storage that create this imaginative play environment. A bonus DVD is included with the story of B-I-N-G-O and interactive games. Launch date: April 2010. 3/4/2010 (MSRP: $29.99; Age: 3 and Up)



Viking Huscarls - Armored Viking Warriors by WARGAMES FACTORY LLC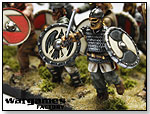 These are hard plastic 28mm multi-part figures for wargamers, modelers and collectors. It's the first set in the Hammer of the Gods Dark Ages range and features 24 multi-pose Vikings. Award: 2009 Reader's Choice Award - 2nd Place Tabletop Gaming News. Launch date: October 2009. 2/4/2010 (MSRP: $19.95; Age: 12 and Up)



Papo Tyrannosaurus by HOTALING IMPORTS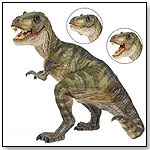 The Papo toy line features well-crafted figurines and animals. Papo toys come in a wide variety of colors, all hand-painted and modeled on a 1:20 scale. The T-Rex is part of their Dinosaur/Prehistoric line. Launch date: 2010. (

Watch Video) 4/19/2010



Safari People Collection: Kate the Pilot by SAFARI LTD.®



These finely-detailed outfitted figures represent people who provide important services in the community. Meticulously painted by hand, these replicas are phthalate and lead free and meet or exceed all safety standards. Each figure includes educational information in five languages and also name identification on its underside. Replicas measures 4" (10 cm) in height. 1/7/2010 (Age: 3 and Up)



Reptangles: Turtles That Snap by FAT BRAIN TOY CO.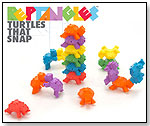 Each box set contains 24 Reptangles in green, yellow, orange, red, purple and blue that can be snapped and slid together in more than 100 ways. The turtles connect at various angles and come with an activity book with 40+ puzzles to encourage kids to think about geometric concepts and design as they build.
Awards: Parent's Choice Award 2010. Launch date: 2010. (

Watch Video) 4/15/2010 (Age: 6 and Up)



---
---


Copyright © 2020 TDmonthly®, a division of TOYDIRECTORY.com®, Inc.