September 19, 2020

June 2010 | Vol. IX - No. 6


Holiday Preview: Novelties
Pigs Snort Their Way Into the Spotlight
Pigs that pop, store change, play party games, and support the outrageously popular fad of snap-back, shaped rubber bands are the focus of TDmonthly's Holiday Preview of Novelties below. It might turn out to be a boar-ing holiday season.

For products that interest you, click "Add to my Inquiry Basket" to request a catalog or ask questions of the manufacturer.

The Pig Board by SNOUT A PIG LLC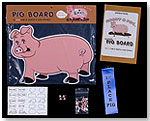 This cross between Pin the Tail on the Donkey and darts allows the user to take a snout peg and snout their enemies on the Pig Board. It can be played as a novelty party game, individually or used at the office. Snout A Pig founder Sue LoGuercio told TDmonthly, "There is nothing out there like it that is fun, satisfying, hilarious and therapeutic — which is harmless and not harmful." The Pig Board has been featured in the Oscar celebrity gift bags , the Teen Choice celebrity gift bags, and on the Ellen Show in 2010. Launch date: 2010. 4/14/2010 (MSRP: $19.95; Age: 13 and Up)



Pig Popper by HOG WILD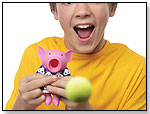 Children can squeeze this pig's belly to launch soft foam balls. The harder the pig is squeezed, the farther it shoots. Six soft foam balls and a convenient carry net are included. 5/25/2010 (MSRP: $9.99; Age: 4 and Up)



Slinky® Dog Jr. by POOF-SLINKY INC.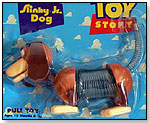 Junior is just like the Original Slinky Dog, only miniature for optimal portability. Launch Date: May 2010. 3/2/2010 (MSRP: $7.99; Age: 3 and Up)



Pop the Pig Piggybank by GOLIATH GAMES



The Pop the Pig Piggybank will stores loose change for a rainy day. Kids can feed him coins either through his mouth or the slot in his back. When ready to "cash out", they can just use his spatula key to open his clear vault stomach and get their money. Jennie Robinson of Goliath Games told TDmonthly, "It's an addition to the popular game Pop the Pig." Launch date: 2010. 4/8/2010 (MSRP: $6.99; Age: 4 and Up)



Ecotronic Flashlight by INTERNATIONAL PLAYTHINGS LLC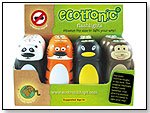 These squeeze-powered, kid-sized flashlights come in a variety of animals whose noses light up when switched on. The side lever stores inside the body and can be released and squeezed to charge up the light. The 12-piece counter displays include four assorted animals in each assortment. The Zoo assortment includes a tiger, panda, monkey, and penguin, whereas the Farm assortment features a cow, pig, duck, and dog. (

Watch Video) 4/16/2010 (MSRP: $9.99; Age: 6 and Up)



Zanybandz™ Rubber Bands: Animal Crackers by ZANYBANDZ

Set of 24 rubber band shapes including Oscar the owl, Emmet the boar, Leonard the lion, Franklin the buck, Rusty the racoon, and Willie May the wolf. 2/10/2010 (MSRP: $4.95)



UglyDoll Tin Trucks by SCHYLLING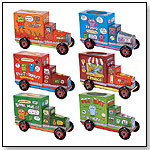 UglyDoll tin trucks come in an assortment of six: three styles of banks and three styles of pencil holders featuring artwork and characters from the UglyDoll line of plush toys. Each truck measures 7.5" long. Launch date: 2010. 4/21/2010 (MSRP: $14.99; Age: 3 and Up)



Pop Fly by POOF-SLINKY INC.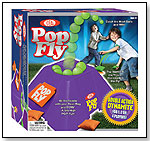 Use the beanbags to launch softballs into the air. The game is over when all the balls have been launched. Catch more than your opponent to win. For up to 4 players. Launch Date: February 2010. 3/2/2010 (MSRP: $24.99; Age: 5 and Up)



Cat-in-a-Can (Inflatable) by ACCOUTREMENTS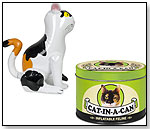 Individuals can stock their cupboards with these Cat-in-a-cans so they'll have ample inflatable felines to get you through the winter. Each 12-1/2" (31.8 cm) vinyl cat offers a convenient companion that won't leave hairballs on the carpet or use the armchair as a scratching post. It comes deflated in a 3-3/4" (9.5 cm) round, 2-1/2" (6.4 cm) tall illustrated tin. Launch date: January 28, 2010. 3/10/2010 (MSRP: $11.95; Age: 5 and Up)



Novelty Chalk with Google Eye by REGENT PRODUCTS CORP.

This novelty chalk with google eyes comes in a packs of 2. Chose between a tool, ice cream or solar theme. Dimensions : 17.5 X 10.75 X 11.75 inches. 4/16/2010



Glow in the Dark Tattoos by ESCO TOYS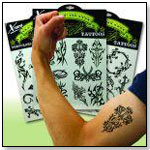 Temporary tattoos that glow in the dark. Includes 10 designs per sheet. 2/18/2010



BLINGKEEZ by TOOBEEZ LLC

Users can light up the day and night with BLINGKEEZ, a fun, multi-use light with 10 LED bulbs. The 2.5" sphere features three light settings (disco strobe, party flash, all on), an 18" lanyard with a breakaway safety clasp, and automatic shut-off. Launch date: February 14, 2010. (

Watch Video) 2/4/2010 (MSRP: $11.99; Age: 3 and Up)



Stretchy Shapes by OCG PRODUCTS LLC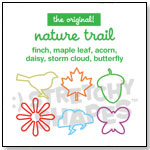 Animal and shape bracelets are made to be worn, traded and collected. These shaped bands are made of 100-percent silicone, and they bounce right back to their cool shape after each and every wear. The 24-band Stretchy Shapes packs are exclusive designs in custom colors, sized to fit comfortably on the wrist. The line includes tie-dyed, glow-in-the-dark and scented bands. "An all-kid test group even helped develop our product. Product sales success is proven — a retail store in Birmingham, Alabama, sold over 10,000 of the three original Stretchy Shapes packs shown above in less than one month," April Mraz, CEO, OCG Products, LLC, told TDmonthly. Launch date: December 2009. 2/11/2010 (MSRP: $5.99; Age: 3 and Up)



Bat'nBall Baseball/Softball Equipment Rack by SportsDisplays

The Bat'nBall was designed to take what kids use most and organize it. With its sleek baseball design, the Bat'nBall is a must have in boys and girls rooms. The rack easily mounts to any wall and is small enough that it doesn't take up much space. 2/2/2010



Bug Eyes by INKOLOGY INC.



These fun pens will keep kids distracted during math class. 1/27/2010



---
---


Copyright © 2020 TDmonthly®, a division of TOYDIRECTORY.com®, Inc.