May 8, 2021

July 2010 | Vol. IX - No. 7

---
WATCH VIDEOS: TDmonthly Goes Inside ... Aunt Jean's Toys & Treats
Nostalgia Lures Adults and Snares Kids
When Jeanette Lauture opened Aunt Jean's Toys and Treats in Montclair, N.J., in 2007, she found herself drawn to retro toys that reminded her of those she had played with as a child. By putting them out on the floor, she learned that other adults were drawn to them for nostalgic reasons and that kids became curious enough to want them, too. It took about a year, she told TDmonthly Magazine, to get a feel for the right mix to attract a steady clientele. Math games and multicultural items are among the hits in her store.

Watch a video interview with Jean, below, then scroll down to read about and watch some of her best sellers.



Get the Flash Player to see this video.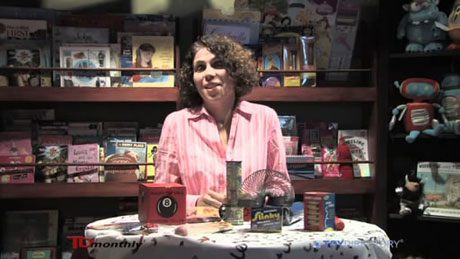 Montclair, N.J. — a bedroom community to arts-centered New York City — provides plenty of avenues for Jeanette to keep her store in the public's consciousness. From community events to store-held fundraisers, Jeanette stays involved with the community to be sure the community stays involved with her.

Following are some of the toys that involve the girls and boys who visit Aunt Jean's:
Lab-in-a-Bag – Test Tube Adventures by BE AMAZING!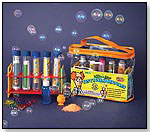 Using this science kit, kids will learn the secret of the Giant Test Tube and how to make Touchable Bubbles that don't pop. They can make a super bouncing ball and 20' of gooey, slimy worms. Almost everything kids need comes in one clear vinyl bag for easy clean-up.
— In a September 2011 survey, Joe Berardoni, owner of Pun's Toys in Brynn Mawr, Pa., told TDmonthly, "Be Amazing's Lab in a Bag (any one) does very well here. They have great experiments included and are a good 'birthday present' price."
— In a Fall 2013 survey, two out of 12 retailers told TDmonthly that Lab in a Bag was one of their best-selling science toys. (

Watch Video) 10/17/2006 (MSRP: $15.00; Age: 8 and Up)



Doodle-Track Car by DAYDREAM TOY

Draw a line and the vehicle will follow! It is more than just a race set; it's a craft activity that encourages children to be creative allowing for many ways to play. With the official Doodle Track marker and the included play mat, the Doodle Track car will follow a continuous line drawn on the mat by the marker. The Doodle Track car also comes with colorful, stick-on decals for customization. Set includes: Doodle Track Car, Washable Marker, Stick-On Decals, Playmat Track and Instructions.

Other Videos:
Aunt Jean's Toys and Treats (

Watch Video) 5/21/2009 (MSRP: $11.99; Age: 3 and Up)



EzyRoller - Pink by EZYROLLER LLC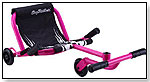 This sleek ride-on is fueled by cambering motion — the rider pushing his or her legs against the front bar, to the left and right. It has a hand brake and features an extendable design to host riders up to 6' tall. Maximum recommended weight is 150 lbs.
— Learning Tree Toys, Games & Books in Oklahoma City, Okla., sells about a dozen EzyRollers per month, Owner Patti Tepper-Rasmussen told TDmonthly in fall 2009.
— Jackie Roy, owner of Learning Resources Toy Magic in Fort Walton Beach, Fla., told TDmonthly in late 2009 that she brought in five EzyRollers on trial on sold out in a week and a half.
— Two of 37 specialty retailers cited the EzyRoller as a top-selling ride-on in spring 2010. "The EzyRoller, by far, continues to be the best," Christine Osborne of Wonder Works in Charleston, S.C., told TDmonthly in March 2010, reporting sales of a couple dozen per month.

Past Videos: WTHRA 2008 (

Watch Video) 11/3/2009 (MSRP: $99.95; Age: 3 and Up)



GUNDFun's Arnold the Snoring Pig™ by GUND INC.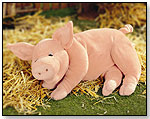 Kids can go hog-wild with Arnold the Snoring Pig, a cute, quirky companion sure to put a smile on anyone's face. Arnold's oversized snout, curly pink tail and sleepy expression make him a cheerful gift for animal lovers of all ages. Press Arnold's hoof and the 16" snuggly swine comes to life, moving his ears, mouth and body as he happily snores the day away. Arnold includes 3 AA batteries. "Like all GUNDFun characters, Arnold stands apart from other animated plush because of the quality of his design – his movements are impressively fluid, and he is still a soft, huggable companion," GUND Marketing & Licensing Manager Shallu Chhabra told TDmonthly. Launch date: February 2007.

Past Videos: Puzzle Zoo Video (

Watch Video) 2/27/2007 (MSRP: $36.00; Age: 3 and Up)



Hide'N Squeak Eggs by INTERNATIONAL PLAYTHINGS LLC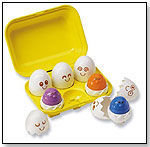 Shells crack open to reveal six "egg-stra" special colorful chicks. Press down gently on their heads to hear them peep. Take the eggs out of the carton for "egg-ceptional" shape sorting fun. (

Watch Video) 5/28/2010 (MSRP: $9.99; Age: 1 to 3)



Mighty Beanz - 3 pack by SPIN MASTER TOYS



Mighty Beanz are collectible and playable versions of the old Mexican jumping beans. These little characters can do tricks, race each other down along and come in more than 100 fun characters with sports, ocean and zoo themes and more. Accessories are sold separately.
— As of 8.12.10, this product had 4 out of 5 stars from 28 reviews on ToysRUs.com and was listed No. 13 in best-selling toys and games. PROS: Easy to play, entertaining, interactive. CONS: Some parents felt this product did not hold children's interest. (

Watch Video) 1/12/2010



Animal Bands by TOYSMITH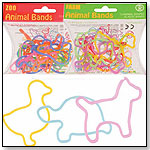 These colorful rubber bands function like traditional bands but feature fun animal shapes when not holding something together.
— "We got 270 packages on Thursday and were sold out by Saturday morning. High school, middle school and elementary school kids are all buying them," Katie Rook, owner of Be Beep A Toy Shop in Columbia, S.C., told TDmonthly in fall 2009.
— Editors Note: This item is very similar to the Animal Rubber Bands by Eastern Accent Int'l, first reported by TDmonthly in 2005. (

Watch Video) 10/6/2009 (MSRP: $2.50)



Magna-Tiles by VALTECH CO.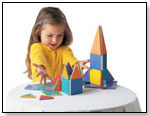 According to Valtech Co., Magna-Tiles were inspired by Pythagoras of Samos (560-480 BC), an important historical mathematician. (Perhaps you recall the Pythagorean Theorem from high school.) If this lofty inspiration doesn't impress you, perhaps the design of the magnetic tiles themselves will. While using the tiles to build various constructs, children will also be developing familiarity with geometric shapes, which will lay a strong foundation for advanced mathematics, such as geometry and calculus. This product has no equal, Michael Ziegenhagen, owner of Playmatters in Cleveland, told TDmonthly. "It's used in some schools to teach geometry and spatial reasoning," he added.
— Two of 50 retailers who spoke with TDmonthly in spring 2008 singled out this item as the best-selling construction toy in their stores.
— "We're constantly selling Magna-Tiles. This is a weekly seller, and they're even high end," said Peggy Sebert, owner of Becky & Me Toys in Glenview, Ill., during an April 2009 survey of 49 retailers on their best-selling construction toys.
— "We sell the Magna-Tiles from Valtech really well on a consistent basis," Kim Emigh, VP of e-commerce at Growing Tree Toys in State College, Pa., told TDmonthly of her store's top-selling construction items in spring 2009. (

Watch Video) 10/3/2006 (MSRP: $49.50; Age: 3 to 7)



Pocket-sized Brain Quest by WORKMAN PUBLISHING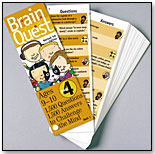 With two decks, 75 cards per deck hinged together by a plastic bolt, and a 150-page book with full-color illustrations throughout, this small version is as big mentally as its older big brother.
— Sesame Street Magazine named it one of the Top 9 Products for kids, and Money magazine called it one of the 50 Best Values in the USA.
— Said Darren Webb of HomeschoolingSupply.com, "My own 3-year-old son, Jackson, really likes his Brain Quest book … the illustrations capture his interest and the format is really convenient."
—The latest editions have 50 percent new material keyed to what students in grades 1-7 need to know today. (

Watch Video) 8/31/2005 (MSRP: $9.75; Age: 3 to 7)



Mixis™ - Houda by YNU GROUP INC.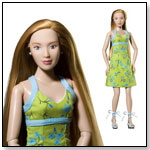 Houda celebrates the beauty and richness of her French and Lebanese background. Her hobbies are baking, cooking, reading and exercise. Her friends describe her as giving, always the first to try new things and she tends to see the humorous side of life. (

Watch Video) 1/30/2007 (Age: 6 and Up)



Digital Spy Camera by WILD PLANET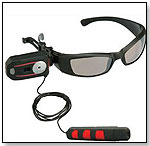 This digital camera is attached to spy sunglasses. Users can take photos with the secret handheld remote, then download them to a computer. This product is designed to encourage imaginative and abstract thinking skills. (

Watch Video) 6/16/2010 (MSRP: $219.99; Age: 8 to 12)



Rocket Balloons by TOYSMITH



This kit includes a 7" pump and 20 balloons. Kids and teens can use the pump to fill the balloons, then let them go and watch them zoom high into the air. (

Watch Video) 6/16/2010 (MSRP: $4.99; Age: 8 to 15)



Disco Ball by MS. DEE INC.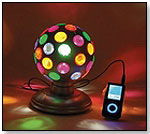 This light-up silver disco ball is also an audio speaker. When an MP3 player or iPod is plugged in, the multicolored lights flash to the beat of the music. A line-in cable is included.
THIS PRODUCT IS NO LONGER AVAILABLE (

Watch Video) 6/16/2010



Princess and Pirate Dress-Up Dolls by MANHATTAN TOY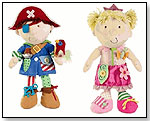 These plush dolls are designed to teach children practical skills like buttoning, zipping, tying and snapping. The 15" pirate comes with a parrot pal, sword and eye patch, and the 15" princess includes a butterfly, flower and crown. (

Watch Video) 6/16/2010 (MSRP: $25.00; Age: 3 and Up)



Sum Swamp by LEARNING RESOURCES INC.



This two-to-four-player addition and subtraction game takes kids on a journey through Sum Swamp. Players make their way over the crocodile shortcut and through the endless loop by adding and subtracting the numbers rolled. (

Watch Video) 6/16/2010 (MSRP: $18.99; Age: 5 to 7)



Marble Run by HOUSE OF MARBLES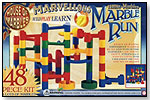 Made of heavy-duty plastic with snap-together tubes and chutes, this kit includes plenty of marbles for hours of building and rolling. (

Watch Video) 6/16/2010 (MSRP: $30.00; Age: 4 and Up)



Take-A-Part Airplane by BATTAT INC.



This battery-powered 25-piece set lets kids build an take apart a miniature airplane. 21 vehicle parts and a power screwdriver with three different bits are included. (

Watch Video) 6/16/2010 (MSRP: $18.45; Age: 3 and Up)



The Question Guys Chat Pack by WILLIAM RANDALL PUBLISHING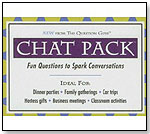 The Chat Pack contains 156 cards, each featuring a question meant to get people talking. This game is designed for dinner parties, family gatherings, car trips, and classroom activities. (

Watch Video) 6/16/2010 (MSRP: $9.95; Age: 6 and Up)



Retailers: Did you know you can broadcast TDmonthly Toy Videos from your website? Manufacturers: Find out how a TDmonthly Video attracts buyers. Videography and editing by Steffen Nieman.
---
---


Copyright © 2021 TDmonthly®, a division of TOYDIRECTORY.com®, Inc.