November 26, 2020

July 2010 | Vol. IX - No. 7


Top-10 Most-Wanted Plush and Puppets
Folkmanis Holds Center Stage
With additional reporting by Terri Hughes-Lazzell, Chris Lundy, Claudia Newcorn and Brenda Ruggiero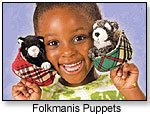 Folkmanis remains in first or second place among most-wanted plush toys for the fourth year in a row, with about one-third of 43 retailers citing it as their best-selling plush in a TDmonthly Magazine survey. Praised for quality and a broad range of animals and other creations, Folkmanis remains successful in stores nationwide. Other perennial favorites include Internet-ready Webkinz and Pretty Ugly's whimsical Uglydolls. Here is the full list of 2010's most-wanted plush and puppets.
OX Plush Doll by PRETTY UGLY LLC



What kind of name is OX? No, not like the animal... OX, as in HUG and KISS! How can he hug you with such short arms? OX uses his ears! He promises to be your friend if you would lend him a hand, or an ear...or, like, two dollars!
— "We're still selling Uglydolls pretty well," said Sally Lesser, owner of Henry Bear's Park in Brookline, Mass., in late spring 2010.
— Out of 43 retailers who participated in a May 2010 survey, five listed Uglydolls as top-selling plush items. 9/1/2004 (MSRP: $20.00)



Webkinz Bat by GANZ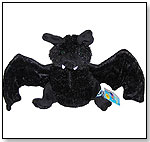 With velvety wings and a rich plush body, the Webkinz Bat is far more cuddly than creepy. He has big soft ears, polished eyes and tiny teeth that poke out from his mouth. Like all Webkinz, this plush animal comes with a unique secret code that allows kids to access the online Webkinz world, a secure website designed to be fun and safe for kids. Interactive computer games and toys accompany the cyber pet's own room and special online item, a purple and black bat winged chair.
— "Webkinz are still very popular. We do a lot with Webkinz," Diane Gervais, manager of Amato's Toy and Hobby in Middletown, Conn., told TDmonthly during a May 2010 survey.
— Five of 43 retailers named Webkinz as a strong plush seller in their stores in late spring 2010. 6/10/2010 (MSRP: $14.99; Age: 6 and Up)



Yardley Jr. Dog by GUND INC.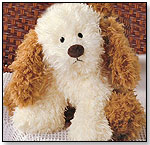 Yardley Jr. is a 9" plush dog with floppy ears, a friendly face, and long fur. His silky coat is light brown and cream colored with facial features in black. He has enough stuffing to sit up but is soft enough to be floppy and cuddly.
— "Gund is always a good plush line," remarked Sue Hottel, owner of No Kidding in Mattapoisett, Mass., in late spring 2010. "Our No. 1."
— During a May 2010 survey of 43 specialty retailers, five told TDmonthly Gund is a top-selling plush line in their stores. 6/10/2010 (MSRP: $15.00)



Basset Hound by MELISSA & DOUG



With his nose up attentively and tail poised mid-wag, Melissa & Doug's Basset Hound could almost be mistaken for the real thing. Covered in soft, dense plush and stuffed fully enough to stand upright on his short legs, this realistic canine features an authentic three color coat, detailed hues on the face, a leathery nose and bright, shiny eyes.
— Five of 43 retailers told TDmonthly during a May 2010 survey on plush and puppets that Melissa & Doug supplies their best-selling plush. 6/10/2010 (MSRP: $39.99; Age: 3 and Up)



B&W Whirl Sak by DOUGLAS CUDDLE TOYS



Two toys in one: a cute plush dog sized for taking along, and a fashionable quilted purse to carry the stuffed pet, or other items. The dog is a pitch black lab puppy with floppy ears and glossy eyes, while the purse features modern printed fabric along with a crochet flower embellishment.
— Fred Rosenberg, owner of On the Park in Kingwood, Texas, sells approximately 100 Douglas dogs per month, he told TDmonthly in late spring 2010. "It's a good price. They're cute. We've never had a problem with any of them," Michelle Bears, owner of The Toy Store in Highlands, N.C., said of what makes Douglas the top-selling brand of plush in her store.
— Five out of 43 storeowners listed Douglas as a top-selling brand during an interview on plush and puppets conducted in May 2010. 6/10/2010 (MSRP: $15.00; Age: 2 and Up)



Simmons the Siamese by RUSS BERRIE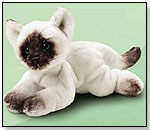 Simmons the Siamese is part of Russ Berrie's Yomiko Classics line of soft, realistic plush animals. The cat's coat is soft Caress™ material printed with the distinctive point markings of the fine pure breed. Finished with long whiskers and soulful blue eyes, Simmons's face is believable and detailed.
— "The Yomiko Classics plush from Russ Berrie. Those are selling well," said Pat Cooley, owner of Cooleykatz Toys in Livermore, Calif., when asked about the best sellers in his plush department.
— Out of 43 retailers surveyed in May 2010, three named Russ Berrie as their top-selling plush. 6/10/2010 (MSRP: $6.99)



Fraggle Rock Boober Hand Puppet by MANHATTAN TOY



A character from the children's cartoon, Fraggle Rock, this hand puppet from Manhattan Toy has bright colors and true-to-character features. Boober's bright orange hair is clamped down tight under a plush brown hat, while a matching scarf wraps around his neck. In the television show, he is the community's blues-singing cook and launderer.
— "Our Manhattan Fraggle Rock puppets are just going great. We tested with a few and our customers have asked for more," said Priscilla Moore, owner of Mr. Fub's Party in Yellow Springs, Ohio, when asked about her best plush sellers in late spring 2010.
— During a May 2010 survey on top-selling plush and puppets, three of 43 retailers told TDmonthly their top items come from Manhattan Toy. 6/10/2010 (MSRP: $22.00; Age: 3 and Up)



Ballerina Hand Puppet by MELISSA & DOUG



A flexible and animated hand puppet from Melissa & Doug, this little ballerina's name is Tina Prima. Her recital-ready outfit is made of realistic satin and tulle. One hand can operate the puppet's mouth, while a detachable rod controls an arm or leg to allow her to pose, dance, and move as a child's imagination sees fit. The puppet can be used easily by right- or left-handed kids.
— "Melissa & Doug puppets always do well," said Susan Castor, owner of Air Fun in Pentwater, Mich., in late spring 2010. "The Ballerina and Cowgirl are most popular."
— Two of 43 retailers told TDmonthly in May 2010 that their top-selling puppets are supplied by Melissa & Doug. 6/10/2010 (MSRP: $19.99; Age: 3 and Up)



Bloose Pluffie by TY INC.



The Bloose Pluffie's floppy body and plush exterior are both super soft, inviting cuddles from babies on up. The cozy fabric is provided as a desirable tactile sensation for the littlest ones to explore, and the toy is machine washable, making it both safe and sanitary for infants.
— In May 2010, two of 43 retailers said Ty is their best-selling brand of plush. 6/10/2010 (Age: All Ages)



---
---


Copyright © 2020 TDmonthly®, a division of TOYDIRECTORY.com®, Inc.