December 2, 2020

July 2010 | Vol. IX - No. 7


Summary of Online Toy Reviews
TD Scout Shares Positive Consumer Reviews from Thousands of Websites
TDmonthly Magazine's Review Scout scours the Web weekly for reviews of new and hot products so you don't have to spend your time searching. Out of thousands of blog, retail and other sites, his research uncovers toys, games and other gifts that are worthy of your attention now. Check this space for briefs on reviews and ratings from across the nation and even the globe.
Drawing Doll by MANUELLA DESIGN



Israeli designer Merav Flam lets kids become designers, too, with the Manuella Drawing Doll. The blank dolls are made from water-resistant paper so children can use the included permanent markers to create their own keepsake.‬
— Coolil's Noa Levy called the Drawing Dolls "a dream come true for children and their parents."
— Designist Dream's Zeva praised the Drawing Dolls for being the "perfect combination of attention to detail and simplicity."
— Karin Kloosterman, of Green Prophet, liked that the dolls can be decorated again and again but cautioned that the Drawing Doll is not very huggable due to its water-resistant paper construction. 6/14/2010 (MSRP: $44.00; Age: All Ages)



Les Mess Card Game by LES IS MORE



Les Mess is an organizational card game designed to encourage kids to pitch in when it comes time to clean and get rid of clutter. By completing one of the tasks on the cards, children earn a prize while making the home more organized.
— Jennifer from The Dirty tShirt tried the cards and found them simple enough for even her toddler. She recommended Les Mess "to everyone trying to teach their children the wonders of organizing their things."
— Quiverfull Family's Jennifer used Les Mess to get all of her children excited about cleaning and organizing. She said Les Mess is best "when approached with a light heart, and a fun-filled attitude." (

Watch Video) 6/14/2010 (MSRP: $19.95; Age: 5 to 12)



Wizards & Dragons Scramble Squares® by b. dazzle, inc.



Scramble Squares® are nine-piece puzzles that feature original art and only one solution. They're designed for everyone from age 4 to 104.
— Teri Lucas of The Old Schoolhouse Magazine loved Scramble Squares, describing them as "the puzzle lover's challenge, the perfectionist's nightmare, and loads of laughs."
— Living Sola Gratia's Brandi found Scramble Squares to be deceptively simple. She suggested keeping an unopened Scramble Squares on hand as a perfect last-minute gift. 6/14/2010 (MSRP: $8.95; Age: 4 and Up)



Meanwhile by ABRAMS BOOKS



Eisner award-winning writer and illustrator Jason Shiga promises 3.856 story combinations in his Choose-Your-Own-Adventure style comic "Meanwhile." Tabbed pages send readers backward, forward and even across alternate universes as they help main character Jimmy choose ice cream flavors and explore a mad scientist's lab. "Meanwhile" features 80 full-color pages.
— Common Sense Media cautioned that some of the book's paths do contain death, though only through simple, gore-less representations. Common Sense Media ultimately declared the book "Quirky, inventive, and absorbing."
— Tanya of Books4yourkids liked the book's thick, glossy pages — perfect for a book that will be flipped through time and time again. She said the comic "is IDEAL for long car/plane/train rides and should appeal to boys and girls alike." 6/14/2010 (MSRP: $15.95)



Kiddie Rockers and Table Set by GUIDECRAFT INC.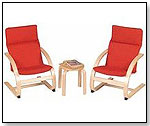 Available in red and blue, Guidecraft's Kiddie Rockers and Table Set includes two comfortable birch plywood chairs that are sized for kids. The accompanying table provides a place to put snacks, books or toys while kids read, relax, or watch television from their chairs. Adult assembly is required.
— Amazon reviewers gave the Kiddie Rocker and Table Set 5 stars and noted that the chair covers were easily removed for washing.
— Experimental Mommy commended the Kiddie Rockers and Table Set for giving her daughters "a personal space to call their own." Bridgette reported that the set was a perfect way for the girls to enjoy family movie night. 6/14/2010 (MSRP: $110.00; Age: 3 and Up)



---
---


Copyright © 2020 TDmonthly®, a division of TOYDIRECTORY.com®, Inc.