June 14, 2021

July 2010 | Vol. IX - No. 7

---
Top-10 Most-Wanted Dolls
Corolle and Manhattan Toy Provide Steady Favorites
With additional reporting by Terri Hughes-Lazzell, Chris Lundy, Claudia Newcorn and Brenda Ruggiero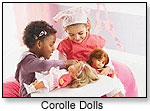 A recent survey conducted by TDmonthly Magazine polled 43 retailers nationwide about the sales in their doll departments. Classic baby dolls designed for nurturing role play go out the door for little ones, while bright colors and big personalities like Fancy Nancy interest the slightly older set. With a desirable blend of quality, durability and play value, Corolle continues to rule the top-10 best sellers. Manhattan Toy's Groovy Girls, a line kept fresh with the introduction of new girls and concepts, also remains a hot item on toy store shelves. Here are the top-10 most-wanted dolls.
Calin Yang by COROLLE DOLLS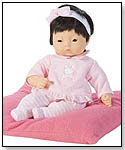 Calin Yang has brown sleepy eyes and natural-looking rooted hair that can be combed and styled. She can also be posed like a real little baby. All Corolle dolls are made with vanilla-scented vinyl. Their clothing reflects current styles and fabrics. Calin Yang is part of Corolle's Mon Premier collection. She has accessories that will encourage little girls aged 18 months and up to take care of her all day long.
— "We do sell several Asian dolls," noted Gwen Bowden, manager of Doodlehopper 4 Kids in Springfield, Va. "There are a lot of adoptions [here], and we try to carry a diverse selection of dolls that kids can play with. Ten percent of toy-store owners said Corolle dolls were great sellers for the holidays 2006.
― "Corolle [sells] head and shoulders above anything else," said Sue Hottel, owner of No Kidding in Mattapoisett, Mass., of her doll department in May 2010. Two retailers told TDmonthly in late spring 2010 that Calin Yang is their top-selling doll. Twenty of 43 retailers named Corolle as their best-selling doll brand. 11/30/2006 (MSRP: $28.95)



Groovy Girl Aqualina by MANHATTAN TOY



A 2010 addition to the Groovy Girl line, Aqualina easily transforms between mermaid and girl with a clever removable tail that covers her legs. This cloth doll is made of soft, bright colored, coordinating fabrics that include fun prints and textures for fun, fashionable details. She has multi-colored yarn hair and a shiny satin fish friend.
― "Groovy Girls would definitely be [our best seller]. We do really well with those," said Lesa Smith, owner of Whiz Kid Toys in San Luis Obispo, when discussing best-selling dolls in May 2010.
― Shirley Reilly, owner of Let's Play in Hillsboro, Ore., told TDmonthly, "Groovy Girls seem to making a comeback, especially the new mermaids and ladybugs." Eleven of 43 retailers surveyed in May 2010 said Groovy Girls are their top-selling doll. 6/14/2010 (MSRP: $20.00; Age: 3 and Up)



Baby Stella Peach by MANHATTAN TOY



Wearing a soft, two-piece pastel outfit, Baby Stella has embroidered facial features, a belly button and a round tummy. She comes with a pacifier that magnetically attaches to her mouth.
― "I sell a lot of Baby Stella. She's so darn cute," said Jean McCullough, owner of Children's Store Inc. in Boise, Idaho, when asked about best-selling dolls during a May 2010 survey.
― Four of 43 retailers told TDmonthly in late spring 2010 that Baby Stella is one of their best-selling dolls.
― Donna Frederick, owner of The Play House Toy Store in Durham, N.C., told TDmonthly in a May 2012 survey that Baby Stella is their best selling doll. "This is a good first doll for kids. They come in different skin tones, and they're not awfully expensive," she said. (

Watch Video) 10/28/2009 (MSRP: $30.00; Age: 1 and Up)



Barbie Fairy-Tastic Princess by MATTEL INC.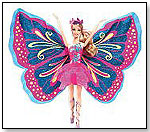 Just like a fairy tale, this Barbie transforms from a princess to a magical fairy. Pressing the small button on her back causes her elegant, butterfly-patterned skirt to turn into sparkling purple wings, and back again. She has long purple hair that can be combed and styled.
― "The [Barbie] Princess line does very well," said Sandy Challinor, owner of Owl's Nest Toy Store in Southlake, Texas, in response to a May 2010 survey on top-selling dolls.
― Out of 43 retailers, four named Mattel as the supplier of their best-selling dolls in late spring 2010. 6/14/2010 (MSRP: $22.99; Age: 3 and Up)



Lissi Baby Doll by CASTLE TOY INC.



Lissi is a simple, playable soft-bodied doll sized to be just right for cuddling by little ones. Lissi dolls have molded heads, hands and feet for realistic faces, and detailed little fingers and toes. The stuffed body makes them easy to pose and carry.
― Two retailers, out of 43, told TDmonthly in May 2010 that Lissi is one of their best-selling dolls. 6/14/2010 (MSRP: $11.99; Age: 0 and Up)



Goetz African-American Muffin by INTERNATIONAL PLAYTHINGS LLC



A 12" doll from Goetz, Muffin has dark skin and curly black hair that is rooted in order to withstand brushing and styling. She has a soft body and bean-bag bottom in order to sit up right and be easily posed while remaining cuddly. Her molded hands, feet and face are carefully sculpted, and her eyes close when she is laid down to sleep. All clothing is easily removable for dress-up role-play and fashion play.
― Out of 43 retailers who responded to a May 2010 survey of best sellers, two said their top-selling dolls come from International Playthings. 6/14/2010 (MSRP: $36.99; Age: 3 and Up)



La Newborn (Real Girl!) 14" by JC TOYS GROUP INC



La Newborn is a realistic play doll with many detailed, realistic features. She wears a happy expression with hands molded mid-grasp. The La Newborn line of dolls from JC Toys is designed to be a doll suited for little ones, with a look that mirrors life and the same attention to detail that is paid to more expensive collector dolls.
― "It's a beautiful line with great details," said Priscilla Moore, owner of Mr. Fub's Party in Yellow Springs, Ohio, of JC Toys' baby dolls in late spring 2010.
― Two of 43 retailers listed JC Toys as a supplier of their top-selling dolls during a May 2010 survey. 6/14/2010 (MSRP: $59.99; Age: 3 and Up)



Fairy Princess Musical Doll by GREEN TREE PRODUCTS, INC.



This sweet cloth doll winds up to play "Waltz of the Flowers." She is 6" seated, wearing a flowered pink dress and carrying a star-wand. She has tiny wings and a leafy green tiara in her curly blond hair.
― "They are doing really well," said Pat Cooley, owner of Cooleykatz Toys in Livermore, Calif., of Green Tree Collectibles musical dolls during a May 2010 survey on best-selling dolls. 6/14/2010 (MSRP: $22.00)



---
---


Copyright © 2021 TDmonthly®, a division of TOYDIRECTORY.com®, Inc.