September 24, 2020

July 2010 | Vol. IX - No. 7


Watch Toy Videos of the Day: Week 1 (7/1-7/9)
July's Videos of the Day for Week 1 included games such as YAMSLAM by Blue Orange, Pirate vs. Pirate by Out of the Box, and Do Tell from Do Tell Enterprises, along with educational items such as Flower Feelings from EI KIDS and Kids' Garden by Barefoot Books.

(Also watch videos from Week 2 and Week 3 for the month of July)
Flower Feelings by EI KIDS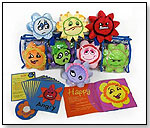 Flower Feelings are emotions brought to life as a garden of eight adorable plush characters, each with a distinctive facial expression identifiable by the feeling name embroidered on the back. Accompanying the toy is a full-color booklet describing the individual traits of each emotion, along with playful questions and answers designed to help children recognize feelings in their own life. A sing-along CD about the Flower Feelings is included in the package, along with lesson plans for home or classroom. "The colorful and engaging plush allow children a tangible way to embrace their feelings while the activities and song included in the kit provide many ways to create a positive setting in which children can express their emotions," Ei Kids President Daniel Nix told TDmonthly. (

Watch Video) 6/28/2010 (MSRP: $59.00; Age: 2 to 8)



LEGO Brickmaster: Atlantis by DK PUBLISHING INC.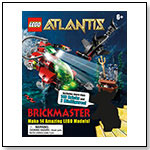 Full-color photos combine with clearly labeled instructions, trivia and a compelling story to make this 48-page Brickmaster kit ideal for LEGO fans. Young builders can build fantastic models of undersea craft from LEGO's Atlantis line or come up with distinctive Atlantis creations of their own. LEGO, the LEGO logo, the Brick configuration and the Minifigure are trademarks of the LEGO Group. (

Watch Video) 7/7/2010 (MSRP: $29.99; Age: 7 to 14)



Kids' Garden by BAREFOOT BOOKS



With 40 interactive activities and games, Kids' Garden encourages children to engage with the outdoors and appreciate the green world around them. Each double-sided card has step-by-step instructions with colorful collage artwork.
Awards: 2010 Ippy Award Best Children's Interactive Category (

Watch Video) 6/25/2010 (MSRP: $19.99; Age: 6 and Up)



Solar System 48pc Floor Puzzle by MELISSA & DOUG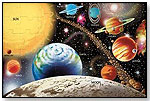 The 48-jumbo-piece puzzle depicts the planets and the moon in the solar system. The puzzle is educational and also teaches kids matching and motor skills. Each puzzle piece is made of extra-thick cardboard for extra durability. The puzzle measures 24" x 36" when assembled.
— "Melissa & Doug's solar system puzzle – we sell at least one a day," Steve Ricks, owner of My Story House Toys in Roswell, Ga., told TDmonthly.
— "Floor puzzles by Melissa & Doug – [we sell] at least one a day," Bob Colbert, owner of The Toy Box in Searcy, Ark., told TDmonthly.
— Over 11 percent of retailers who spoke with TDmonthly in early 2008 shared that large floor puzzles by Melissa & Doug are their stores' best-sellers when it comes to puzzles. (

Watch Video) 3/24/2008 (MSRP: $11.99; Age: 3 and Up)



Do Tell Original Edition by DO TELL ENTERPRISES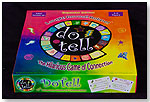 Do Tell is designed for parties, couples, friends and girls' getaways. By inspiring players to participate through words and actions, Do Tell acts as a natural icebreaker and a tool for connection and communication. Players never have to play the card they are given or reveal more than they are comfortable with. Do Tell aims to keep players curious, interested, engaged and rolling in the aisles. "We're about expansion, diversity, compassion, understanding, coming out of our box, acceptance, love and laughter," Geoff LaPlace, president of Do Tell Enterprises, told TDmonthly. (

Watch Video) 6/16/2010 (MSRP: $34.95; Age: 16 and Up)



Pirate versus Pirate by OUT OF THE BOX PUBLISHING



Three bands of pirates have discovered an island brimming with treasure. The goal is to conquer the island by capturing the gold and silver, or by eliminating the enemy pirates. Players must position their pirates carefully, as enemies are all around and they are hungry for treasure. "Unique pirate figures make the game very attractive out in the store," Leah Sugar, VP Marketing, Out of the Box Publishing, told TDmonthly. Launch date: June 15, 2010. (

Watch Video) 3/10/2010 (MSRP: $24.99; Age: 8 and Up)



YAMSLAM, Roll to Win by BLUE ORANGE GAMES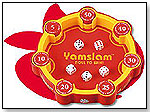 Calculated chances and strategic choices will place the odds in favor of players as they let the five dice roll them to a win with Yamslam. After each roll, a player chooses the dice that will get the best combination. Each combination is worth a different value and has only four chips, so it's important to take the best ones before they run out. Players race to get special bonuses before their friends do, keeping the suspense rolling until the end. The game has appeal for all ages and is convenient for travel, as it is "self contained in a beautiful tin box," Adeline Bertrix, sales manager for Blue Orange Games, told TDmonthly. Launch date: February 15, 2009.
Awards: Dr. Toy's 100 Best Children's Products 2009; 2012 TDmonthly Top Toy Award. Why it won: This dice-rolling game from Blue Orange is fun for both kids and adults. With each roll of the dice players must strategize how they can win the chip with the highest point value. Without even realizing it, kids are learning basic math skills like addition and probability. The game is self-contained in a red tin, making it easy to play on the road or tote along to a party.
— Yamslam is on the best-seller list at Golden Apple Learning Store in Pleasanton, Calif., Owner John MacDougall told TDmonthly in summer 2009.
— "Right now, a game called Yamslam is our best-selling game," said Sue Banducci of Games Unlimited in Danville, Calif., in late 2009. She was anticipating sales of about 250 units during December.
— Three of 38 retailers cited Yamslam as a best-selling game in Feb. 2010.
(

Watch Video) 1/23/2009 (MSRP: $19.99; Age: 7 and Up)



---
---


Copyright © 2020 TDmonthly®, a division of TOYDIRECTORY.com®, Inc.