September 28, 2020

August 2010 | Vol. IX - No. 8


August Staff Picks
Cards Dictate New Game of Musical Chairs
MishiDesign transforms play with an adaptable wooden baby walker that later converts to a ride-on and even a trolley for older children's playtime. Among the other Staff Picks for this month — items TDmonthly Magazine puts forth for specialty retailers to consider — Ectropy Science offers experiential learning with kits that challenge students to solve mysteries, and PB&J Toy Company makes players take a seat in a competitive card game of Musical Chairs.
Musical Chairs The Card Game by PB&J TOY COMPANY, INC.



In this card game, when a player gets four-of-a-kind in his hand, it is just like the music stopping in a traditional round of musical chairs. The player grabs a chair and all other players react and grab for a chair, too. There is one less chair than the number of players in the round and the player without a chair is out. 6/18/2010 (MSRP: $7.99; Age: 5 and Up)



Lift Up by MISHIDESIGN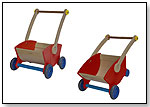 Lift Up is a unisex transformable wooden toy that follows kids from the moment they start to walk until the age of 6. The toy can be adapted in shape and function to the requirements of children in different stages of their growth. At the first stage Lift-Up is used as a baby-walker, then it can be easily transformed into a wheelbarrow. 6/28/2010 (MSRP: $90.00; Age: 1 to 6)



Pullip Shan-ria by JUN PLANNING USA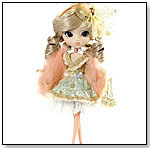 This 12" Pullip doll wears in a lavish cocktail dress, and comes accessorized with a hat, choker, fur shawl and handbag. 7/2/2010 (MSRP: $99.99; Age: 15 and Up)



Word FRENZY Card Game by TAME TIGER LLC.


Word FRENZY is a fast-paced, word-forming card game that aims to foster spelling, vocabulary, word association and math skills. Playing with letter cards, players try to be the first to collect cards that spell a four-letter word relating to a category. "It's stealth education made fun!" Tame Tiger Marketing VP Steve Kam told TDmonthly.
Awards: 2009 Parents' Choice Approved Award; 2009 Dr. Toy's Best Picks; 2009 The National Parenting Center Seal of Approval; 2010 Family Review Center Gold Award; 2010 Family Review Center Editor's Choice Award 6/25/2010 (MSRP: $19.99; Age: 10 and Up)



Secret Science Team Missions - Case File #1001 by ECTROPY SCIENCE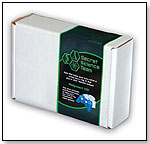 The Sterling Police have just announced a major breakthrough in the case of the pirated video game MazTech Ultimate SK8 and need help breaking up the piracy ring. In this game, kids can join the Ectropy Secret Science Team, using science skills to help solve the mystery. "Secret Science Team is about taking what you learn about science and applying it to everyday situations ... it is more than science experiments, it is truly a science experience," Ectropy Science President Walter Thompson told TDmonthly.
Awards: 2010 Parents' Choice Approved 6/25/2010 (MSRP: $27.99; Age: 9 to 12)



TAGGIES™ Colours Puffy Characters by TAGGIES INC.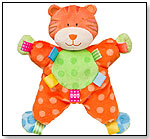 TAGGIES Colours Puffy Characters are huggable plush toys made with ultrasoft colours prints and patented floppy tags. All four paws feature a crinkle sound. This plush toy is available in elephant, tiger and frog. 7/6/2010 (MSRP: $24.99; Age: 0 to 2)



Miss Brittany's Organic Fun Dough Deluxe Gift Set by MISS BRITTANY'S ORGANIC PRESCHOOL FUN DOUGH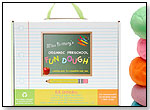 This deluxe play dough gift set, created by a preschool teacher, is American-made and non-toxic. The set includes three containers of Miss Brittany's Organic Preschool Fun Dough, a 100-percent organic toddler apron featuring the "Organically Awesome!" logo, a wood rolling pin, and four wooden shape stampers. 6/25/2010 (MSRP: $14.95; Age: 2 and Up)



Sturdy Birdy by FAT BRAIN TOY CO.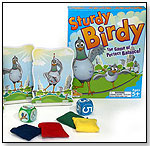 Reggie the Pigeon dreams of a life in the circus as a high wire acrobat. Now he needs help to perfect 12 poses to "land" his dream job. Players must master the 12 unique poses and be the first to make it to the end of the line. Sturdy Birdy is designed to challenge children on a physical level while encouraging counting skills, self-esteem and more. 7/5/2010 (MSRP: $19.95; Age: 5 and Up)



YooHoo & Friends Wanna Be "Panda" Bush Baby by AURORA WORLD INC.



This 5" plush bush baby comes with a removable hooded panda costume. When its tummy is squeezed it makes a "chatter" sound. 7/1/2010 (MSRP: $7.99; Age: 3 and Up)



Marbling Class Pack by JACQUARD PRODUCTS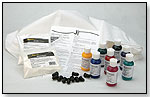 The art of marbling paper has been historically associated with the craft of bookbinding. The technique of marbling involves creating a multi-colored pattern of paint that floats on the surface of a gel-like medium. Paper or fabric is then laid on the surface to pick up the floating paint and transfer the design. This pack allows students to create elegant patterns on fabric or paper. The pack comes with: eight (2 oz.) bottles of Jacquard Marbling Colors, alum for treating the paper or fabric), methocel, cotton fabric (two yards of 61" cotton sheeting), eight droppers for applying paint and easy-to-follow instructions. 7/2/2010 (MSRP: $59.95; Age: 8 and Up)



mY Design Paintable Zimbi Shoes by mY DESIGN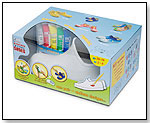 This pair of zimbi shoes can be painted and erased again and again. The kit includes a pair of zimbi shoes, six waterproof paints, 32 magical erasing pads, two paint brushes and a mixing palette. 6/25/2010 (MSRP: $29.00; Age: 3 and Up)



Eye Can Art Wax Drawing kit by BLUE ART BOX LLC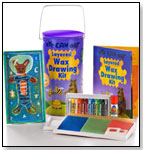 With the Eye Can Art kit, kids can draw a pastel picture or make a collage inside a frame, then melt a layer of wax and draw on top. This wax drawing kit contains everything needed to make two ready-to-hang encaustic artworks, along with easy-to-follow illustrated instructions.
Awards: 2010 A+ Education.com Award 6/25/2010 (MSRP: $25.00; Age: 4 and Up)



Strawberry and Watermelon Be@rbrick Set by MEDICOM TOY CORPORATION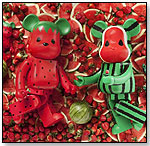 Medicom's set of two Be@rbricks, designed in collaboration with CLOT and Levi's, features bears patterned to resemble a strawberry and watermelon. These vinyl designer toys are available in 100% and 400% sizes. 7/1/2010



Nicky the Discovery Duck by LILLIPUTIENS


Nicky the duck is fully of activities for children to explore. She quacks when her beak is squeezed, and can also make a rattling sound. Nicky contains a book designed to teach about water creatures. (

Watch Video) 7/5/2010 (Age: 0 and Up)



Magformers XL Cruisers Emergency Set by MAGFORMERS LLC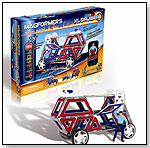 This collection is designed for Magformers to transform into hundreds of creative emergency vehicles. 7/6/2010



Tangramino by FOXMIND GAMES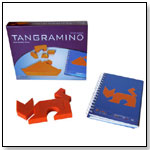 Using the Architect precision blocks, players attempt to replicate the Tangram models illustrated in the challenges book. Initially, the puzzles are illustrated on a scale of 1:1 allowing players to experiment on the puzzle surface itself. As players advance, the illustrated models are reduced, thereby introducing the concept of scale. In addition, players are required to use the pieces horizontally and vertically, exposing them intuitively to more advanced concepts in geometry. Tangramino offers creative play for players 6 years and over.
Awards: Triple Star Canadian Toy Testing Council 6/23/2010 (MSRP: $34.95; Age: 6 and Up)



Sweet Shop 3-D Stickers by CREATIVE IMAGINATIONS INC



This set includes one sheet of acid free 3-D stickers with a candy motif. 6/23/2010 (MSRP: $4.50; Age: 4 and Up)



In the Garden Clear Stamp Set by JANLYNN CORP.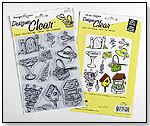 This designer clear In the Garden stamp set designed by Max & Lucy includes 12 flower and garden inspired stamps to add a touch of nature to card, paper and craft projects. Made from a non- yellowing clear silicone, Janlynn's Designer Clear stamps are easy to use. Simply peel the stamp from the protective backer and stick to a Designer Clear acrylic block, sold separately. 7/7/2010 (MSRP: $15.99)



---
---


Copyright © 2020 TDmonthly®, a division of TOYDIRECTORY.com®, Inc.