December 9, 2023

August 2010 | Vol. IX - No. 8

---
TDmonthly's Book Expert
One Educated Bookworm's Opinion
TDmonthly Magazine's Book Expert explores figure 8s on ice, enjoys a sweet Moon Festival tale, and travels to arctic regions in the pages of these 4-star titles.


Title: How Figure Skating Works
Author/Illustrator: Keltie Thomas
Publisher: Maple Tree Press
Gender: Boys and Girls
Age: 8 to 12
MSRP: $10.95

TDmonthly rating:




What It Is: Part of a series on different sports, this volume on figure skating is ideal for tweens who are fans of the sport. It provides many fascinating tidbits on everything from skating techniques to the history of the sport, the science behind it, some of the sport's most famous personalities, the mystery of figure skating judging, and more.

Why You Should Carry It: This book is designed for kids who already have a strong interest in figure skating; if your clientele includes figure skating fans, this would be a good book to carry. It would also be a nice one to display during the Winter Olympics, when figure skating is always prominent in sports news. This book couples lots of information with a fun design, which features a combination of photographs and cartoons, along with numerous sidebars.

What Kids Think: Bella, age 9, is thinking of taking skating lessons, and she enjoyed browsing through all the facts and figures in this book. She especially liked the profiles about "legends on ice," and the funny factoids, such as "Dealing with the Competition," a section that tells nasty stories of how skaters have tried to derail their rivals, the section on costumes, and the part on the science of jumps and spins.

---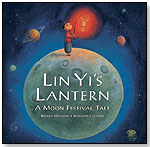 Title: Lin Yi's Lantern: A Moon Festival Tale
Author/Illustrator: Brenda Williams/Benjamin Lacombe
Publisher: Barefoot Books
Gender: Boys and Girls
Age: 4 to 8
MSRP: $16.95

TDmonthly rating:




What It Is: This is a lovely picture book about a young Chinese boy who is sent to the village market to get some items for his family for the Moon Festival. His mother tells him that if he bargains well, and has money left over, he may buy a red rabbit lantern for the festival. But in the end, he has enough left to either buy the lantern or some peanuts for his beloved uncle. What will he do? In the end, he purchases the peanuts — but surprise, his uncle has bought him the rabbit lantern! This sweet story is highlighted by gorgeous stylized gouache paintings, which are imbued with the red color of the festival. The author also provides an afterword, which recounts the legend of the Moon Fairy, gives instructions on how to make Chinese lanterns, and provides an overview of market life in China.

Why You Should Carry It: This book would fit nicely in a multicultural lesson for elementary school-aged children. It will also attract parents who would like to share Chinese culture with their children, and it provides a craft activity for children and adults to do together. Parents as well as children will enjoy this gentle story.

What Kids Think: Lucy, age 5, liked how Lin Yi got his red rabbit lantern at the end of the story. She also was excited by the idea of making a Chinese lantern for her very own with the instructions in the book.

---

Title: I is for Inuksuk: An Arctic Celebration
Author/Illustrator: Mary Wallace
Publisher: OwlKids
Gender: Boys and Girls
Age: 4 to 8
MSRP: $19.95

TDmonthly rating:




What It Is: This beautifully illustrated book celebrates the culture of the Inuit of the Arctic. Inuksuk are stone towers built in the Arctic to guide nomadic Inuit peoples across the snow and ice. The book provides an Inuktitut pronunciation guide as well as examples of the meanings of various inuksuit. This is not a traditional alphabet book; rather, it provides examples just of the letters in the word "Inuksuk." For example, "N is for Nanuq, the powerful polar bear of the North." The author then provides some factoids about polar bears in the two-page spread. Each letter provides us a different insight into the rich cultural tradition of this fascinating region.

Why You Should Carry It: This is a good title for those who want to learn more about the culture of the Arctic, but it might have more appeal for a Canadian audience than U.S. children.

What Kids Think: Aidan, age 6, liked seeing the pictures of the animals of the region, such as the polar bears, wolves and seals, but overall thought the book was just "OK."
---
---


Copyright © 2023 TDmonthly®, a division of TOYDIRECTORY.com®, Inc.