September 19, 2020

July 2010 | Vol. IX - No. 7


Top-10 Toys at ASTRA 2010
Anomia Impresses at Specialty Toy Show
Games were a hit with buyers at the American Specialty Toy Retailing Association's annual Marketplace in June, according to a post-show TDmonthly Magazine survey. Although only 12 of 40 specialty retailers polled attended this year, those 30 percent — plus a couple of contributors on Twitter — had plenty to share in terms of exciting products for fourth quarter.

A game of "common knowledge" from Anomia Press made the biggest splash, with Recent Toys' puzzle games and Blue Orange's Spot It close behind. Thames & Kosmos science kits, Cobi construction sets, Kid Galaxy flyers, Flik Flak watches and the Green Toys Fire Truck also made buyers' favorites lists. To round out the top 10, TDmonthly staff selected Brickstructures LEGO Architecture series, for a crisp, creative expansion for "older" builders of a prominent brand, and the Lilliputiens Discovery Duck for its cute, multifunctional design.

View 100+ product videos from the expo
Anomia by ANOMIA PRESS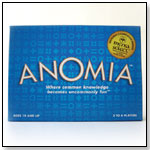 Anomia is a game where common knowledge becomes uncommonly fun. Anomia plays off the fact that our minds are positively brimming with all sorts of random information: things to eat, pop songs, websites, etc... Sure, under normal circumstances, it's easy enough to give an example of a frozen food, or a dog breed; but you will find that your brain works a little differently under pressure. Easy to learn, fun to play over and over again, Anomia will have any group of friends, family, even perfect strangers, shouting and laughing out loud as they try to beat each other to the punch. It can be your turn at any time and anyone can be your opponent. For 3 to 6 players. One round lasts about 30 minutes. Launch date: Fall 2009.
— They sell "15 to 20" Anomia games per month at Magic Box in New Orleans, said manager James Dello Stritto in early 2011.
— Four of 12 retailers who attended ASTRA 2010 named Anomia as one of their favorite products at the show.
— "Anomia is really great; I've been told for the last year to get it," said Kristen Pollard, owner of Mudpuddle Toys in Marblehead, Mass., in summer 2010.
— In an August 2010 survey, nine percent of 43 retailers said Anomia is a card game best seller. Barbara Fineblum, owner of Barston's Child's Play in Baltimore, Md., told TDmonthly the same month that her store sold 89 Anomia games in one month. (

Watch Video) 1/14/2010 (MSRP: $16.00; Age: 10 and Up)



IcoSoKu by RECENT TOYS USA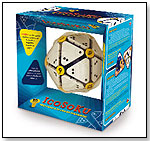 Icosoku is a puzzle designed to make simple addition a challenge. Users explore every angle of this puzzle as they make all of the dots touching a yellow peg add up to that number. The puzzle can be solved regardless of how the yellow pegs are arranged, so there are thousands of games to play. It offers "the ability to play a new puzzle every time the number pegs are rearranged," Brandi Field, general manager of Recent Toys, told TDmonthly.
— Two of 12 retailers named games from Recent Toys among their favorite products at ASTRA 2010, during a June 2010 TDmonthly survey. (

Watch Video) 7/9/2010 (MSRP: $19.99; Age: 7 and Up)



Spot It! by BLUE ORANGE GAMES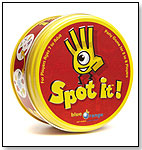 Spot It is a party game for two to eight players. It's played by laying a random assortment of cards on the table and all players racing to find one image that matches between two cards. This fast-paced game is designed to never be the same twice, and though it has very few rules to remember it requires a sharp eye to master. The set of 55 round cards transports in its own carry tin. Watch Spot It: Top-5 Video, Toy Fair 2010
— Spot It has been been a top seller for retailers surveyed by TDmonthly since early Spring 2010.
— In a March 2012 survey, 3 out of 12 retailers told TDmonthly that Spot It was their overall best selling product, and had been for more than a year.
— Dean Smith, Co-owner of JaZams in Princeton, N.J., told TDmonthly in a Summer 2011 survey that he sells 50-60 copies of Spot It each month.
Awards: 2010 TDmonthly Top Seller, Dr. Toy 100 Best Children's Products - 2010

Where to buy:
SOUTH
NORTH EAST
NORTH WEST (

Watch Video) 2/11/2010 (Age: 6 and Up)



Remote-Control Machines by THAMES & KOSMOS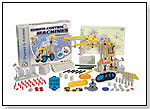 The Remote-Control Machines kit uses a unique six-button infrared unit, complete with touch sensors that simultaneously control three different motors. In addition to forming the 10 suggested models — including a car, crane, plow and robotic arm — the motors can be combined to make complex machines in numerous creative configurations. The kit contains three motors, remote control unit, battery holder, 182 building pieces and a 48-page, full-color manual.
— Barston's Child's Play in Baltimore, Md., ordered Thames & Kosmos science kits at ASTRA 2010, Owner Barbara Fineblum told TDmonthly in June 2010.

Where to buy:
SOUTH 5/20/2010 (MSRP: $69.99; Age: 8 and Up)



Green Toys Fire Truck by GREEN TOYS INC.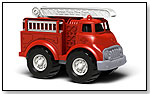 Designed to save energy and reduce greenhouse gas emissions, the Green Toys Fire Truck is solidly constructed from 100-percent recycled plastic milk containers and has no metal axles. It includes a sturdy extendable ladder that rotates 360 degrees and two removable side ladders. The truck contains no BPA, PVC or phthalates, and is packaged using only recycled and recyclable materials. Made in California.
— Joe Mitchell, owner of YoYo Joe's Toys & Fun in Wilmington, Del., called the Green Toys Fire Truck a "slam dunk" at ASTRA 2010.
Awards: Dr. Toy 100 Best Children's Products - 2010 6/25/2010 (MSRP: $24.99; Age: 1 and Up)



Jeep by COBI S.A.


Children can build a realistic miniature army Jeep with this 100-block set. (

Watch Video) 6/16/2010 (MSRP: $20.00; Age: 5 and Up)



Colorful Darkness Watch by Flik Flak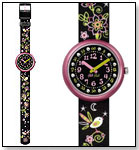 The Colorful Darkness model combines enchanting birds, exotic flowers, twinkling stars and a crescent moon. The pink, green and white designs stand out clearly on the black strap, and the black watch face, with 12 crystals, adds to the magical aspect. It has a fabric strap, and for a bit of extra help telling the time, the hands are color-matched to the hours and minutes on the dial. Flik Flak watches are Swiss made and equipped with a robust aluminium case and scratch-resistant mineral glass. Their Swiss-manufactured quartz movement is designed to guarantee precision time-keeping. They are shock-resistant and can even be machine-washed at 40°C. This Flik Flak Preschool comes with a giant cardboard clock for learning to tell the time. 7/15/2010 (Age: 5 and Up)



Elite Fleet V-Wing Back Yard Flyer by KID GALAXY INC.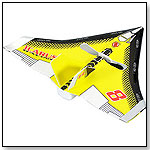 This plane can go from charger to flying in just 10 seconds with the easy-to-use, all in one hand-held charger/launcher. The plane is designed to fly for 30 seconds or more, and stand up to many back yard landings. It features a single-pull trigger, requires three AA batteries, and can fly up to 100 feet.
— The owner of Kid's Center in Tucson, Ariz., told TDmonthly they ordered from ASTRA 2010 a Kid Galaxy "back yard flyer that we had not seen operational before" — one of their favorite products of the show.
— In a November 2011 survey Lisa LeStrange, owner of Lucky Duck Toys in Wayne, Pa., told TDmonthly that their "Top selling flying toy is Backyard Flyer by Kid Galaxy...Depends on the season, but in warm weather we sell maybe 10 per month." 7/15/2010 (Age: 8 and Up)



Nicky the Discovery Duck by LILLIPUTIENS


Nicky the duck is fully of activities for children to explore. She quacks when her beak is squeezed, and can also make a rattling sound. Nicky contains a book designed to teach about water creatures. (

Watch Video) 7/5/2010 (Age: 0 and Up)



LEGO Architecture Signature Series: The White House by BRICKSTRUCTURES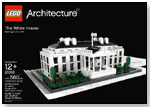 This LEGO Architecture replica of the White House can be assembled from the 560 pieces that come with the set. This set is part of the Signature Series from BrickStructures. For ages 12 and up. (

Watch Video) 7/14/2010 (MSRP: $55.00; Age: 12 and Up)



---
---


Copyright © 2020 TDmonthly®, a division of TOYDIRECTORY.com®, Inc.