May 16, 2021

August 2010 | Vol. IX - No. 8

---
Top-10 Most-Wanted Electronic Toys
Kid Galaxy Gives Kids the Wheel
With additional reporting by Chris Lundy, Claudia Newcorn and Brenda Ruggiero

TDmonthly Magazine recently interviewed 40 specialty retailers across the country regarding their sales of electronic and battery-operated toys. Kid Galaxy, maker of kid-friendly, remote-controlled toys, crowns the list of best sellers with its amphibious vehicle, the Morphibian.

Many retailers said they prefer to avoid electronic toys in favor of recommending more "kid-powered" items in line with an individual family's interests.

"Something to get them outside and active," explained John Goehring, owner of The Toyworks in Santa Rosa, Calif. Nonetheless, a select variety of R/C toys, educational electronics such as Snap Circuits from Elenco, and fun novelty items win enduring shelf space. Here are the top-10 best-selling electronic toys in specialty stores:
Morphibians™ Killer Whale by KID GALAXY INC.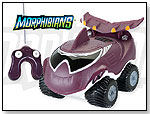 The ferocious Morphibian Killer Whale packs a lot of features into one durable, adventure-seeking package. This full-function, radio-controlled vehicle performs on land and in the water. Whether pond-side, pool-side, in the house or in the yard, the Morphibian tackles all kinds of terrain. The Killer Whale works on a 27MHz frequency, allowing it to coexist with another of Kid Galaxy's 49MHz vehicles without controller confusion, and requires two AAA and three AA batteries (not included).
― "Kid Galaxy's Morphibian does great," said Terry Myers, owner of Kaleidoscope Toys in Round Rock, Texas, in June 2010.
― "[The] Morphibians are popular items," said Sandy Challinor, owner of Owl's Nest Toy Store in Southlake, Texas. In Summer 2010, Challinor reported sales of 30 to 40 Morphibians per month.
― Sixteen of 40 retailers surveyed in June 2010 told TDmonthly Kid Galaxy is their best-selling electronic line. 7/21/2010 (MSRP: $30.00; Age: 5 and Up)



HEXBUG Nano Micro Robotic Creatures by INNOVATION FIRST LABS, INC.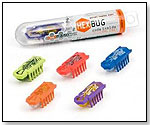 This small, 12-legged microrobotic creature is battery powered and designed to behave just like a real bug. It moves very quickly and can even flip over by itself. Five colors are available in the Newton Gravity Series. Awards: Parent's Choice Award 2010. Launch date: Fall 2009.
— Chris Lowe, owner of Bean Head Toys in Sandy Springs, Ga., told TDmonthly in a Summer 2011 survey that she sells between 20-30 items from the HEXBUGS line each month.
— Christine Osborne, co-owner of Wonder Works in Charleston, S.C., has a Hexbug Nano Habitat set up in the store. They've sold ''thousands,'' she said; she couldn't even guess at an exact number.
― "Hexbugs are doing very well," said Jenny Bramhall, owner of Dandelion Toys in Fort Collins, Colo., in summer 2010. Fifteen percent of 40 retailers polled in June 2010 said Hexbugs are their best-selling electronic item.
— Hexbugs were great sellers at Figpickels Toy Emporium in Coeur d'Alene, Idaho in Aug. 2010. "They fill the affordable techno/RC need - grab and go," said owner Brett Sommer.
AWARDS: 2010 TDmonthly Top Seller (

Watch Video) 11/9/2009 (MSRP: $9.99)



R/C Tarantula by UNCLE MILTON INDUSTRIES INC.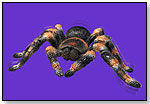 The R/C Tarantula from Uncle Milton puts control of this large, realistic spider in the palms of kids' hands. The flocked texture and detailed coloring of its legs and body give it a lifelike texture, and all eight legs move as it rolls along on wheels concealed under its abdomen, for a convincing scurry. Even the remote control is a creepy spider egg. The Tarantula works best on smooth, flat surfaces and requires two AAA and two AA batteries (not included).
― "[We carry] some battery operated R/C toys. The most popular is the [Tarantula] from Uncle Milton," Patti Tepper-Rasmussen, owner of Learning Tree Toys in Oklahoma City, Okla., told TDmonthly about her best-selling electronic toys in June 2010. 7/21/2010 (MSRP: $24.99; Age: 6 and Up)



Snap-Micro I Standard by ELENCO


Beyond the basic motion detector or potato clock, Elenco's Snap-Micro I Standard kit allows children to learn about the theory and application of micro-controllers while building their own complex projects. A variety of components and software included in the kit guide children through the basic commands and flow charts required to assemble and operate the micro-controller, which can then program more than 25 different projects.
― "Snap Circuits do well," said Sherry Phipps, owner of School Crossing in Williamsburg, Va., during a summer 2010 survey of top-selling electronic toys.
― Two of 40 retailers told TDmonthly in June 2010 that Snap Circuits are their best-selling electronic item. 7/21/2010 (MSRP: $119.95; Age: 12 and Up)



Wave Breakers™ Barracuda by KID GALAXY INC.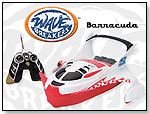 At the pool, on the pond, or on the shores of a small lake, Kid Galaxy's Barracuda is a fun, refreshing water toy. Durable, fast and easy to steer, the boat is designed with a distinctive hull for stability on the water's surface and a steerable prop for responsive handling. The boat comes in two colors: bold red and white, and bright yellow. The two designs are 49MHz and 27MHz respectively, allowing for two boats to race and play together without crossing the signals from the controllers. The vehicle requires one 9V and 6 AA batteries, which do not come with the set.
— In a Summer 2011 survey, 2 out of 12 retailers said that R/C vehicles from Kid Galaxy were their best-selling electronic or battery-operated product.
― Barbara Fineblum, owner of Barston's Child's Play in Baltimore, Md., said in June 2010 she sells three Kid Galaxy Barracudas per month, and listed this item as her best-selling electronic toy.
― "They're really good and sturdy. [Kid Galaxy] is a great company to work with," said Sarah Evers, owner of Dancing Bear Toys in Hendersonville, N.C., after telling TDmonthly Kid Galaxy is her top-selling electronics line during a summer 2010 survey.
— Though Pun's Toys is not a hobby store, "we sell dozens [of Kid Galaxy products] in total each month,'' said Owner Joe Beradoni, whose store is located in Bryn Mawr, Penn. 7/21/2010 (MSRP: $40.00; Age: 8 and Up)



Spinmallow by MARKY SPARKY TOYS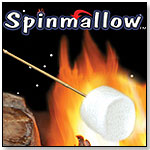 Coat hangers and twigs are a thing of the past now that the Spinmallow has been invented. Just stick a marshmallow on the telescoping skewer, hold over the fire and let the roasting begin. It includes a flashlight on top to help easily locate the graham crackers and chocolate. Launch date: 2009.
― John Naisbitt, owner of Thinker Things in Solana Beach, Calif., told TDmonthly in June 2010 that Spinmallow is one of his top-selling electronic items.
― "Marky Sparky is the best company for the older boy," remarked Diana Gisolfu, owner of Sister's Kids in Springfield, Mass., about what makes Marky Sparky her best-selling line of electronic toys.
― Two of 40 retailers said in summer 2010 that Marky Sparky supplies their top-selling electronics. (

Watch Video) 8/31/2009



Astrojax® Blue Diamond™ by Astrojax USA – Active People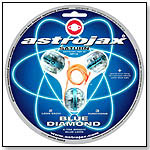 This Astrojax swinging ball toy features three balls on a string with the center ball free to slide. Each ball has super-bright LEDs that are impressive even in broad daylight.
— "The Astrojax line doesn't really have any competition. Some skills for the yo-yo are transferable to Astrojax, but yo-yo tricks are done within a plane, whereas Astrojax is a completely new toy, a 'free-dimensional orbiter™.' Upon introduction of the Blue Diamond, this model instantly became our best-seller because the light displays it creates are so beautiful," Larry Shaw of Astrojax told TDmonthly. Launch date: January 2005.
― "Astrojax, and they sell like hotcakes!" Shana Hack, owner of Moon Rabbit Toys in Santa Fe, N.M., said when TDmonthly asked about her best-selling electronics and battery operated items in June 2010. (

Watch Video) 1/9/2007 (MSRP: $19.95; Age: 7 and Up)



Battery-Powered Percy by LEARNING CURVE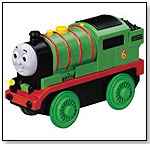 A die-cast model of Sodor's cheerful green engine, Learning Curve's Battery-Powered Percy brings life to a child's wooden railway. With an easy start button and glowing headlights, the four-wheel-drive engine powers itself around the track and can even pull other cars. It requires one AA battery (not included).
― "There's quite a bit [of growth] in the battery powered engine category with … the Learning Curve items," said Keith Schumacker, manager of Talbot's Toyland in San Mateo, Calif., when asked about his best-selling battery-operated toys during a summer 2010 survey. 7/21/2010 (MSRP: $19.99; Age: 3 and Up)



Magic Fish Bowl by FASCINATIONS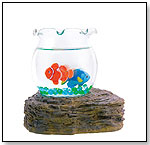 These bright tropical fish swim around their bowl all day long while requiring none of the feeding, cleaning, or careful temperature monitoring of a real aquarium. The round bowl and simulated rock base offer an attractive and realistic appearance.
― When asked about her top-selling electronic or battery-operated toys in June 2010, Diana Nelson, owner of Kazoo & Company in Denver, Colo., said "this whole line" from Fascinations, including the Magic Fish Bowl. 7/21/2010 (MSRP: $14.99; Age: 3 and Up)



---
---


Copyright © 2021 TDmonthly®, a division of TOYDIRECTORY.com®, Inc.