September 25, 2020

September 2010 | Vol. IX - No. 9


September Staff Picks
Games Go Green and Pacifiers Keep It Clean
RazBaby eliminates the need to rinse ground-dwelling pacifiers, and Mark-My-Time introduces a hip digital booklight. Meanwhile, the S'Quarrels card game from Home Lantern Games takes Seattle toy shops by storm! See more specialty options below:
Keep-It-Kleen Pacifier Lola Ladybug by RAZBABY INNOVATIVE BABY PRODUCTS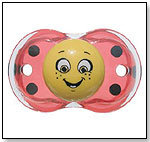 This pacifier closes when dropped, to prevent it from getting dirty. The closing shields are attached to the pacifier, so the cover does not get lost. The pacifier comes in a variety of colors and characters. 8/3/2010 (Age: 0 to 3)



Mark-My-Time™ Camouflage and Animal Print Digital Booklight by MARK-MY-TIME LLC

Read anytime and anywhere with this cool new product from Mark-My-Time. It's a bookmark with page clip, countdown and cumulative timer and bright LED book light all in one. The makers of the Mark-My-Time digital bookmark and digital metronome have created the perfect gift item for your young readers. The Mark-My-Time digital booklight features a bright 3 LED light on an adjustable arm, a clip to attach the bookmark to the pages of your favorite book, and three cool camouflage prints in pink, blue and green; or, three animal prints in zebra, cheetah or pink leopard. All these features, plus the homework help timing functions: cumulative timer up to 100 hours, 60 second fluency timer, and countdown session timer that alarms when you are finished and even turns off the light. Take the work out of nightly reading homework logs. (

Watch Video) 8/19/2010 (MSRP: $14.95; Age: 5 and Up)



Tri-Cross EcoEdition by GFC GEORGIA LLC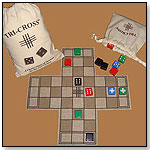 Tri-Cross is a game that requires strategy before the first game piece is even placed. It evolves from poker-like play (reading your opponent) into total strategy (much like chess). Play takes less than 20 minutes, and the more times one plays, the more challenging the game becomes. There are no ties or draws, and beginners should not be totally intimidated, since they still have an outside chance to win against the pros. The game is for two to four players and features five variations of play. This version is made from wood and is designed to be eco-friendly. Awards: Dr. Toy Best Green Toy Award 2010 8/4/2010 (MSRP: $19.99; Age: 8 to 12)



12" Kids' Gyrowheel Black Tire Model by GYROBIKE INC.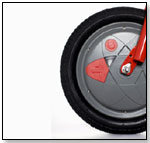 Gyrowheel is a revolutionary front wheel for children's bikes that is designed to be a better solution than traditional training wheels. It senses unbalanced biking and re-centers the bike underneath the rider's weight at the point when tipping starts to occur. "This is the only product that teaches correct riding technique," Gyrobike CEO Daniella Reichstetter told TDmonthly.
Awards: TDmonthly Toy Fair 2010 Top 20 Products; Wired Magazine 10 Hottest New Bike Gadgets 8/4/2010 (MSRP: $115.00; Age: 4 to 8)



Eco Collage Kit by MISS BRITTANY'S ORGANIC PRESCHOOL FUN DOUGH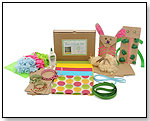 Eco Collage Kits contain a variety of eco-friendly, recycled, and recyclable collage items. Each item has been carefully sourced to make sure that they are earth friendly. Each Eco Collage Kit includes recycled Kraft cardstock and paper bags, multi-colored recycled tissue paper "shred," "Green Glue" made from plants and natural ingredients, biodegradeable natural wood shreds, grosgrain ribbon made from recycled plastic bottles, fiber ribbon-made from 65-percent reclaimed cotton and 35-percent recycled plastic bottles, four Eco-Tree colored pencils, green craft felt and recycled designer tissue paper. 8/3/2010 (MSRP: $29.95; Age: 3 and Up)



S'Quarrels Card Game by LION RAMPANT IMPORTS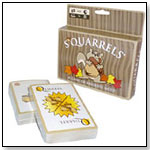 S'Quarrels is a card game based around the theme of squirrels collecting acorns before winter arrives. Under a nearby oak tree, embark upon the rigorous task of collecting and storing acorns before winter sets in. Your opponents are trying to take them all before you do. Whirlwinds, Ambushing, Quarreling, and Hoarding are all part of the game. Get the coveted Golden Acorn, while avoiding the Rotten Acorn. The player to store the most Acorns before Winter arrives wins.
— "What's selling really well for me is S'Quarrels," Jude Larene, owner of Izilla Toys in Seattle, told TDmonthly in July 2010. "I'm selling piles of it and I need to order more today. It gets into a neighborhood and everybody wants it."
— S'Quarrels received a great reaction from The Board Game Family. "Bring out the S'Quarrels cards," they explained, "and kids can automatically picture being a little squirrel running around gathering acorns." However, the reviewers cautioned that younger players may get "more frustrated when they aren't quick enough to slap the hoard pile when that card is played."
— As of 10/30/2012 this product had 4.6 out of 5 stars from 7 reviews on Amazon.com. Pros: Easy for kids to learn, but enough strategy is involved to appeal to adults; fun for groups. Cons: Not as fun with less than three players. (

Watch Video) 8/6/2010



Paradice by GAMEWHYS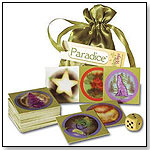 Players compete as Givers or Takers to save Paradice, a metaphor for the world, by uniting the humans to gain the power to give life back to the forests, before one human Takes too much and Paradice is lost for ever. The game includes 38 2" x 2" tiles, one die and rules. It is made in the USA from vegetable inks on recycled paper and is designed for one to two players. Awards: Dr. Toy Best Green Toy Award 2010 8/4/2010 (MSRP: $12.95; Age: 10 to 12)



Fuzzy Nation Oui-to-Me Holiday Pug "Ant" by MANHATTAN TOY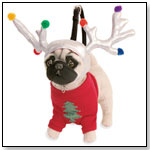 This plush dog handbag is designed to look like a real pug. Ant wears a holiday-themed outfit, with a Christmas tree sweater and silver lame reindeer antlers. His tweed-lined pouch fits a few essential items, and he comes with a detachable faux-leather strap. OUR SAMPLE, WHICH WE REVIEWED IS FOR SALE. please call 310-979-4330 to purchase it with a credit card for $45. Ask for the Publisher. (

Watch Video) 8/24/2010



Vamplets - Lilly Rose Shadowlyn by KAMHI WORLD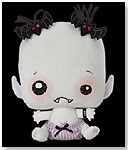 Lily Rose is surprisingly well behaved for a baby Vampyre. She plays well and shares with others, not a trait normally found in Vamplets. Although Lily Rose is sweet she has a dark side. She will smile and hug you then bite you thinking nothing is wrong with that. If she appears exceptionally sweet and loving...be careful when approaching her! She can fly into fits of rage when denied her hugs and "Vampyre kisses" which can be lethal! At all times have on hand a jar of Poison Black Apple Sauce...unsweetened. This is her favorite treat and should calm her down immediately. Lily Rose Shadowlyn is 10" tall. She comes with her own Death Certificate. (

Watch Video) 8/12/2010 (MSRP: $16.95; Age: 8 and Up)



Mega-Sized Custom Monster by CURLYQ CUTIES LLC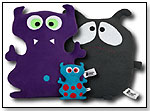 Like the rest of the toy monsters offered by CurlyQ Cuties, the Mega-Sized Monster is completely customizable and is designed as an activity for parents and children to do together. The Mega-Sized Custom Monster is about 260-percent bigger than the standard CurlyQ Cuties Monster and comes in 14 body shapes with a variety of features. After selecting the Monster's shape, children can choose their new friend's color, eyes, belly shape and mouth shape. After each selection, customers get to see how their Monster will look prior to purchase. Designing a monster is simple and can be done with a few clicks at www.DesignAMonster.com. 8/16/2010 (MSRP: $135.00; Age: 3 and Up)



Sweet and Yummy Bestie Sets™ by VIOLETGUMDROP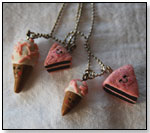 These best-friend necklaces come in nine treat-themed designs, including ice cream-and-cake, coffee-and-donut and milk-and-cookie. "Best friend necklaces have always been one half heart for one friend and another half heart for the other. Now, both friends get to have two charms each so the necklaces are the same but opposite, with one large charm and one small," Violet Gumdrop's Darcee Matlen told TDmonthly. 8/4/2010 (MSRP: $22.00; Age: 6 and Up)



---
---


Copyright © 2020 TDmonthly®, a division of TOYDIRECTORY.com®, Inc.