July 27, 2021

October 2010 | Vol. IX - No. 10

---
Mark-My-Time Encourages Study
These Digital Products Help Students Achieve
The following is a paid advertorial.

With sales up 50% over last year, Mark-My-Time's success is a smart blend of value-pricing, consumer feedback, proven quality and innovative products, all driven by a mission to develop and manufacture creative, fun-to-use educational tools for kids.

Changing to Meet the Times


Founded in 2004, Mark-My-Time launched its digital bookmark as a solution to a problem.

"Every student in the US is being asked to read outside materials for 15 to 30 minutes per night and somehow track and account for that time," Maureen Farinella, CEO told TDmonthly Magazine. "Our initial mission was more about supporting educators, librarians and parents, because we knew that the need was being created by the schools' and libraries' summer reading programs. As sales channels evolved, we quickly became a consumer product and found that our huge success in specialty toy and book retailers was attributed to the parent seeing the importance of the product for their children."

Carried in more than 2,000 U.S. stores, distributed in four countries, and with more than 1.5 million sold, Mark-My-Time's products provide proof that this strategy works. Farinella credits the products' success to the fact that, "It's a simple concept, it's convenient and priced under $10. It fills a need and each year we have a new group of school-aged children entering our marketplace. It's something the kids like and it motivates them to read independently."

Dan McNeill, owner of Games From Dan in Norwalk, CT, agrees. He carries the complete line and sells the products throughout the country. "They sell phenomenally, with zero complaints or returns. They're a functional, high-quality product – and at $10, seen as a good value. It's the perfect product."

At the Palo Alto Toy Shoppe (palo-alto-shoppe.com), Owner Joseph Harwood reports that Mark-My-Time's products are selling well. "Before I carry a product, I research its potential and popularity. Customers have told me that the bookmarks make reading fun for their kids."

New Products Match Consumer Demands


Consumers serve as Mark-My-Time's idea generator. "Our first additional product was developed when we found band and orchestra students had to fill out a practice time log as part of their music grade," Farinella explains. "It was a natural extension to provide a bookmark timer with a metronome and tuning note to fill this need with an all-in-one tool."

In response to requests from the International Reading Association, the original bookmark's features were enhanced with a 60-second timer for fluency checks, math-fact practice, or timed-test practice. A seconds countup and countdown feature for one minute was added, while the back was redesigned to include a small screw for the battery cover door.

This September, Mark-My-Time starts shipping their new digital booklight, developed in response to retailers' requests. "Many stores had talked to us about the great success they were having with the product as a gift item, especially as a stocking stuffer, and asked if we would ever have a higher price point gift/stationery item," Farinella says. "It features countup and countdown timers, fluency timer, a clip for the book pages, a 3-LED adjustable light arm, and has a cool water transfer color process creating three camouflage print colors on the bookmark body."

All Mark-My-Time's award-winning products pass stringent CPSIA testing standards and have won several testing centers parenting seals of approval

Strong Retailer Support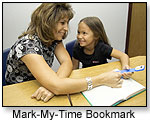 Mark-My-Time uses a blended marketing strategy to capture consumer attention and support retailers. They advertise to parents in national and local magazines and newspapers, along with PR pushes on the internet, blogs and television. Store locations are listed on their website. They offer quick turnaround, low minimum order requirements, and will be running retailer specials in September and October.

They also suggest retail sales strategies. "We're a great add-on sale," Farinella notes. "Our bookmark has a phenomenal three-season selling cycle – summer reading (promote with your local library program); back to school (great tool for school promotion); and Holiday stocking stuffer."

Farinella shares that the most valuable marketing lesson she's learned over time is, "You have to spend money to make money! Don't short change your exposure!"




New Products:

Mark-My-Time™ Camouflage and Animal Print Digital Booklight by MARK-MY-TIME LLC

Read anytime and anywhere with this cool new product from Mark-My-Time. It's a bookmark with page clip, countdown and cumulative timer and bright LED book light all in one. The makers of the Mark-My-Time digital bookmark and digital metronome have created the perfect gift item for your young readers. The Mark-My-Time digital booklight features a bright 3 LED light on an adjustable arm, a clip to attach the bookmark to the pages of your favorite book, and three cool camouflage prints in pink, blue and green; or, three animal prints in zebra, cheetah or pink leopard. All these features, plus the homework help timing functions: cumulative timer up to 100 hours, 60 second fluency timer, and countdown session timer that alarms when you are finished and even turns off the light. Take the work out of nightly reading homework logs. (

Watch Video) 8/19/2010 (MSRP: $14.95; Age: 5 and Up)



Mark-My-Time™ Digital Bookmark Bulk Single Color Packs by MARK-MY-TIME LLC

Mark-My-Time™ Digital Bookmark Bulk Single Color Packs contain 20 digital bookmarks in single colors, your choice of: neon blue, purple, green or bright yellow, pink or red. (

Watch Video) 11/2/2009 (MSRP: $187.95; Age: 6 and Up)



mark-my-time™ Digital Metronomes by MARK-MY-TIME LLC



This all-in-one bookmark can fit neatly into a child's stocking and includes a metronome, A440 tuner and practice timer. The metronome allows one to guide a music student with the countdown timer, setting it for 15, 20, 30 minutes or more with the touch of a button. When the practice session is over, an alarm will sound. The cumulative timer can be used to accumulate total practice time over multiple practice sessions. All of these features can be used simultaneously. This product has received awards from the National Association of Music Merchants, iParenting and Children's Technology Review. (

Watch Video) 7/9/2007 (MSRP: $19.95; Age: 5 and Up)



Sources: Maureen Farinella, CEO Mark-My-Time 480-786-4481 maureen@mark-my-time.com Joseph Harwood, OwnerPalo Alto Toy Shoppe 408-838-9434 Dan McNeill, Owner Games From Dan 21 1st Street, Unit 7 Norwalk, CT 06855 203-253-5728
---
---


Copyright © 2021 TDmonthly®, a division of TOYDIRECTORY.com®, Inc.