March 6, 2021

October 2010 | Vol. IX - No. 10


Summary of Online CD Reviews
TD's Scout Shares Consumer Reviews from Thousands of Websites
TDmonthly Magazine's Review Scout scours the Web weekly for reviews of new and hot products so you don't have to spend your time searching. His research spans thousands of blog, retail and other sites to uncover CDs generating buzz across the nation and even the globe.
Power Tunes by TURNING POINTS MEDIA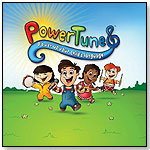 Power Tunes is an album from speech-language pathologist and multi-award winning songwriter Joe Rothstein, MS, CCC-SLP. Favorites like "School Song," "Food Song" and "Opposite Song" aim to pick kids up and get their bodies and brainwaves moving together while empowering them with important language tools. "Power Tunes uses principles of speech-language pathology to to help toddlers and young children learn vocabulary, speech sounds, and early academic concepts," Turning Points Media President Joe Rothstein told TDmonthly.
Awards: 2009 iParenting Media Award; 2009 National Parenting Center Seal of Approval
— "I have several students with speech issues in my room this year and was thrilled with the results of playing this CD for my class," explained the reviewer from The Opinionated Parent. The critic added that "Whether your children have speech concerns or not, it's a great CD … I give it a ten out of ten – even if I wouldn't listen to it without my kids around."
— Heather Sedlock, Special Needs Kids Examiner for Examiner.com, listened to the CD both on her own and with a group of children and toddlers with speech-language deficits. Heather and her co-reviewers enjoyed the "10 upbeat, get-you-out-of-your-seat songs," which she found perfect for home, school, daycare and travel settings. 8/25/2010 (MSRP: $9.98; Age: 0 to 6)



What Are the Odds? by MONKEY MONKEY MUSIC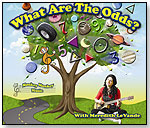 Monkey Monkey Music offers a deep commitment to putting the child back into children's music with Meredith LeVande's second album, What Are the Odds? The album finds the middle road between baby songs and pop band songs where kids' lyrics are simply added to music that would otherwise be played for adults. Meredith's music is not only child-friendly, it's truly child-appropriate, having been created with the healthy growth of the child in mind. "Her songs are joy-filled expressions of pure, childlike fun. One listen is all it takes to recognize that Meredith really loves being around children," Waldmania PR Publicist Elizabeth Waldman Frazier told TDmonthly.
— "As soon as I pushed play, my 19-month-old son started bopping to the music," reported Shonda of The Knowlton Nest. Shonda was struck by Meredith's "happy, upbeat and friendly child-like voice" throughout "music that was contemporary, yet simple" and "appealing to kids and adults."
— Toni Morton of Toni's Treehouse provides a track-by-track analysis of the CD, highlighting the knock-knock joke based song "Who's a Knockin'?" and "the surprising sounds of a banjo and dobro" in the food pyramid song "Frogs Eat Butterflies." 8/25/2010 (MSRP: $14.99; Age: 2 to 7)



Secret Agent 23 Skidoo - Underground Playground by KOCH ENTERTAINMENT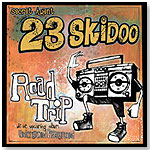 Secret Agent 23 Skidoo, a pioneer in the child-friendly hip-hop known as kid-hop, returns with old school funk on the 16-track Underground Playground. Agent 23 Skidoo honors hip-hop heritage, adds fresh beats and mixes in the magic of childhood.
—Myles McDonnell of You Know, For Kids praised Agent 23 Skidoo's lyrics, which "convey positive messages on subjects like friendship ('Secret Handshake') and honesty (the Public Enemy–tinged 'Speak the Truth') without ever getting finger-waggy, or losing the loose sense of fun that's the core of so much quality hip-hop." The positive lyrics are paired with "top-notch, catchy and addictive" beats.
— Toni Morton of Toni's Treehouse tells kid-hop doubters to "think again, because Skidoo can absolutely hold his own, even while throwing out verses designed for a younger audience." Overall, "Skidoo is a strong rapper, his rhymes are solid, the music is catchy, the stories are great, he has a good sense of humor and we love to hear something other than rock or country for kids." 9/9/2010 (MSRP: $15.00)



Green Golly & Her Golden Flute by TUGBOAT MUSIC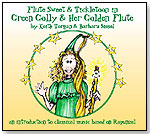 "Green Golly & Her Golden Flute" introduces children to classical music via a lighthearted embellishment of the tale of Rapunzel. Green Golly relies on her musical abilities to help unravel the mysteries of life in this engaging tale of romance and rescue. Elizabeth Waldman Frazier, President of Waldmania Public Relations, told TDmonthly, "Green Golly & Her Golden Flute brings a breath of fresh air to kids' recordings, combining classical music, storytelling, and comedy." Launch date: May 11, 2010.
— "The music is gorgeous!" enthused Heather, The 24/7 Mom. Heather felt that "the story is absolutely hilarious," and that "this CD is an awesome way to introduce children to classical music without them saying, 'Mom! Turn on Hannah Montana.' "
— Sheri of This Bird's Day incorporated the CD into her daughter's bedtime ritual: "The classical music is soothing and relaxing, and it has the added benefit of a beautiful bedtime story to kick off Baby Bird's nighttime routine as well as mine." 4/14/2010 (MSRP: $15.00; Age: 4 to 10)



Tiny Cool by ROCKETNYC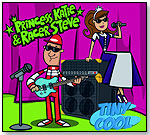 Princess Katie and Racer Steve bring their combination of singing, musicianship and kid-oriented comedy to their third studio CD. "Tiny Cool" delivers messages about honesty, individuality, acceptance, kindness, helpfulness, the power of love, and the amazing capabilities kids will exhibit, if they're only given a chance. Elizabeth Waldman Frazier, president of Waldmania Public Relations, told TDmonthly, "'Tiny Cool' captures the vibrant energy, daring innovations, and positive spirit of the NYC-based group's tremendously popular live performances." Launch date: April 4, 2010.
— CPA Mom of Did You See That? reported that her "daughter loves the beat of the music" and "her favorite was 'Clelia's Party' because it just like an entire FIESTA in a song!" Though both mom and daughter felt the skits between songs fell flat, after listening to the CD, CPA Mom loved "the lyrics and the messages they give – (about) dealing with bullies, celebrating our uniqueness (like shyness), and really, that kids can pretty much do anything."
— Carrie of Growing a Baby in Seattle listened to the CD with her whole family, and "it only took a few minutes for us all to be big fans." The between-song skits had Carrie and her kids "laughing out loud." She also noted that, "it's nice to listen to a CD that's so encouraging — this CD is 'kid power' at its best." 4/16/2010 (MSRP: $15.00; Age: 2 to 8)



---
---


Copyright © 2021 TDmonthly®, a division of TOYDIRECTORY.com®, Inc.