December 5, 2020

October 2010 | Vol. IX - No. 10


Top-5 Most-Wanted Novelty Items
Schylling, Toysmith Offer Nostalgia and Laughs
With additional reporting by Claudia Newcorn, Chris Lundy, Pete Fernbaugh, Ashley Heaton, and Brenda Ruggiero.

In September 2010, TDmonthly Magazine spoke with 49 specialty retailers about their top-selling novelty items. While it was difficult to identify a runaway best-seller in a category defined by items that aren't like anything else, one fact is clear: it is good to have things that make us smile. Nationwide, retailers agree, supplying a plethora of gags and curiosities. Some are vintage inspired, such as Toysmith's Mini Parachuter. Others are essential practical joke supplies, like Whoopie Cushions or whole prank kits for the chronic joker. So for when we're just looking for a little fun, here are 5 most-wanted novelty items.
Self-Adhesive Mustaches by SCHYLLING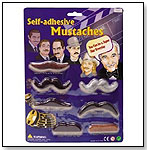 "You can be a super star every day!" says the illustrated blister card from Schylling. In assorted shapes, sizes, and colors, Schylling's Self-Adhesive Mustaches are instant personality. Whether for a disguise, fancy occasion, costume, or day-to-day fun, each of the seven mustaches is great for a laugh.
— "We sell a ton of those. I'm always amazed at the number of those we sell!" said Greg Larson, owner of Larson's Toys and Games in Columbus, Ohio, of Schylling's Self-Adhesive Mustaches during a September 2010 survey of 49 retailers.
— Two of 49 retailers listed Self-Adhesive Mustaches by Schylling as a best-seller in September 2010.
— In a late Summer 2012 survey, two out of 12 retailers said that mustaches were their bestselling novelty item. 9/29/2010 (MSRP: $7.50; Age: 3 and Up)



Mini Parachuter by TOYSMITH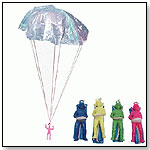 Ready for the jump with his parachute folded safely to his back, this little plastic skydiver (or soldier, or rescue worker) comes in four neon colors that are easy to find in the grass. Simply unwind the lines and toss him into the air or from a high place. The plastic parachute opens and he floats safely to the ground.
— After naming Toysmith's Mini Parachuter as a top-selling novelty item in her Columbus, Ga., store, Gladys Griffin, owner of Main Street Toy Shop told TDmonthly,"The reaction to the impulse buy is 'Oh, wow, I haven't seen this in years.'"
— Three out of 49 retailers listed Toysmith products as their best-selling novelty items during a September 2010 survey. 9/29/2010 (MSRP: $0.25; Age: 3 and Up)



Ooze Tubes by OFFICE PLAYGROUND INC.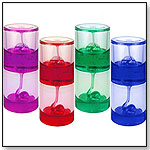 The Ooze Tube is a bright colored, slow-moving desk top toy. Part kinetic sculpture, part decoration, the Ooze Tube is filled with a clear, viscous liquid that flows from one half of the tube to the other through a small hole in the middle while bubbles form in the liquid above. When all of the ooze has run out, simply flip it over and start again.
— "We do really well on ... things that flip over, like Ooze Tubes. With oozie things like that, that there's a degree of mesmerization," said Anna Barr, owner of Anna's Toy Depot in Austin, Texas, when asked about her best-selling novelty items in September 2010. 9/29/2010 (MSRP: $6.99)



Silly Putty by TOYSMITH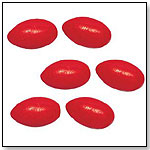 From Toysmith comes this classic Silly Putty in a bright red egg. The reusable egg-shaped container snaps easily open and closed, a good place to keep the Silly Putty clean when it's not in use. Silly Putty's unique texture and properties of stretching, bouncing, and even lifting pencil and some ink marks from paper make it an enduring kids' favorite.
— "We do really well with Silly Putty," said Bruce Weiner, owner of Toys!3 in West Bloomfield, Mich., during a September 2010 survey of 49 retailers concerning best-selling novelty items. 9/29/2010 (MSRP: $2.50)



Jokes On You! by REEVE & JONES LLC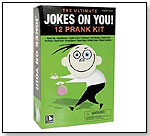 Loaded with 12 complete pranks, the Jokes On You! kit from Reeve & Jones contains supplies and instructions for classic gags to pull on friends and family. A hand buzzer, fake vomit, pet poop, squirt ring, money snatcher, and many more items will arm tricksters young and old.
— During a September 2010 survey, two of 49 retailers listed practical joke supplies as their top-selling novelty items. 9/29/2010 (MSRP: $19.99; Age: 5 and Up)



---
---


Copyright © 2020 TDmonthly®, a division of TOYDIRECTORY.com®, Inc.