April 10, 2021

October 2010 | Vol. IX - No. 10

---
Watch Toy Videos of the Day (10/18/10 - 10/22/10)
Watch videos from Week 1 (10/1/10 - 10/8/10)
Watch videos from Week 2 (10/11/10 - 10/15/10)
Watch videos from Week 4 (10/25/10 - 10/29/10)

We want you to see the toys we see, so you can determine if they're right for your store! Check this space every weekday to see brief video clips of new and specialty products. In the spotlight today? A video series for kids to stay in shape.
Scooter and Me 3-DVD HEART series by MOVE WITH ME ACTION ADVENTURES

In this series, The Boy and Scooter persevere with Tortoise in the race against Hare, courageously pluck a thorn from a dragon's foot out of kindness, and accept the unknown in order to enjoy and explore the beauty of a coral reef with a crab. Celebrating their amazing adventures together, they remember all the friends and Adventure Skills and realize how much stronger and smarter they are in body, mind and heart. DVD is 25-30 minutes and includes Warm-up, Story with movement, Relaxation, Adventure Skill review, and Parent/Teacher guide. (

Watch Video) 9/17/2010 (Age: 3 to 7)



Super Plush by EVERGROW LTD.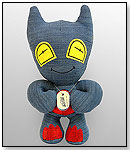 The Emotes characters are designed to educate children about feelings. This huggable blue Super "The Confident" plush measures 10" tall. (

Watch Video) 8/11/2010 (MSRP: $19.99; Age: 4 and Up)



Lohasrus Kids Toy Chest by ODM PRODUCTS LTD.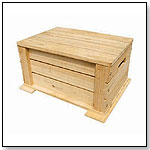 This toy chest provides ample space for children's toys. Made of fir wood, it can be used indoors or outdoors. This product meets ASTM F963-07 safety standards, and is eco-friendly. (

Watch Video) 8/13/2010 (MSRP: $62.00; Age: 3 and Up)



Reptangles: Turtles That Snap by FAT BRAIN TOY CO.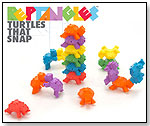 Each box set contains 24 Reptangles in green, yellow, orange, red, purple and blue that can be snapped and slid together in more than 100 ways. The turtles connect at various angles and come with an activity book with 40+ puzzles to encourage kids to think about geometric concepts and design as they build.
Awards: Parent's Choice Award 2010. Launch date: 2010. (

Watch Video) 4/15/2010 (Age: 6 and Up)



Julius Knitted Monkey by FIESTA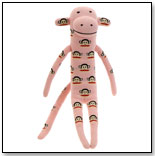 The modern design aesthetic of Paul Frank Industries coupled with the whimsical nature and personality of Julius is captured in these classic knitted monkeys. Knitted Monkeys are created in soft knit fabrics featuring classic crochet, knit, and chenille stitch patterns. Featuring a loveable embroidered sock face and body, Knit Monkeys are available in white, brown, beige, pink, and Julius signature print knit fabric in pink and blue. Launch date: July 2009. (

Watch Video) 5/15/2009 (Age: 3 and Up)



---
---


Copyright © 2021 TDmonthly®, a division of TOYDIRECTORY.com®, Inc.