April 11, 2021

November 2010 | Vol. IX - No. 11

---
Summary of Online CD Reviews
TD Scout Shares Consumer Reviews from Thousands of Websites
TDmonthly Magazine's Review Scout scours the Web weekly for reviews of new and hot products so you don't have to spend your time searching. Out of thousands of blog, retail and other sites, his research has uncovered CDs generating buzz across the nation and even the globe.
Sing Me To Sleep - Indie Lullabies by AMERICAN LAUNDROMAT RECORDS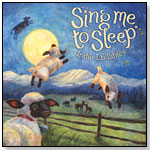 This collection features re-recorded lullabies and popular songs whimsically re-imagined as lullabies by some of today's most notable indie artists. "We reinvent what it means to be a lullaby allowing indie-hipster parents to enjoy our CD just as much as their children do," American Laundromat Records Founder and President Joseph H. Spadaro told TDmonthly.
— "Chockfull of surprises," said SoundXP's Paul M of the CD, "it's like a musical jamboree bag, perfect for savvy toddlers and their funloving carers." Paul praised the inclusion of "a lot of quirky numbers like Little Boxes by The Real Tuesday Weld and Inchworm by The Leisure Society" and the charity nature of the album.
— Jason of CT Indie had high expectations for the CD, but he "had no idea how touching it would be. Hearing this record was like when all the Whos down in Whoville started singing, making the Grinch's small heart grow three sizes." He loved "every note of this record" and found it "perfectly suitable for softly fading evenings."
Awards: 2010 NAPPA Gold 10/18/2010 (MSRP: $13.95; Age: All Ages)



Maria Muldaur's Barnyard Dance by MUSIC FOR LITTLE PEOPLE/MFLP DISTRIBUTION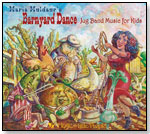 Maria Muldaur's Barnyard Dance: Jug Band Music for Kids strives to create a musical party with upbeat and carefree jug band style. The twelve homegrown tracks include "I Love To Ride My Camel" and "Under The Chicken Tree."
— "If there's a more passionate purveyor of American musical tradition than Muldaur please do me a favor and send me their names," requested Mike Jurkovic of the Folk & Acoustic Music Exchange. According to Mike, "Muldaur's beautiful gift of bringing the past alive" ensures that anyone "within hearing radius will be hummin', strummin', kazooin', and kickin' up their heels when they hear this swinging, breathing collection." 10/27/2010 (MSRP: $13.98)



Mind of My Own by FRANCES ENGLAND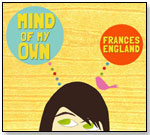 Mind of My Own is the third album from kindie artist Frances England. With a little help from the Mates of State and songs like "Jacques Cousteau" and "Cookies & Milk," Frances England appeals to kids and parents alike.
— "Frances England's song writing truly reflects the life of a family and all of the fun moments both children and parents share!" explained Kristin of Take It From Me. Kristin added that she "loved the song "To Be," which reminded me off my daughter's aspiring and hopeful spirit!"
— Amber Bobnar from Hilltown Families queried: "You know when you hear an artist for the first time and they just grab you? That's what happened for me when I heard Frances England's new CD Mind of My Own." Amber praised the CD for its "a frenetic energy that is exciting and contagious." 10/27/2010 (MSRP: $14.99)



Ferdinand the Bull and Friends by NORTH PACIFIC MUSIC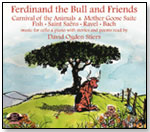 Actor David Ogden Stiers narrates this CD featuring The Story of Ferdinand the Bull, The Carnival of the Animals, and Mother Goose Suite. Over 72 minutes long, the cello and piano arrangements make Ferdinand the Bull and Friends a perfect record for bedtime.
— 29 reviewers on Amazon gave Ferdinand the Bull and Friends five out of five stars. Raved Amazon user Ken N., "Mark Fish has created a modern classic that doesn't sound out of place alongside the works of Saint-Saens, Ravel and Bach. David Ogden Stiers breathes life into these wonderful stories and poems, and Nina Flyer and Chie Nagatani display strong, thoughtful musicianship throughout." Alex B. Houston "really enjoyed the arrangements in the funny Ogden Nash section, which had individual drawings/poems for us to follow along with." Allan C. "curled up and listened to it all, like spending the evening getting into a great book. Fish's arrangements are glowing and gracious, and the players do a wonderful job bringing them to life, playing with wide-ranging orchestral color." 10/27/2010 (MSRP: $16.95)



Buckwheat Zydeco's Bayou Boogie by MUSIC FOR LITTLE PEOPLE/MFLP DISTRIBUTION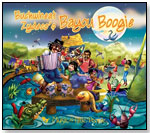 "Ambassador of Zydeco" Buckwheat Zydeco combines organ, accordion, guitar and more to craft this tribute to Creole music. Guest stars aplenty and hip updates (like "Zydeco In Space") add to the spicy musical stew.
— "If you can name a single zydeco artist -- a big "if" for most people -- I would bet money that it's Buckwheat Zydeco," wagered Christopher Healy of ParentDish. Christopher described Bayou Boogie as a "definitely different" "raucous party CD" where the "Cajun sound is layered over classic kid tunes ("Hokey Pokey"), '60s hits ("Twist and Shout") and original songs."
— Midwest Book Review admired Bayou Boogie for being "an enthusiastic, joyful cacophony" that "introduces young listeners to the musical traditions of the bayou." Midwest Book Review recommended this "delightful children's album" as "an excellent choice as a gift CD." 10/27/2010 (MSRP: $14.98)



---
---


Copyright © 2021 TDmonthly®, a division of TOYDIRECTORY.com®, Inc.