April 10, 2021

December 2010 | Vol. IX - No. 12

---
Summary of Online Toy Reviews
TD Scout Shares Consumer Reviews from Thousands of Websites
TD
monthly Magazine
's Review Scout scours the Web weekly for reviews of new and hot products so you don't have to spend your time searching. Out of thousands of blog, retail and other sites, his research uncovers toys, games and other gifts that are worthy of your attention now. Check this space for briefs on reviews and ratings from across the nation and even the globe.
Twist & Fold Activity Gym by INFANTINO LLC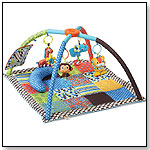 Designed to pop up in a single motion, this play gym includes four toys and a bolster pillow to be used for tummy time. It is available in two color options.
— Real Moms Real Views "was wowed by the [Gym's] COLORS! They are so bright and fun." The reviewer said, "Set up is a breeze," and the Activity Gym "would make a wonderful Baby Shower Gift too!"
— "Infantino knows babies and knows what Mom's want and need in quality infant products," declared Deborah Sloan at Baba's Farm Life. Deborah loved how well thought out the Twist & Fold Activity Gym is with its emphasis on stimulation, style and safety for baby.
— As of 05/24/2011 this product had 4.6 out of 5 stars from 62 reviews on Amazon.com. Cons: one reviewer said that hers would not stand up straight; One person said the colors in real life were different than those depicted online. 10/28/2009 (MSRP: $36.99; Age: 0 and Up)



Zingo 1-2-3 Number Bingo by THINKFUN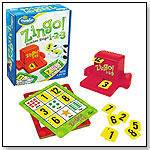 With Zingo! 1-2-3, players must match their numbered tiles with the corresponding display on their challenge board. The first player with a full card wins the game by yelling "Zingo!" In this fast-paced game, two levels of play focus on image recognition and addition. "This is a line extension of the best-selling Zingo! game by ThinkFun. It now uses numbers and math skills as compared to of pictures and image recognition skills used in original Zingo!" Edoardo Kulp, Marketing Manager, ThinkFun Inc., told TDmonthly. Launch date: Jan. 15, 2010.
— Angie Knutson from My Four Monkeys: the "easy to use" number dispensing Zinger was "the funnest part of the game" for her kids. "As with most ThinkFun games," said Angie, "Zingo! 1-2-3 would also make a great preschool and kindergarten resource!"
— Ruth B. Roufberg and Parents' Choice applauded the successful blending of number education and bingo as well as the game components and packaging for being "functionally designed." Zingo 1-2-3 Number Bingo received the Spring 2010 Parents' Choice Gold Award.
— Oppenheim Toy Portfolio Platinum Best Toy Award Winner, 2010 12/16/2009 (MSRP: $19.99; Age: 4 and Up)



Paddywhack Lane Playsets by PADDYWHACK LANE LLC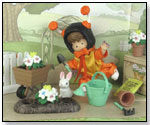 This playset comes with Lauren (dressed in her embroidered ladybug costume), flower pots, a watering pail, a wheelbarrow, a garden fence, a fold-out play scene and much more.
— Paula of Frosted Fingers described Lauren as one of the "cutest little positionable figurines." She found herself playing with the "adorable" playset even without her daughter.
— At Shop with Me Mama, Kim "really liked" the "tough and strong feeling" durable plastic used for the doll and her accessories. With so many pieces, the "cute and fun" set was "reasonably priced" in Kim's opinion. 10/28/2010 (MSRP: $22.99; Age: 3 and Up)



Ligretto Dice by PLAYROOM ENTERTAINMENT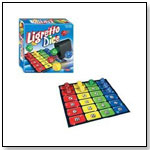 Families are rolling in fun with Ligretto Dice from Playroom Entertainment. Players roll and reroll their dice early and often to play their dice in numerical order. The player who gets rid of all their dice first wins!
— As an enthusiastic gamer, Dice Tower's Tom Vasel enjoyed Ligretto Dice but found the game too simple. His daughter, however, "loves it," leading Tom to conclude that "It's a very good family game and it's one we're all equal at."
— "It's so pure in concept and execution, I can only give it the highest recommendation," proclaimed Mark Schildberg of Examiner.com. Mark added, "Ligretto Dice is habit-forming fun for two to four players, and most rounds finish in two minutes or less, so the game progresses quickly." 10/28/2010 (MSRP: $16.50; Age: 6 and Up)



Chatimals by BLUE SKY DESIGNS LTD.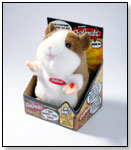 Chatimals are the latest in hamster entertainment. Just speak to Chatimals for up to 60 seconds and they will repeat what you say back to you. Available in hamster and meerkat varieties.
— Jenny of Mummy Reviews brought Oscar the Chatimal home and shared that her son "just giggles at it over and over again and it giggles back." She reported great success using Oscar "to repeat instructions for our Little Garden Helpers when I need them to do something for me."
— In her video review of Chatimals Oscar, Bubbles from Sweet Craftiness told of her son playing with Oscar and his grandfather; the hamster's mimicry "had everybody in stitches," young and old alike. 10/28/2010



---
---


Copyright © 2021 TDmonthly®, a division of TOYDIRECTORY.com®, Inc.