September 20, 2020

November 2010 | Vol. IX - No. 11


Summary of Online Book and CD Reviews
TD Scout Shares Consumer Reviews from Thousands of Websites
TDmonthly Magazine's Review Scout scours the Web weekly for reviews of new and hot products so you don't have to spend your time searching. Out of thousands of blog, retail and other sites, his research has uncovered children's products combining the books and CDs for double the fun.
Shushybye: Sleepover Surprise Book and CD by THE SHUSHYBYE COMPANY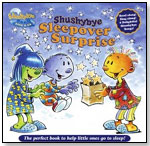 Snoozles, Zeez and Dozie take kids on an adventure to The House of Snooze in Shushybye: Sleepover Surprise from author Steve Syatt and illustrator Frank Caruso. The book comes with an audio CD containing the full story and three original Shushybye songs.
— Larry H. from CakeBlast struggled at bedtime with his son, River, "but Shushybye is making a difference. River looks forward to Shushybye Sleepover Surprise at night" because "The story is imaginative, the characters are memorable, and the songs are exemplary."
— According to Kathryn of Mommy Kat and Kids, "Sleepover Surprise shows an incredible attention to child-friendly details. The lyrics to the brand-new song, Shushybye Blues, are included on the final page of the book so that children can sing along and the colorful cover of the book glows in the dark." Kathryn said that after reading the book, "The music was the perfect way to settle down at the end of the day, and, sure enough, both boys were asleep about fifteen minutes after laying down." 10/28/2010 (MSRP: $10.95; Age: 4 to 8)



A Heart Pumping Adventure by HUMAN BODY DETECTIVES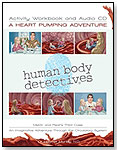 In A Heart Pumping Adventure, Merrin wonders about her father's eating habits and the condition of his heart. Suddenly, Merrin and Pearl find themselves riding on a red, pillowy donut-shaped boat, floating through his bloodstream. This book includes 23 pages of educational activities, 44 color stickers and an audio story CD.
— "It is, to be honest, one of the most interesting and engaging human body learning tools I've come across in a very long time," declared Robin Rivers of Our Good Earth. Exploring the set with her daughter, Robin was surprised at "how much she took to the story, the lessons (eat healthy to have a healthy body) and the educational content that at times was a bit beyond her 5-year-old level."
— The reviewer at One Zillion Books listened to the CD with her kids and noticed "that there were a couple of vocabulary- and concept-heavy moments, but overall the fun mood carried throughout the 15+ minute audio story." She rated the set eight out of ten because "The story and characters were easy to relate to and led well into the activity book focusing of human anatomy and healthy living" while remaining "neither dull nor scary." 7/28/2010 (MSRP: $19.95)



Up, Up, Up! Book and CD by BAREFOOT BOOKS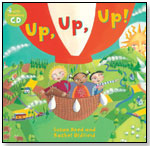 Writer Susan Reed and illustrator Rachel Oldfield bring to life three kids' aerial adventure via hot air balloon in Up, Up, Up! from Barefoot Books. This hardcover edition of the book includes a sing-along CD with Up, Up, Up! sung by Susan Reed.
— "Everything is so cheery and happy and the color scheme is wonderful," raved Jody from Simply Stacie. She found the sing-along CD to be a nice change from just reading a book since "you can't help but tap your toes and clap your hands" along with Susan Reed's "very catchy tune."
— Up, Up, Up! was a big hit with Melissa and her daughter at Mommy Living the Life of Riley: "As with all Barefoot Books, the illustrations are hard to look away from. The pictures are so lively, colorful and interesting that you just want to delve further and further into the book to see what happens next." 10/28/2010 (MSRP: $16.99; Age: 3 to 7)



The Sock Fairy Book and CD by BEST FAIRY BOOKS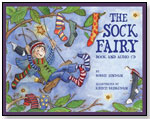 Bobbie Hinman continues her fairy series with this tale explaining what happens to missing socks. With illustrations by Kristi Bridgeman, The Sock Fairy book and accompanying CD tell how the Sock Fairy spirits away lost or mismatched socks.
— A Whole New Me's Marta called the book "a delight from beginning to end. The rhyming sing-song story and the magical illustrations make this fun for parent and child alike."
— Bianca Schulze from The Children's Book Review applauded the rhythm of the book and CD for being "easy and flowing for young listeners and beginner readers alike." She concluded that "This is a suitable book for both boys and girls and for anyone who appreciates rhyme or just likes to have a giggle." 10/28/2010 (MSRP: $15.95; Age: 3 to 7)



OrganWise Guys Back to School Kit by THE ORGANWISE GUYS INC.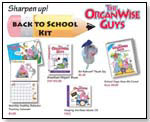 The OrganWise Guys provide a comprehensive program to teach kids about nutrition and promote a healthy lifestyle. By making friends with the OrganWise Guys, kids learn all about healthy habits for life. The Back to School Kit includes: School Days Here We Come Book, Keeping the Beat Music CD, Monthly Healthy Behavior Tracking Calendar, Breakfast Skippin' Blues DVD and Sir Rebrum Plush Toy.
— Katleen from Life With 4 Boys reports that the kit "has gone a long way towards helping all four of my boys the different things they need to do each day to stay healthy and grow up strong." Katleen added: "My youngest is in love with the music CD and his favorite is the 'That's How You Exercise' song. I still catch my oldest reading the book to the younger ones every so often."
— "My girls really rocked along with the CD included in this kit and as a parent I liked the healthy behavior tracking calendar," explained Chris, Dad of Divas. Overall, he liked that "The kit was a great combination of many forms of reinforcement to consider living healthy as well as making good choices." 10/28/2010 (MSRP: $34.80)



---
---


Copyright © 2020 TDmonthly®, a division of TOYDIRECTORY.com®, Inc.