September 20, 2020

November 2010 | Vol. IX - No. 11


Top-5 Most-Wanted Personalized Items and Keepsakes
Look to John Hinde to Find a Special Something for a Special Someone
With additional reporting by Brenda Ruggiero, Pete Fernbaugh, Chris Lundy and Ashley Heaton.
Recently, TDmonthly Magazine surveyed 44 specialty retailers concerning their sales of personalized and keepsake items. While some storeowners have found name-specific merchandise a challenge to stock, others make personalized items, such as those from John Hinde and Blue Sabre, a rewarding addition to their product assortment. Here are the top-5 most-wanted personalized and keepsake items:
Monarchs Treasure Box by ENCHANTMINTS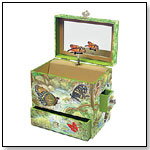 Painted on all sides with colorful butterflies, the Monarch Treasure Box from Enchantmints contains a multitude of places for tiny keepsakes. Jewelry, craft supplies, or any ephemera that has captured a girl's imagination can be tucked into its various drawers and compartments. Closed, the box measures 6" x 4" x 6". The underside of the lid is mirrored, and when open a delicate Monarch butterfly slowly rotates while music plays.
— Two out of 44 retailers interviewed in September 2010 said jewelry and treasure boxes from Enchantmints are a best-selling keepsake in their stores.
— In an October 2011 survey, Powell Phillips, owner of Phillip's Toy Mart in Nashville, Tenn., told TDmonthly that jewelry boxes from Enchantmints were his best selling keepsake item. 10/28/2010



My Name Flashlights by JOHN HINDE LTD.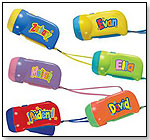 These kid-powered flashlights are available in 104 designs with 88 popular names and eight color combinations.
— "We have sold a lot of those," Gwen Bowden, manager of Doodlehopper for Kids in Springfield, Va., told TDmonthly, listing this product as one of her best sellers in June 2010.
— Gwen Bowden, manager of Doodlehopper for Kids in Springfield, Va., told TDmonthly that My Name Flashlights from John Hinde are her best selling personalized items. "[We sell] one a day, maybe more."
— Of 44 retailers, two said John Hinde is a best-selling product line in a September 2010 survey of most-wanted personalized items. 4/21/2010



Pirate Lunch Box by ROMANOFF PRODUCTS INC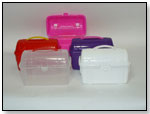 Styled like a miniature treasure chest hauled up from a sunken ship or unearthed on a dangerous deserted island, this Pirate Lunch Box is made of durable plastic and snaps shut for easy transport of a healthy meal, or gold doubloons. The gloss finished box is available in white, red, blue, hot pink, purple, silver and clear. It is ready to be personalized for – or by! - a child.
— Lori Hershman, owner of Evan's Toy Shop in Hamden, Conn., said she personalizes and sells approximately 18 Romanoff lunch boxes per week during a September 2010 interview. 10/28/2010



NameTrains by MAPLE LANDMARK WOODCRAFT CO.



Each different-colored letter, available in A through Z, comes on wheels. All letters are crafted from hard maple and have a nontoxic color finish. Magnets allow letters to be strung in a line to form names. $4.90 each.
— "Maple Landmark wooden train letters sell very well," said Gail, manager of the Toy Chest in West Hartford, Conn.
— 44 retailers surveyed in September 2010 said Maple Landmark Name Trains are their best-selling personalized item.
— In an October 2011 survey, Joe Berardoni, owner of Pun's Toys in Bryn Mawr, Pa., told TDmonthly that "We do not personalize, but we do sell a lot of Maple Landmark's colored train letters." They are "great as a newborn gift," and Pun's sells dozens each month. 7/15/2005 (MSRP: $4.90; Age: 3 and Up)



License Plate by BLUE SABRE INC.


There are over 1,400 standard baby names available for this license plate collection, with options for special names as well.
— These license plates were named as a top-10 best seller at Twirl Toystore & Playspace in Taos, N.M., in early 2009, according to Owner Molly McMullin. "Families of tourists love them for souvenirs. We had them printed with 'Twirl-Taos, NM," she told TDmonthly. "Kids love to see their name on products, and people think they're a great tie-on for packages. A fellow toy-store owner encouraged me to bring these in, and I am grateful for the advice."
— "We always sell a bunch of those," said Molly McMullin, owner of Twirl in Ranchos de Taos, N.M., of her top-selling personalized item, Blue Sabre License Plates.
— Two of 44 storeowners said License Plates from Blue Sabre are their most-wanted personalized item during a September 2010 survey conducted by TDmonthly. 3/27/2009 (MSRP: $3.50; Age: 5 and Up)



---
---


Copyright © 2020 TDmonthly®, a division of TOYDIRECTORY.com®, Inc.