September 24, 2020

November 2010 | Vol. IX - No. 11


Grownup Designers Snatch Barbies From Kids
Style Mavens Put High-Fashion Spin on Childhood Icon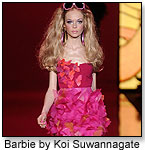 At least since the 1980s, when outré designer Bob Mackie outfitted his first Barbies, dollmakers have enlisted couture designers to weave their talents around the most diminutive of mannequins. With the increasing popularity of collectible fashion dolls, this tradition has exploded, as exemplified by the designer-studded celebration of Barbie's 50th anniversary. In many cases, the designer's touch doesn't end with the doll's apparel.

Louboutin Recreates Barbie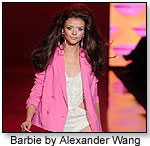 Since 1959, Mattel's Barbie doll has been known as an icon of girlish fantasy, even though its origins are found in "Lilli," a German comic-strip character of dubious repute. When Barbie turned 50 in 2009, the age-conscious fashion world rewarded the ageless icon with a runway show in New York City's Bryant Park. The spotlight shone brightly on Barbie-like models wearing fantastical designs from 50 of fashion's most incisive minds, including Christian Louboutin, Vera Wang and Mackie.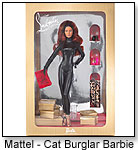 As part of Barbie's celebration, Mattel also enlisted Louboutin to give three Barbie dolls a total makeover, complete with a Christian Louboutin Barbie Shoe Collection. Cat Burglar Barbie, the first Louboutin design to be released, carried a retail price of $150. It sold out in one day on Net-a-Porter.

Louboutin wasn't the only designer to shape and mold the doll in his image. Rachel Zoe, stylist to the stars,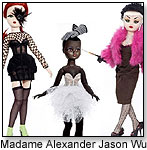 gave Barbie a red-carpet makeover on the Aug. 24, 2010, edition of her Bravo TV show, "The Rachel Zoe Project." In early 2010, 12 designers from the Council of Fashion Designers of America (CFDA), including Kate Spade, Tory Burch and Isaac Mizrahi, redesigned Barbie for an eBay auction to benefit the organization. The starting bid for each doll was $100.

The popular AMC television series, "Mad Men," also saw four of its stylish lead characters receive the Barbie treatment in 2010, while Barbie dolls modeled after musician Lady Gaga evoke the pop sensation's unique fashion sense.

Designers Take on Other Toys

Barbies aren't the only toys that have switched from ready-to-wear threads to high couture. September 2010 brought the unveiling of New York designer and Michelle Obama favorite Jason Wu's Madame Alexander Cissy, Alex and NEOCissy lines. Each collection comprises three dolls, each retailing for $349.95, $149.95 and $159.95, respectively. Unlike the original Alex dolls, Wu's dolls have 17 articulation points for maximum posabilty — should one get the nerve to play with them. Madame Alexander's decision to enlist Wu came after the designer's ongoing success with Integrity Toys, where in 2000, Wu first created the Fashion Royalty line.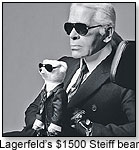 Even Teddy Bear has had his head turned by celebrity designers. In 2008, Chanel designer Karl Lagerfeld partnered with Steiff, German maker of collectible stuffed animals, to create a tongue-in-chic Lagerfeld-lookalike in teddy form. Lagerfeld's limited-edition bear is molded in his image and retails for $1500. W Magazine described it as "imperious, lethally chic and yet totally endearing."

Girls Don't Get Left Out

If the designer-dressed dolls seem too expensive and too mature for growing girls, other fashion-themed products are being geared directly toward the tween girl market. Fashion Angels, a company that describes itself as "fun, fresh and fashion-forward," has seized upon television's "Project Runway" craze with its own line of Project Runway-inspired products. Style Paige has introduced its Shailie line of wearable prom gowns, fairy dresses and other fashionable frocks that purport to be "revolutionizing the world of dress-up" by letting girls create their own costumes using Velcro-fashion pieces. Bandai America also encourages girls to become their own designers with their Harumika line of dress-design kits and mannequins.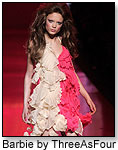 Will age compression encourage celebrity stylists create fanciful costumes for play dolls, too? If the placement of collectible Barbies at a Target store recently is any indication, little girls are possibly being primed to become precociously designer-conscious. In May 2010, a controversy erupted in Minnesota, where a suggestively dressed doll in the adult-aimed Barbie Basics Collection was stacked close enough to the other Barbies at a Super Target to cause some parents consternation.

Check back next month to learn more about how that story and the trend of using high-ticket designers to create doll clothes is playing into the ongoing battle over fashion dolls' influence on young girls' development.
Project Runway Light Box Fashion Design Set by FASHION ANGELS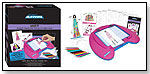 Girls use the light box with the fashion films and sketch sheets to start drawing some of the 100+ clothing and accessory combinations. They can use the design guide for inspiration to find theiir inner diva and start sketching their own designer wardrobe. "This light box sketch kit is a huge draw for any girl. They can start their sketches out on the right path by tracing the outlines of the clothing. Plus, the design guide in this kit is amazing — it has easy to follow instructions, ideas, and tips on how to make their designs look like a professional drew them," Sarah Koth, PR Manager, Fashion Angels Enterprises, told TDmonthly. Launch date: April 2010. (

Watch Video) 3/10/2010 (MSRP: $31.99; Age: 8 and Up)



Barbie Collector Gold Label Christian Louboutin Anemone Barbie Doll by MATTEL INC.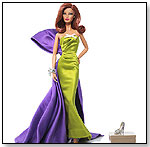 Anemone Barbie by Christian Louboutin is the third doll in the series designed by the renowned footwear designer. Barbie has wavy red hair and wears a stunning lime green gown with a purple bow attached as an elegant train. Red-soled lavender shoes and a glittery bracelet complete her red carpet look. More shoes are included with Louboutin's signature red dustbags and boxes. 6/18/2010 (MSRP: $149.99; Age: 6 and Up)



Barbie Collector Mad Men Collection Betty Draper Doll by MATTEL INC.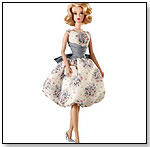 This stylish Barbie Collector doll embodies the 1960s chic of the award-winning television series Mad Men. Betty Draper wears a floral party dress, accessorized with a faux pearl necklace, matching pumps and a clutch containing a powder compact, lipstick and a comb. 7/5/2010 (MSRP: $74.99; Age: 6 and Up)



Steiff Karl Lagerfeld Teddy Bear by STEIFF NORTH AMERICA



This 15.7" Steiff Teddy bear is a likeness of fashion designer Karl Lagerfeld. Both the bear and his clothes were designed in Lagerfeld's Paris studio, where the materials were individually selected. The Lagerfeld Bear wears a black ltalian wool jacket, a white poplin shirt with standing collar and trompe l'oeil buttonholes, and jeans featuring a design from the K Karl Lagerfeld collection. His outfit is completed by boots, glasses, a black silk cravat and a real leather belt adorned with Swarovski crystal "KL" initials. 6/24/2010 (MSRP: $1499.99; Age: 3 and Up)



Shailie™ Starter by STYLE PAIGE LLC



It's the kit that gets you going (ages 6+) The Shailie™ Starter includes one life size pink and white polka dot dress form, a must for any aspiring fashion designer. The Starter also includes the Base top and skirt so you can easily attach and detach all of your Shailie™ dress pieces and accessories, a Starter dress - in 9 pieces, and a Shailie™ Closet for storage. (

Watch Video) 8/19/2009 (Age: 6 and Up)



Harumika Designer Dress Form Set by BANDAI AMERICA INC.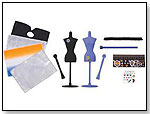 Aspiring fashion designers can test their skills with this no-sew kit that includes two dress forms, stamped art, fabrics, fashion accessories and a stylus tool to lock the designs in place. (

Watch Video) 12/2/2009



The SoHo Dress by TONNER DOLL COMPANY


This asymmetrical cocktail dress with swirls of organza blossoms was "designed" by fashion doll, Tyler Wentworth. 10/12/2010 (MSRP: $69.99; Age: 14 and Up)



Michelle Obama Poseable Doll by ASHTON-DRAKE COLLECTIBLES

Completely handcrafted of vinyl and meticulously hand-painted for lifelike details, this fashion doll features 14 points of articulation, so she can be posed in many ways. Her glittering black gown is inspired by the dress Mrs. Obama wore as she greeted guests to the Governor's Ball Simulated pearl necklace, ring and earrings and hair pin add the perfect finishing touch. Plus, this First Lady Michelle Obama doll includes a free collector's card revealing fascinating details about her dress. 10/12/2010 (MSRP: $129.99; Age: 12 and Up)



Harumika Mannequin by BANDAI AMERICA INC.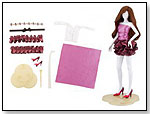 The 12" mannequin-style fashion doll has tucking features in both arms and legs to create pants, jackets, sweaters and more with the included exclusive fabric swatches, accessories, fashion stickers and rhinestone sheet. 10/12/2010 (MSRP: $19.95; Age: 6 to 12)



Bella Swan by TONNER DOLL COMPANY



From Summit Entertainment's hit film "Twilight" comes Tonner's Bella Swan, sculpted in the likeness of the film's character (as portrayed by Kristen Stewart). This TONNER CHARACTER FIGURE™ is approximately 15" tall and includes 15 points of articulation (neck, shoulders, elbows, wrists, bust line, waist, hips, knees and ankles). She has hand-painted features and rooted saran hair. Bella comes dressed straight from the movie in a tank top under an embroidered peasant top, boot-cut corduroys, socks, shoes with working laces, and a detailed jacket. Launch date: March 2009.
— In a Summer 2011 survey Lucille Island, owner of Doll World and Surroundings in Columbus, Ga., said that Tonner dolls were among her best-sellers. 4/28/2009 (MSRP: $139.99; Age: 14 and Up)



Edward Cullen by TONNER DOLL COMPANY



Sculpted in the likeness of the "Twilight" film's character, Edward Cullen (as portrayed by Robert Pattinson), this TONNER CHARACTER FIGURE™ is approximately 17" tall and includes 14 points of articulation (neck, shoulders, elbows, wrists, chest, hips, knees and ankles). He has hand-painted features and rooted saran hair. Edward comes dressed straight from the movie in a T-shirt, jeans, socks, shoes with working laces, and a tailored coat. Launch date: March 2009. 4/28/2009 (MSRP: $139.99; Age: 14 and Up)



---
---


Copyright © 2020 TDmonthly®, a division of TOYDIRECTORY.com®, Inc.