June 21, 2021

December 2010 | Vol. IX - No. 12

---
Top-10 Most-Wanted Hobby Goods
Only one third of 26 specialty toy retailers across the nation told TDmonthly Magazine that they carried RC and hobby toys. RC helicopters and slot cars in general and vehicles from Kid Galaxy in particular are still the hottest in this category.
Morphibians Shark by KID GALAXY INC.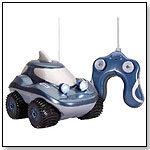 This four-wheel drive, remote-controlled vehicle can be navigated over land and on water. It has working headlights and requires two AA batteries. The controller takes an additional two AAA batteries (not included).
— Grafton Stine from Toys on the Square in Hummelstown, Pa., told TDmonthly in a Summer 2011 survey that R/C vehicles from Kid Galaxy were their best-selling electronic toy.
— In a November 2011 survey, Elmer Carranza, assistant manager of Doodlehopper 4 Kids in Falls Church, Va., told TDmonthly that "The Morphibians are great. They can run through dirt, grass, puddle of water and look like sharks and frogs. We sell about 6-8 in a month."
— As of August 2010, this product had 3.5 out of 5 stars from 40 reviews on Amazon.com. Parents liked that it is versatile and easy to use, but some complained that it required two types of batteries. (

Watch Video) 7/29/2010 (MSRP: $29.99)



Wave Breakers™ Barracuda by KID GALAXY INC.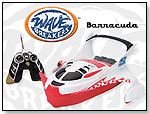 At the pool, on the pond, or on the shores of a small lake, Kid Galaxy's Barracuda is a fun, refreshing water toy. Durable, fast and easy to steer, the boat is designed with a distinctive hull for stability on the water's surface and a steerable prop for responsive handling. The boat comes in two colors: bold red and white, and bright yellow. The two designs are 49MHz and 27MHz respectively, allowing for two boats to race and play together without crossing the signals from the controllers. The vehicle requires one 9V and 6 AA batteries, which do not come with the set.
— In a Summer 2011 survey, 2 out of 12 retailers said that R/C vehicles from Kid Galaxy were their best-selling electronic or battery-operated product.
― Barbara Fineblum, owner of Barston's Child's Play in Baltimore, Md., said in June 2010 she sells three Kid Galaxy Barracudas per month, and listed this item as her best-selling electronic toy.
― "They're really good and sturdy. [Kid Galaxy] is a great company to work with," said Sarah Evers, owner of Dancing Bear Toys in Hendersonville, N.C., after telling TDmonthly Kid Galaxy is her top-selling electronics line during a summer 2010 survey.
— Though Pun's Toys is not a hobby store, "we sell dozens [of Kid Galaxy products] in total each month,'' said Owner Joe Beradoni, whose store is located in Bryn Mawr, Penn. 7/21/2010 (MSRP: $40.00; Age: 8 and Up)



ZOOBMobile Cruiser R/C by INFINITOY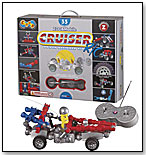 The Cruiser R/C comes in three parts so kids can snap it together, add pieces between the sections to create a dragster or a limousine, or build on the chassis after they snap the sections together. The set includes 55 ZOOB pieces, 4 extra wheels (for a total of 8), and instructions for all of the models in the Racer.
— "We sell approximately six per month," said Diana Gisolfu, co-owner of Sisters Kids in Springfield, Mass., in Fall 2010. One other of 33 retailers interviewed by TDmonthly said that Zoob was their only RC or hobby line. (

Watch Video) 5/22/2006 (MSRP: $39.99; Age: 6 and Up)



Carrera Evolution Winner's Challenge Slot Car Race Set by CARRERA

The Winner's Challenge Set features NASCAR authorized cars—Chevrolet Monte Carlo Car of Tomorrow J. Burton and Dodge Charger Car of Tomorrow K. Petty. The slot cars feature realistic acceleration and braking, and a polarity switch to change directions. Set includes 5 standard straights, 1 connecting section, 12 high banked curves, 2 controllers, transformer, guard rails, and instructions. 1:32 Scale.
— In the autumn of 2010, 2 of 33 toy-store owners told TDmonthly that slot cars were their best RC/hobby line.
— ''We carry the full line and have a Digital Set set up for customers to try out,'' said Dave Campbell, owner of Amazing Toys in Great Falls, Mont. 11/20/2009 (MSRP: $199.99; Age: 8 and Up)



COT Stock Car by PARMA INTERNATIONAL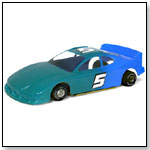 This ready-to-run slot car is designed on a 1/24 scale and measures 4.5". It features a brass chassis, DeathStar 16D motor, 9/30 Spec gearing and printed FCR tires. The COT body design sports a rear spoiler and front end splitter.
— Parma was the top-selling slot car brand for Susan Swickard, owner of the Talking Teddy in Estes Park, Colo. in 2010. 11/24/2010 (MSRP: $55.99)



Air Hogs RC Switchblade by SPIN MASTER TOYS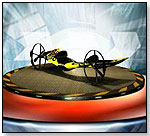 This transforming stunt flyer lifts off like a UFO but changes in the air to fly like a jet, for a two-in-one effect. The Switchblade features durable polyfoam construction and includes a controller/charger, a lunch base and an instruction manual. The flight range is 300' and it requires eight AA batteries. 4/6/2010



Thomas & Friends Wooden Railway – James the Red Engine by LEARNING CURVE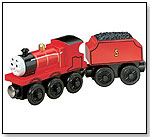 James likes to think of himself as a really splendid engine. This can occasionally lead to grandiose ideas about the sort of work suitable for such a noble creature, which invariably lands James in trouble. This engine measures 6" x 1.5" x 2".
— Items from the wooden railway system were top sellers at Totally Thomas' Toy Depot in San Diego, Cal. in the summer of 2010, according to Cindy Wyatt, president. "Since the Misty Island Rescue Movie is just making its debut, we expect to see our sales soar on Dash the Logging Engine and his buddies Bash and Captain," she said.
— Thomas is a big hobby for little kids. Though she doesn't sell a lot during the year, ''I bring it in at Christmas time,'' said Jeanne McCullough, owner of The Children's Store in Boise, Idaho. 7/28/2010 (MSRP: $21.99; Age: 2 and Up)



Wooden Railway Set by MELISSA & DOUG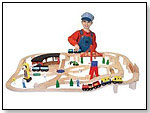 Melissa & Doug's Wooden Railway Set provides children with the complete train toy experience. Watch the trains roar by on a system kids help design themselves, complete with cranes, switches and T-junctions. The set comes with 138 pieces, bridges, dozens of curved and straight tracks, trestle bridges, workers, trees, a big Roundhouse, as well as roundtable. The set also comes with a lifetime warranty.
— "There are train sets — a lot of companies make them — but Melissa & Doug hold up the best," was the enthusiastic endorsement given by Susan Pruett, owner of Kilmarnock Toy Store in Kilmarnock, VA. 2/19/2007 (MSRP: $80.00; Age: 3 and Up)



E-flite Blade CP Pro RTF Electric Micro Heli by HORIZON HOBBY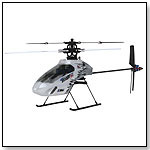 Based on the tried-and-true Blade CP platform, the Blade CP Pro adds the lightweight power of a three-cell 800mAh Li-Po battery pack, the lightning-quick cyclic response of Bell-Hiller mixing, and the upright or inverted agility of symmetrical main rotor blades. Plus, it can easily be outfitted with brushless power and a heading-lock gyro, without the need for a new radio system or difficult modifications. For red-hot micro heli aerobatics in about the time it takes to charge a battery pack, nothing can touch the cutting-edge Blade CP Pro.
— In a Summer 2012 survey about electronic and battery operated toys, Mark Rosenblum from Hobbytown in Fairfield, Conn., told TDmonthly that he sells 20-30 RC helicopters from E-Flite and Ares each month. 10/3/2006 (MSRP: $249.99)



---
---


Copyright © 2021 TDmonthly®, a division of TOYDIRECTORY.com®, Inc.