July 9, 2020

January 2011 | Vol. X - No. 1


Top Halloween Gifts
Toys Could Oust Candy as Favored Treat
With additional reporting by Peter Fernbaugh, Chris Lundy, Marie Raven and Brenda Ruggiero

Of 23 specialty retailers interviewed by TDmonthly Magazine's regional correspondents about their top-selling Halloween items, only 14 saw sales that were specific to that holiday. Dress-up costumes from Aeromax, Creative Education of Canada, Rubies, Little Adventures are year-round sellers and tend to do better at Christmas than Halloween, retailers said.

However, Mary Alice Miner, co-owner of Miner's Toy & Doll Store in Ocean Springs, Miss., told TDmonthly about a trend that could be boon for toy-store owners next October: "It's gotten so that people give gifts at Halloween," she said. "People are discouraging candy."

Here are eleven spooky ideas from your peers that may work for Halloween 2011:
Incredible Creatures Eastern Diamondback Rattlesnake by SAFARI LTD.®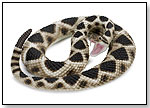 With coiled tail and mouth wide open, this venomous rattler appears ready to strike. This authentic replica is 40" L x 1" H (100 cm x 2.5 cm). Meticulously painted by hand, it is phthalate and lead free and meets or exceeds all safety standards. Each figure includes educational information in five languages and also name identification on its underside.
— Snakes are a big Halloween seller for Shirley Reilly, owner of Let's Play in Hillsboro, Ore. (

Watch Video) 1/7/2010 (Age: 3 and Up)



Black Ice-Bat by PRETTY UGLY LLC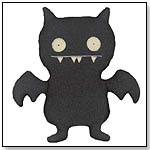 Ice-Bat, comes from an Ice Cave and loves hiding inside Ice Chests. Everything he touches turns to Ice, yet profoundly he warms your heart. Ice-Bat thinks you are cool and he wants to chill with you. He wants to hang out with you... or just hang upside-down, if that's OK with you.
— These dolls are "unique in the style and design, and appropriate for all ages," Victoria George of Victoria George Public Relations told TDmonthly. Launch date: January 2007.
— This is a best-selling Halloween-type item for Mike DiAndrea, manager of Hardware Centre, Inc., in Paoli, Penn., "mostly because we don't do a whole lot with Halloween." (

Watch Video) 1/5/2007 (MSRP: $20.00; Age: All Ages)



Mazin' Hamsters – Spooky by GANZ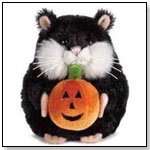 Registering a Hamster Feature Code unlocks access to MAZIN'™ Hamsters where you'll be able to take your Hamsters through many different mazes, trying to complete challenges, or racing to beat the clock! Earn KinzCash, exclusive trophies and more! Use the build tool to create your own mazes and share them with the community! The more Hamsters you own, the more mazes you can create!
— Spooky did well during Halloween 2010 for Barbara Fineblum, owner of Barston's Child's Play in Baltimore. 12/22/2010



Face Painting by KLUTZ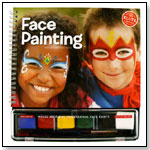 This new edition of Face Painting was completely refreshed, revised, and revitalized for a new generation. Klutz added more detailed directions for simple sponge and brush techniques and created tear-out cheat sheets to make painting birthday parties easier than ever. But the biggest change is the Wolfe Brothers face paints. They go on smoothly, dry quickly, last longer, and wash off easily, with bold, bright colors. The book comes with a six-color palette of face paints, a brush, a sponge, and 12 tear-out take-along design cards.
— Her Halloween 2010 crowd liked the Klutz face painting book, reported Gwen Bowden, manager of Doodlehopper for Kids in Springfield, Va.
— In a December 2011 survey about best selling Halloween products, 3 retailers said face painting kits were among their best sellers.
— Syd Clarke, owner of Ali-Cat in Carrboro, N.C., told TDmonthly in a December 2014 interview that Face Paint from Klutz is one of their best-selling Halloween toys. 12/22/2010 (MSRP: $24.95; Age: 6 and Up)



Gnarly Teeth by ACCOUTREMENTS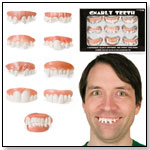 Each soft vinyl set of teeth fits over real teeth, instantly transforming the wearer into a new creepy character. Nine different styles. Illustrated window box.
— Dean Smith, co-owner of JaZams in Pennington, N.J., says kids liked to spook their neighbors with these teeth during Halloween 2010. 12/22/2010



Black Cat by GUND INC.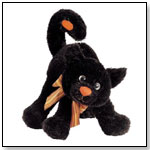 This plush black cat makes "funny Halloween" cat sounds when you press the orange pumpkin on it's tail.
— Maryalice Miner, co-owner of Miner's Doll & Toy Store in Ocean Springs, Miss., told TDmonthly in a December 2011 survey that they sell items like the Gund Black Cat during the Halloween season. This way, they have a seasonally relevant product, but aren't in direct competition with the nearby Halloween store. 12/22/2010



Witch Hat by JACOBSON HAT CO INC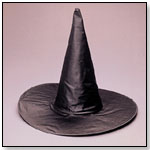 This satiny witch hat gives any hag a touch of class.
— "We have a store now in Salem, which is the Halloween capital of the world," said Kristen Pollard, owner of Mud Puddle in Marblehead, Mass. "It's very local, market-driven. It's all visitors to Salem. Everyone walks around here in costume or wearing hats. People that come here, if they don't have something, they want something to fit in...to be festive, to join in the fun." 12/22/2010



Splat the Cat Doll by MERRYMAKERS



Everyone needs to have a friend at school. But when it's the first day of school and the friend you bring along is a mouse and your school is for cats, things might not go as planned ... Join Splat as he makes new friends and takes care of his old ones in the best-selling books by Rob Scotton. Coming this fall: Merry Christmas, Splat.
—"It's a known series, and it's good and not too scary," said Mary Walsh-Martel, owner of Magical Child in Greenfield, Mass. It was one of her 2010 Halloween sellers. 10/20/2009 (MSRP: $14.00; Age: 4 and Up)



31 Day Halloween Countdown by BABALU INC.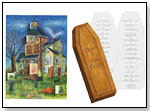 This spooktacular calendar counts down the days until Halloween - from the 1st of October to the 31st. Upon opening the accompanying "casket" children find a hint, in the form of a question, for each day to help them guess what fun and mildy-spooky, illustration awaits them underneath the corresponding window on the calendar. 11" x 15" Shrinkwrapped.
— "I started carrying [Halloween advent calendars] five years ago, and I would only bring in 6 or 12, and this year, I brought in two or three different styles, and they sold out right away," said Mary Walsh Martel, owner of Magical Child in Greenfield, Mass., in 4Q 2010. 12/22/2010 (MSRP: $8.00)



---
---


Copyright © 2020 TDmonthly®, a division of TOYDIRECTORY.com®, Inc.