December 2, 2020

April 2011 | Vol. X - No. 4


Mass-Market Madness
The Mainstream Toys That Caused A Stir
Every year there are mass-market manufacturers who put out toys that get lots of attention, even before Toy Fair. This year, TDmonthly's toy experts saw several mass-market products that stood out. Let's Rock Elmo by Hasbro strives to be more interactive than previous (yet nonetheless, successful) Elmo toys, by letting kids play music along with Elmo, not just watch and listen. Hot Wheels Wall Tracks were another hit, revolutionizing how kids play with this classic favorite. Licensed products based on this summer's anticipated blockbuster hits were big, like the new Pirates of the Caribbean offerings from LEGO, and Transformers building set from Hasbro's new LEGO compatible Kre-O blocks. Pressman Toy's Green Lantern Power of the Ring Game also fell into this niche.
Hot Wheels Wall Tracks by MATTEL INC.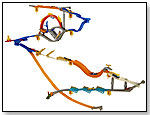 These new tracks for Hot Wheels cars can be mounted on the wall using sticky mounting strips by 3M Co. that won't damage walls or wall paper. Kids can bring their tracks to new levels of fun with Hot Wheels Wall Tracks. Compatible with all standard Hot Wheels cars, these innovative tracks are mounted to the wall using sticky mounting strips from 3M Co., that can safely be removed from walls without leaving residue or stripping the paint. Wall tracks can also go up doors, accross corners, and can be connected with standard Hot Wheels tracks too. 2/18/2011 (MSRP: $29.99; Age: 4 and Up)



Pirates of the Caribbean: Queen Anne's Revenge by LEGO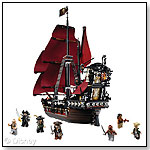 Modeled after Blackbeard's ship in the upcoming Pirates of the Caribbean on Stranger Tides, this 1097 piece set features seven mini-figures from the movie including Jack Sparrow, Angelica and Blackbeard figures. The ship is designed to look like it's made out of bones and skulls, along with wood. This is the only LEGO Pirates of the Caribbean set that features the mini-fig of Angelica. She features a new style of brown female hair and hat that is exclusive in the LEGO universe to her character. Launch Date: Summer 2011.
— Barb Stein, owner of Toys on the Square in Hummelstown, Pa. told TDmonthly in late Spring 2011 that she sells more than 30 LEGO products each month. 2/18/2011 (MSRP: $119.99; Age: 9 to 16)



Hit the Trail by EDUCATION OUTDOORS


Hit the Trail comes packaged in a mini backpack which includes 72 cards, 3 dice, and pencil. Each player is dealt 7 cards. The player then picks a card and lays it face up. (This is where the strategy comes in) Do you pick a lower point card or a higher point card? The Youngest player then rolls the three dice, trying to match one of the die or combination of dice to their card amount which is face up. Each time the die/dice combination match the player's card that is face up, the player gets to move the card into their "mile pile" trying to be the first to hike 100 miles. Players must beware of getting caught with a "cooler card" – like the mother bear & cubs in the trail. If you get caught with one of the three cooler cards you loose 10 miles. Other twists in the game include bonus rolls if the player's dice totals the card amount that is face up. Don't forget to look out for the trips /doubles rule which is when any of the dice come up with doubles or triples. You take a card from the person to your right. Launch date: May 2011.
Watch Toy Fair 2011 Video (

Watch Video) 3/2/2011



Let's Rock Elmo by HASBRO INC.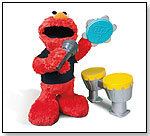 Dressed in a concert style tee, Elmo takes the stage singing and making music. Elmo comes with his very own microphone and two instruments, a tambourine and a drum set. Preschoolers can choose which instrument Elmo plays, and he recognizes which one he is given. Kids can also play along on Elmo's instruments. Elmo also interacts with other Let's Rock instruments (each sold separately); he knows when kids are playing the instruments, and plays along. The Let's Rock Elmo toy sings six songs. Requires six 'AA' batteries, included. 2/18/2011 (MSRP: $69.99; Age: 2 and Up)



Green Lantern Power of the Ring Game by PRESSMAN TOY CORP.


The path is filled with excitement and danger: will players master the four constructs that they need to defeat Parallax? Once players have the constructs- and the Green Lantern ring- go to the lantern and see if the ring comes up lit. If it does, players light up their ring and win. "Based on the upcoming Warner Brothers feature film, Green Lantern, this game includes an exclusive Green Lantern light-up ring," Jim Pressman, President of Pressman Toy Corp, told TDmonthly. Launch date: March 2011. 3/4/2011 (MSRP: $17.99; Age: 7 and Up)



---
---


Copyright © 2020 TDmonthly®, a division of TOYDIRECTORY.com®, Inc.