May 16, 2021

June 2011 | Vol. X - No. 6

---
ASTRA Preview: Creative Activities
These new products from companies who are exhibiting at the ASTRA Marketplace & Academy encourage imaginative and creative play.
Undercover Spy Case by ALEX BRANDS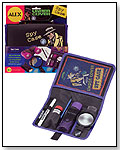 Kit includes sleek black nylon case contains binoculars, magnifying glass, fingerprint powder, brush, flashlight, secret marker pen set and a printed spy guide. Can be carried by the convenient handle or looped through the belt.
Awards— Dr. Toy's Best Classic Toys for 2011 3/7/2011 (MSRP: $25.95; Age: 8 and Up)



Bedtime on Safari Storybook and Puppet Theater Play Set by CLOUD B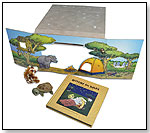 Vacations are fun and exciting, but when day turns to night, being in an unfamiliar, dark environment can be scary. Read Bedtime on Safari to learn about how relaxing lights and familiar sounds can comfort kids and show them that there's nothing to fear in the dark. Set features a fully illustrated book that helps children overcome their fear of the dark. Includes two fun finger puppets (Twilight Turtle and Gentle Giraffe). Gift box transforms into an interactive puppet theater with fully illustrated Safari scene. Gift set lets children play while they learn. Launch date: 2011. 3/22/2011 (MSRP: $19.95; Age: All Ages)



Wonderbeads Deluxe Flower Station by INTERNATIONAL PLAYTHINGS LLC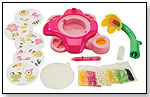 This comprehensive set includes a pretty flower-themed workstation with swiveling stem and easy open and close access to the storage case for beads. The flower features an easy spray system-just arrange the colorful beads on the provided templates; press the flower stem to mist, and watch as the beads magically stick together. Complete with more than 800 beads and five template sheets. 3/21/2011 (MSRP: $29.99; Age: 4 and Up)



Mythical Magicals Dinosaur Puppets by MANHATTAN TOY



These mystical puppets are of their own unique design. Each mythical creature features vibrant colors and whimsical details. Three new puppets: Trip Triceratops, Peter Pteranodon, Dave Dimetrodon. Launch date: January 2011. 1/26/2011 (MSRP: $30.00; Age: 3 and Up)



Air Picks by OHIO ART CO.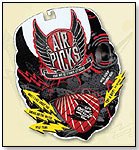 All picks contain guitar riffs of three iconic rock songs that play with the flick of the pick. Each pick has a whammy bar button and an attached carabiner clip. Assortment includes Rolling Stones, Classic Rock and Rebel Rock picks. Peg-ready, footed clamshell package. 2/24/2011 (Age: 6 and Up)



Magnetic Mosaics Chroma by THE ORB FACTORY LIMITED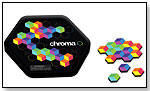 Create beautiful mosaic designs over and over again - kids follow the templates for perfect results every time, or create their own designs. These no-mess, no-fuss kits are great for travel. Chroma is an immersive experience of color and shape. Using colorful magnetic hexagons, kids can create limitless polygonal optical illusions and structures. This kit includes 37 colorful tile pieces, educational booklet, Hexagonal Travel tin and suggested patterns. "This kit flexes the mind and spurs creativity. Perfect for travel, this kit comes in its own carrying case and is perfect for children of any age," Stephanie Carver, from The Orb Factory, told TDmonthly. 3/4/2011 (MSRP: $12.50; Age: 5 to 13)



Fashion Studio by SMARTLAB TOYS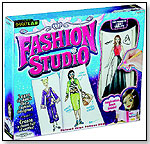 Including a unique light table that illuminates every outfit, this kit helps kids create a full fashion line using acetate wardrobe pieces. Just add color, patterns, and texture. Comes complete with the fashion-forward light table, over 30 acetate wardrobe pieces, ten artist grade color pencils, and ten sheets of drawing paper. 1/11/2011 (MSRP: $22.99; Age: 7 and Up)



Build-A-Robot by PLANTOYS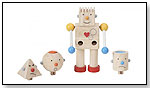 Build-A-Robot features four interchangeable, geometric-shaped heads featuring the emotions of happiness, sadness, anger and surprise as well as a range of textures to address sensory issues. To strengthen fine motor skills, the heads are attached with snap connectors. The legs are attached with screw connectors allowing the robot to sit or stand. Designed specifically to address the needs of children with ASD, the robot appeals to children of all ages. Launch date: February 2011. 3/4/2011 (MSRP: $35.00; Age: 3 and Up)



Cupcake Dots by ARTIST POINT GIFTWRAP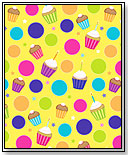 This exclusive design is printed on 50# premium coated paper. Available in 18" (price give), 24", and 30" widths. Roll lengths are either 417' or 833'. (

Watch Video) 3/24/2011 (MSRP: $77.00)



Dinosaur Shrinky Dinks in 3D by BSW TOY INC.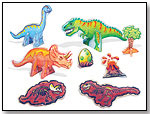 Trace, bake, shrink and build dinosaurs in 3-D. Make standing figurines of dinosaurs: the T.rex, Triceratops, and Brachiosaurs. The new 3-D Shrinky Dinks Dinosaur kit comes with 10 Shrinky Dinks Sheets (5" x 8") and Dinosaur tracing sheets. Kids just follow the easy to use illustrated instructions. This is "The first kids craft kit to make 3-D Shrinky Dinks," Andrew Tober, Director of Creative Development at BSW Toy, told TDmonthly. Launch date: February 2011. 3/4/2011 (MSRP: $5.99; Age: 7 and Up)



---
---


Copyright © 2021 TDmonthly®, a division of TOYDIRECTORY.com®, Inc.